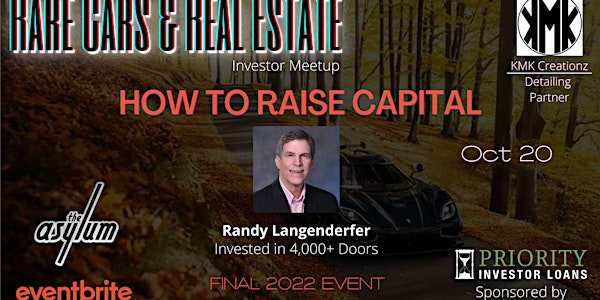 Rare Cars & Real Estate Investor Meetup
Bring your car or your deals to Rare Cars & Real Estate! This meetup focuses on real estate investment with nice cars as eye candy.
When and where
Location
The Asylum 7268 Renwick Drive Houston, TX 77081
Refund Policy
Contact the organizer to request a refund.
Eventbrite's fee is nonrefundable.
About this event
-Sponsored by Priority Investor Loans-
Our goal is to put on the largest Investor Meetup in Texas! Once a month investors from Houston and all over the United States will meet at The Asylum. For the last few months we have consitantly had 100+ attendees show up.
This 130,000 sq ft climate controlled space houses everything from vintage rare cars to the most desirable exotics. Having your dream car right in front of you is sure enough motivation to get a deal closed! Have a car or not, if you want to invest in real estate this is where you need to be!
We are expecting 150-200 people.
This event will be October 20th
7pm-9pm
Accepted Cars
Exotic
Vintage
Rare
CAR MUST BE REGISTERED TO QUALIFY FOR 1ST, 2ND, OR 3RD PLACE PRICES
DimensionalCapital.us/signup
Best Car Prizes by KMK Creationz
1st place - Full Paint Correction & Ceramic ($1200-$1500 Value)
2nd Place - One Step Correction & 6 month Sealant ($500- $700 Value)
3rd place - Paint Decontamination wash & Engine Detail ($200-$350 Value)
Car owners receive:
Dinner & Dessert for 1
Restricted VIP 2nd floor access and seating.
Meet and greet with Speaker(s) and Investors
Professional car exterior detail on site.
Please sign up at:
DimensionalCapital.us/signup
GENERAL ADMISSION FREE
VIP Tickets
Dinner & Dessert for 1
Climate Controlled Interior Parking
Meet and Greet with Speaker and Investors
Exclusive VIP 2nd floor access
$50 - 50% off until October 20th
$100 - Regular Price
Purchase tickets : https://rarecarsandrealestate.eventbrite.com
VIP Guests
-Boris Sanchez
Commercial Real Estate Investor, owner of a large investment firm with over 1000 units transacted. More than 10 years of experience in the Real Estate Industry and 15 years in Finance. Master degree in Business Administration (MBA) with concentration in Finance and Project Management. Accomplished multi-family and commercial real estate investor. To date, Mr. Sanchez has secured and brokered more than $1 Billion in funding in both conventional and private asset-based loans.
-Cody Laughlin
Cody Laughlin is a co-founder and Managing Partner of Blue Oak Capital. Mr. Laughlin is the director of Acquisitions and Chief Investment Officer and oversees the company's acquisitions and business development. Cody has eleven years of experience in alternative investments.
-Brian Alfaro
Managing Partner at Blue Oak Capital. I focus on connecting with professionals that are too busy to invest in real estate themselves to show them the power of commercial multifamily real estate. I often speak to professionals looking to expand their investment portfolio beyond volatile investments like stocks into hard assets such as commercial real estate that produce stable and predictable cash flow, equity creation, and tax savings & benefits.
-Randy Langenderfer
𝙄𝙣𝙫𝙚𝙨𝙩𝘼𝙧𝙠 𝙋𝙧𝙤𝙥𝙚𝙧𝙩𝙞𝙚𝙨 was started to identify, acquire, and operate Multi-family apartment buildings and provide passive income to investors in a safe, tried, and true method of commercial real estate investing. We have owned more than 4,000 units in multiple states (TX, OH, OK, LA). We currently are general partners/key principals in 250 units and passively invest in other sponsors deals as opportunities present.
Food by
Food Truck TBA
Dessert Food Truck TBA
Rain Out Procedure:
If your vehicle can not be exposed to the rain, or dangers of driving in the rain, we ask that you postpone this event in that vehicle and plan for the next month event.
-THE EVENT WIL STILL TAKE PLACE-
There is normal parking outside very close to entry door. Meetup will take place as a normal Investor Meetup inside the venue.
TO SPONSOR
Subject: Rare Cars & Real Estate Sponsor
Invest@DimensionalCapital.us
TO VOLUNTEER
Subject: Rare Cars & Real Estate Volunteer
Invest@DimensionalCapital.us
Rare Cars & Real Estate Investor Meetup
Facebook Event
https://fb.me/e/2fXcoTC1p
Facebook Group Page
https://www.facebook.com/groups/1943050762565766
Eventbrite
https://rarecarsandrealestate.eventbrite.com
Priority Investor Loans
Alan Murillo
3100 Weslayan St, #315
Houston, TX 77027
Cell: 281-960-1182
Email: alan@priorityinvestorloans.com
priorityinvestorloans.com