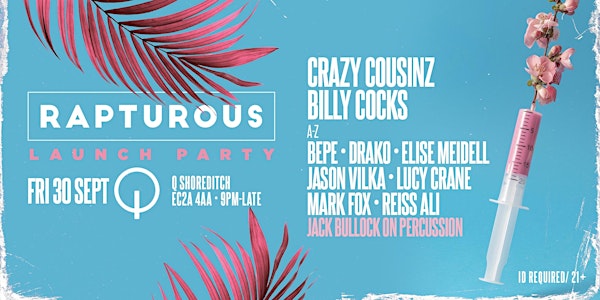 Rapturous London
Rapturous London launch party. Covering the full spectrum of house music infused with some classics.CRAZY COUSINS & BILLY COCKS HEADLINING
When and where
Location
Q Shoreditch 55-61 Tabernacle Street London EC2A 4AA United Kingdom
Refund Policy
Contact the organiser to request a refund.
Eventbrite's fee is nonrefundable.
About this event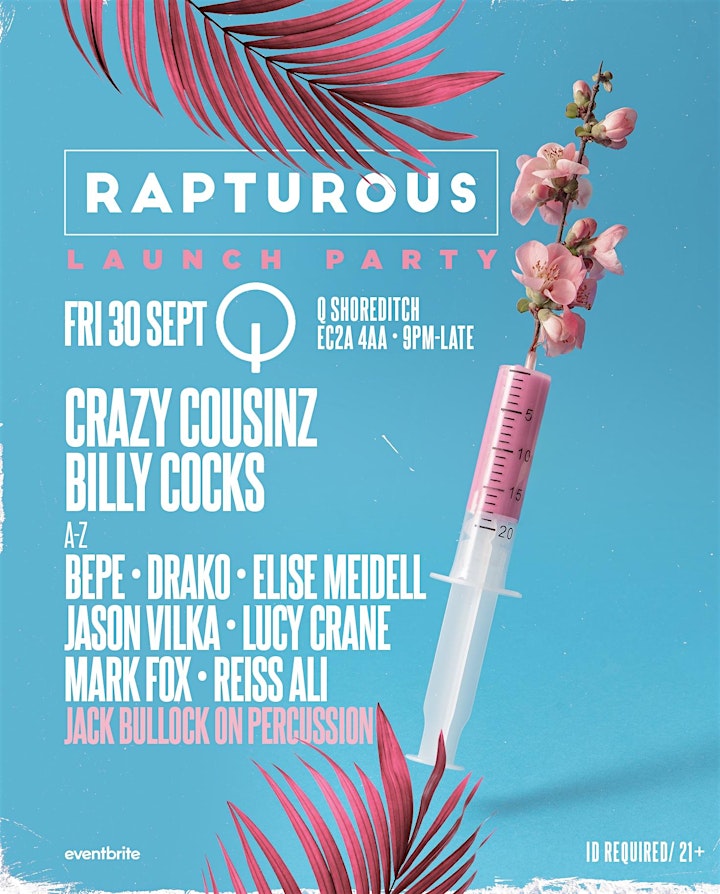 𝐑𝐚𝐩𝐭𝐮𝐫𝐨𝐮𝐬 𝐋𝐨𝐧𝐝𝐨𝐧'𝐬 𝐥𝐚𝐮𝐧𝐜𝐡 𝐩𝐚𝐫𝐭𝐲!
𝐐-𝐒𝐡𝐨𝐫𝐞𝐝𝐢𝐭𝐜𝐡 (𝐐-𝐂𝐥𝐮𝐛)
𝗣𝗮𝗿𝘁𝘆 𝗽𝗲𝗼𝗽𝗹𝗲, 𝗶𝘁𝘀 𝗵𝗮𝗽𝗽𝗲𝗻𝗶𝗻𝗴!!𝗢𝘂𝗿 𝗲𝘁𝗵𝗼𝘀 𝗮𝘁 𝗿𝗮𝗽𝘁𝘂𝗿𝗼𝘂𝘀 𝗶𝘀 𝘀𝗶𝗺𝗽𝗹𝗲 𝘄𝗲 𝘄𝗮𝗻𝘁 𝘁𝗼 𝗰𝗿𝗲𝗮𝘁𝗲 𝐚𝐧 𝗮𝘁𝗺𝗼𝘀𝗽𝗵𝗲𝗿𝗲 𝗳𝗼𝗿 𝗹𝗶𝗸𝗲 𝗺𝗶𝗻𝗱𝗲𝗱 𝗽𝗼𝘀𝗶𝘁𝗶𝘃𝗲 𝗽𝗲𝗼𝗽𝗹𝗲 𝘄𝗶𝘁𝗵 𝗮 𝗹𝗼𝘃𝗲 𝗳𝗼𝗿 𝗹𝗶𝗳𝗲 𝘁𝗼 𝗱𝗮𝗻𝗰𝗲, 𝘃𝗶𝗯𝗲 𝗮𝗻𝗱 𝘂𝗻𝗶𝘁𝗲!
𝙒𝙚 𝙥𝙧𝙤𝙫𝙞𝙙𝙚 𝙩𝙝𝙚 𝙖𝙩𝙢𝙤𝙨𝙥𝙝𝙚𝙧𝙚 𝙮𝙤𝙪 𝙗𝙧𝙞𝙣𝙜 𝙩𝙝𝙚 𝙫𝙞𝙗𝙚𝙨! 🎉
𝗪𝗲 𝘄𝗮𝗻𝘁𝗲𝗱 𝘁𝗼 𝗺𝗮𝗸𝗲 𝗼𝘂𝗿 𝗹𝗮𝘂𝗻𝗰𝗵 𝗽𝗮𝗿𝘁𝘆 𝘀𝗽𝗲𝗰𝗶𝗮𝗹 𝗮𝗻𝗱 𝘄𝗲 𝐡𝐚𝐯𝐞 𝗰𝘂𝗿𝗮𝘁𝗲𝗱 𝗮 𝗹𝗶𝗻𝗲 𝐮𝐩 𝘄𝗶𝘁𝗵 𝘁𝗵𝗶𝘀 𝗶𝗻 𝗺𝗶𝗻𝗱 𝗮𝗻𝗱 𝗶𝘁 𝘄𝗶𝗹𝗹 𝗹𝗶𝘁𝗲𝗿𝗮𝗹𝗹𝘆 𝗯𝗹𝗼𝘄 𝘆𝗼𝘂r 𝘀𝗼𝗰𝗸𝘀 𝗼𝗳𝗳!🤯
𝗪𝗲 𝘄𝗶𝗹𝗹 𝗯𝗲 𝗯𝗿𝗶𝗻𝗴𝗶𝗻𝗴 𝘁𝗼𝗴𝗲𝘁𝗵𝗲𝗿 𝗮 𝗺𝗶𝘅𝘁𝘂𝗿𝗲 𝗼𝗳 𝘀𝗼𝗺𝗲 𝗼𝗳 𝗟𝗼𝗻𝗱𝗼𝗻'𝘀 𝗳𝗶𝗻𝗲𝘀𝘁 𝘂𝗽 𝗮𝗻𝗱 𝗰𝗼𝗺𝗶𝗻𝗴 𝗗𝗝𝘀 𝗮𝘀 𝘄𝗲𝗹𝗹 𝗮𝘀 𝐬𝐨𝐦𝐞 𝐞𝐬𝐭𝐚𝐛𝐥𝐢𝐬𝐡𝐞𝐝 𝘀𝗲𝗹𝗲𝗰𝘁𝗼𝗿𝘀 𝐢𝐧 𝐭𝐡𝐞 𝐠𝐚𝐦𝐞!
𝐖𝐞 𝐡𝐚𝐯𝐞 𝐂𝐑𝐀𝐙𝐘 𝐂𝐎𝐔𝐒𝐈𝐍𝐙 𝐚𝐧𝐝 𝐁𝐈𝐋𝐋𝐘 𝐂𝐎𝐂𝐊𝐒 𝐨𝐧 𝐡𝐞𝐚𝐝𝐥𝐢𝐧𝐞𝐫 𝐝𝐮𝐭𝐲'𝐬 𝐚𝐬 𝐰𝐞𝐥𝐥 𝐚𝐬 𝐚 𝐬𝐭𝐫𝐨𝐧𝐠 𝐬𝐮𝐩𝐩𝐨𝐫𝐭𝐢𝐧𝐠 𝐥𝐢𝐧𝐞 𝐮𝐩 𝐚𝐧𝐝 𝐉𝐀𝐂𝐊 𝐁𝐔𝐋𝐋𝐎𝐂𝐊 𝐚𝐝𝐝𝐢𝐧𝐠 𝐭𝐨 𝐭𝐡𝐞 𝐯𝐢𝐛𝐞𝐬 𝐨𝐧 𝐩𝐞𝐫𝐜𝐮𝐬𝐬𝐢𝐨𝐧🥁
𝗠𝘂𝘀𝗶𝗰 𝗽𝗼𝗹𝗶𝗰𝘆 𝗼𝗻 𝘁𝗵𝗲 𝗻𝗶𝗴𝗵𝘁 𝗰𝗼𝘃𝗲𝗿𝘀 𝘁𝗵𝗲 𝗳𝘂𝗹𝗹 𝘀𝗽𝗲𝗰𝘁𝗿𝘂𝗺 𝗼𝗳 𝗵𝗼𝘂𝘀𝗲 𝗺𝘂𝘀𝗶𝗰 𝗶𝗻𝗳𝘂𝘀𝗲𝗱 𝘄𝗶𝘁𝗵 𝗮 𝗳𝗲𝘄 𝗰𝗹𝗮𝘀𝘀𝗶𝗰𝘀! 𝗶𝗳 𝗶𝘁'𝘀 𝗳𝗲𝗲𝗹 𝗴𝗼𝗼𝗱, 𝘂𝗽𝗹𝗶𝗳𝘁𝗶𝗻𝗴 𝗲𝗻𝗲𝗿𝗴𝘆 𝗮𝗻𝗱 𝗴𝗲𝘁𝘀 𝘁𝗵𝗲 𝗵𝗲𝗮𝗿𝘁 𝗿𝗮𝗰𝗶𝗻𝗴 𝘁𝗵𝗲𝗻 𝘄𝗲 𝘄𝗶𝗹𝗹 𝗽𝗹𝗮𝘆 𝗶𝘁! 👊😁
𝗔𝗹𝘀𝗼 𝗘𝘅𝗽𝗲𝗰𝘁 𝗮𝗻 𝗔𝗔 𝗰𝗹𝗮𝘀𝘀 𝗽𝗿𝗼𝗱𝘂𝗰𝘁𝗶𝗼𝗻 𝗶𝗻𝗰𝗹𝘂𝗱𝗶𝗻𝗴 𝗮 𝗹𝗶𝘁𝘁𝗹𝗲 𝗰𝗼𝗻𝗳𝗲𝘁𝘁𝗶!🥳🎉
𝙏𝙝𝙚 𝙫𝙚𝙣𝙪𝙚
𝐅𝐨𝐫 𝐨𝐮𝐫 𝐥𝐚𝐮𝐧𝐜𝐡 𝐰𝐞 𝐚𝐫𝐞 𝐡𝐞𝐚𝐝𝐢𝐧𝐠 𝐭𝐨 𝐭𝐡𝐞 𝐡𝐞𝐚𝐫𝐭 𝐨𝐟 𝐬𝐡𝐨𝐫𝐞𝐝𝐢𝐭𝐜𝐡 𝐭𝐨 𝐭𝐚𝐤𝐞 𝐨𝐯𝐞𝐫 𝐭𝐡𝐞 𝐩𝐥𝐮𝐬𝐡 𝐬𝐮𝐫𝐫𝐨𝐮𝐧𝐝𝐢𝐧𝐠𝐬 𝐚𝐭 𝐭𝐡𝐞 𝐢𝐜𝐨𝐧𝐢𝐜 𝐚𝐧𝐝 𝐩𝐢𝐨𝐧𝐞𝐞𝐫𝐢𝐧𝐠 𝐞𝐯𝐞𝐧𝐭 𝐬𝐩𝐚𝐜𝐞 𝐭𝐡𝐚𝐭 𝐢𝐬 𝐐-𝐒𝐡𝐨𝐫𝐞𝐝𝐢𝐭𝐜𝐡 (𝐐-𝐜𝐥𝐮𝐛)
𝐀 𝐯𝐞𝐧𝐮𝐞 𝐢𝐧𝐭𝐢𝐦𝐚𝐭𝐞 𝐞𝐧𝐨𝐮𝐠𝐡 𝐭𝐨 𝐟𝐞𝐞𝐥 𝐭𝐡𝐞 𝐯𝐢𝐛𝐞 𝐛𝐮𝐭 𝐥𝐚𝐫𝐠𝐞 𝐞𝐧𝐨𝐮𝐠𝐡 𝐭𝐨 𝐥𝐨𝐬𝐞 𝐲𝐨𝐮𝐫𝐬𝐞𝐥𝐟 𝐢𝐧 𝐭𝐡𝐞 𝐦𝐮𝐬𝐢𝐜!😁🎶
𝗩𝗶𝗽 𝗯𝗼𝗼𝘁𝗵𝘀 𝘀𝘂𝗿𝗿𝗼𝘂𝗻𝗱 𝗮𝗻 𝗶𝗻𝘁𝗶𝗺𝗮𝘁𝗲 𝗱𝗮𝗻𝗰𝗲 𝗳𝗹𝗼𝗼𝗿 𝗮𝗻𝗱 𝗗𝗝 𝗯𝗼𝗼𝘁𝗵 𝘄𝗶𝘁𝗵 𝗔𝗻 𝗶𝗻𝘁𝗲𝗹𝗹𝗶𝗴𝗲𝗻𝘁 𝗹𝗮𝘀𝗲𝗿 𝗹𝗶𝗴𝗵𝘁 𝘀𝘆𝘀𝘁𝗲𝗺 𝗮𝗻𝗱 𝗮 𝗳𝘂𝗹𝗹 𝗽𝗿𝗼 𝗮𝘂𝗱𝗶𝗼 𝘀𝗲𝘁 𝘂𝗽!
𝗧𝗵𝗲 𝗯𝗲𝗮𝘁𝘀 𝘄𝗶𝗹𝗹 𝗯𝗲 𝗯𝗮𝗻𝗴𝗶𝗻𝗴 𝗮𝗻𝗱 𝘁𝗵𝗲 𝘃𝗶𝗯𝗲𝘀 𝘄𝗶𝗹𝗹 𝗯𝗲 𝘀𝗵𝗶𝗻𝗶𝗻𝗴 ✨ 𝘄𝗶𝘁𝗵 𝗻𝗼𝘁𝗵𝗶𝗻𝗴 𝗯𝘂𝘁 𝗽𝘂𝗿𝗲 𝘀𝗼𝘂𝗹𝘀 𝗮𝗻𝗱 𝗲𝗻𝗲𝗿𝗴𝘆 𝗼𝗻 𝘁𝗵𝗲 𝗱𝗮𝗻𝗰𝗲 𝗳𝗹𝗼𝗼𝗿!
𝗧𝗵𝗶𝘀 𝘄𝗶𝗹𝗹 𝗯𝗲 𝗮 𝗦𝗘𝗟𝗟 𝗢𝗨𝗧!! ⚠️⚠️
𝗘𝗮𝗿𝗹𝘆 𝗯𝗶𝗿𝗱𝘀 𝗮𝗿𝗲 𝘀𝘂𝗽𝗲𝗿 𝗹𝗶𝗺𝗶𝘁𝗲𝗱 𝗮𝗻𝗱 𝘄𝗲 𝗿𝗲𝗰𝗼𝗺𝗺𝗲𝗻𝗱 𝘆𝗼𝘂 𝗽𝘂𝗿𝗰𝗵𝗮𝘀𝗲 𝘁𝗵𝗲𝗺 𝗯𝗲𝗳𝗼𝗿𝗲 𝘁𝗵𝗲 𝗳𝘂𝗹𝗹 𝗹𝗶𝗻𝗲 𝘂𝗽 𝗮𝗻𝗱 𝗵𝗲𝗮𝗱𝗹𝗶𝗻𝗲𝗿𝘀 𝗮𝗿𝗲 𝗿𝗲𝗮𝗹𝐚𝐬𝐞𝐝! 🎶👀
𝗛𝗲𝗮𝗱 𝗼𝘃𝗲𝗿 𝘁𝗼 𝗼𝘂𝗿 𝗜𝗻𝘀𝘁𝗮𝗴𝗿𝗮𝗺 @𝗥𝗮𝗽𝘁𝘂𝗿𝗼𝘂𝘀𝗹𝗼𝗻𝗱𝗼𝗻 𝗮𝗻𝗱 𝗦𝗜𝗚𝗡 𝗨𝗣 𝗡𝗢𝗪 𝘁𝗼 𝗸𝗲𝗲𝗽 𝗶𝗻 𝘁𝗵𝗲 𝗹𝗼𝗼𝗽, 𝘄𝗵𝗲𝗿𝗲 𝘆𝗼𝘂 𝗵𝗮𝘃𝗲 𝘁𝗵𝗲 𝗰𝗵𝗮𝗻𝗰𝗲 𝘁𝗼 𝘄𝗶𝗻 𝗼𝗻𝗲 𝗼𝗳 𝗼𝘂𝗿 𝘀𝗲𝘃𝗲𝗿𝗮𝗹 𝗾𝘂𝗶𝗿𝗸𝘆 𝗴𝗶𝘃𝗲 𝗮𝘄𝗮𝘆𝘀 𝗮𝘀 𝘄𝗲𝗹𝗹 𝗮𝘀 𝗰𝗼𝗺𝗽𝗲𝘁𝗶𝘁𝗶𝗼𝗻𝘀 𝗮𝗻𝗱 𝗳𝗿𝗲𝗲 𝗩𝗜𝗣 𝘁𝗶𝗰𝗸𝗲𝘁𝘀!
𝗧𝗿𝘂𝘀𝘁 𝗺𝗲 𝘆𝗼𝘂 𝗱𝗼 𝗻𝗼𝘁 𝘄𝗮𝗻𝘁 𝘁𝗼 𝗺𝗶𝘀𝘀 𝘁𝗵𝗶𝘀 𝗼𝗻𝗲! 🎶❤️
𝘼𝘾𝙏 𝙁𝘼𝙎𝙏 𝘼𝙉𝘿 𝙎𝙀𝘾𝙐𝙍𝙀 𝙔𝙊𝙐𝙍 𝙏𝙄𝘾𝙆𝙀𝙏 𝙉𝙊𝙒! 𝙎𝙚𝙚 𝙮𝙤𝙪 𝙤𝙣 𝙩𝙝𝙚 𝙙𝙖𝙣𝙘𝙚 𝙛𝙡𝙤𝙤𝙧 ❤️💃🕺
𝘿𝘼𝙉𝘾𝙀, 𝙑𝙄𝘽𝙀, 𝙐𝙉𝙄𝙏𝙀 ❤️🎶
𝟐𝟏+/𝐈𝐃 𝐫𝐞𝐪𝐮𝐢𝐫𝐞𝐝
⚠️𝐃𝐢𝐬𝐜𝐥𝐚𝐢𝐦𝐞𝐫 -𝑰𝒎𝒑𝒐𝒓𝒕𝒂𝒏𝒕 𝒑𝒍𝒆𝒂𝒔𝒆 𝐫𝐞𝐚𝐝 ⚠️
𝐀 𝐭𝐢𝐜𝐤𝐞𝐭 𝐝𝐨𝐞𝐬 𝐧𝐨𝐭 𝐠𝐮𝐫𝐚𝐧𝐭𝐞𝐞 𝐲𝐨𝐮 𝐞𝐧𝐭𝐫𝐲 𝐭𝐨 𝐨𝐮𝐫 𝐞𝐯𝐞𝐧𝐭! Our party is for high vibration,free thinkin souls and we will refuse entry to anyone that we feel may lower the positive vibration or atmosphere. We are hear to dance,vibe and unite and welcome everyone with open arms who are on the same vibrational frequency 😁🎉💙
Please note Rapturous London can not be held responsible for anything outside of our control.
This includes (but is not limited to -𝐀𝐧𝐲 𝐧𝐚𝐭𝐮𝐫𝐚𝐥 𝐨𝐜𝐜𝐮𝐫𝐫𝐞𝐧𝐜𝐞𝐬 (𝐌𝐨𝐭𝐡𝐞𝐫 𝐧𝐚𝐭𝐮𝐫𝐞)
-Any venue issues out side of our control
We looking forward to seeing you on the dance floor 😃