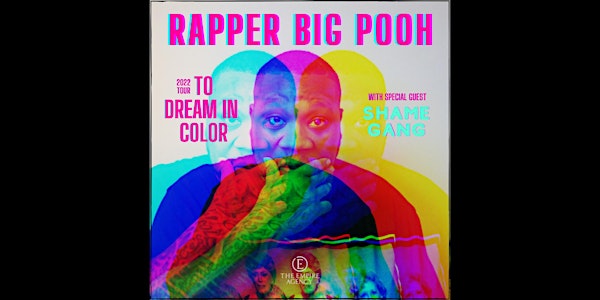 Rapper Big Pooh w/ Shame Gang, Tab-One
The Pour House Music Hall & Record Shop
Location
The Pour House Music Hall & Record Shop
224 S Blount St
Raleigh, NC 27601
About this event
Rapper Big Pooh, born Thomas Jones, is a member of the group Little Brother. Rapper Pooh released his debut solo album, "Sleepers," in 2005. Rapper Pooh has toured with De La Soul, MURS, and Apollo Brown. In 2022 he will be releasing his first solo project since 2018 and 12th overall.
Shame Gang: An embattled scrapper, Raleigh rapper Shame is no stranger to quarrels with other local rappers and challenges in his personal life, but he's never tried to pose as the brooding tough guy. After a two-year stream of respectable mixtapes, singles, and EPs, he's finally got a full-length record: Genesis 98, inspired by the summer of 1998.
Tab-One was born and raised in North Carolina and is best known for his work with Kooley High. Tab weaves insightful lyricism with soulful beats. Over a decade of writing, recording and performing have solidified Tab
Rapper Big Pooh

Rapper Big Pooh is not a perfectionist about many things in life. But his music is something else entirely. For close to ten years, Pooh has been on a quest for perfection, driven by a determination to outdo himself at every turn and to exceed every critic's expectations. Yet, as arrogant a pursuit as this may seem, it comes from a place of absolute humility. In the early 2000s, when Pooh and fellow North Carolina Central University students 9th Wonder and Phonte came together as the critically acclaimed group Little Brother, Pooh had never considered a career as an artist. Sure, music had been a part of his life as long as he could remember. And by the time he was in high school, he had evolved from finding peace in the music of others to wanting to create his own, even flexing his early lyrical muscle as a poet. But a career in music had never really entered his mind. And then it happened. And, while there were some growing pains and dues to pay, Pooh will admit that Little Brother's success came much more easily than he would have imagined. The group's nostalgic feel and easy connection to Hip-Hop's "golden age" made them instant fan favorites. For Pooh, who had much less experience in music than his groupmates, it became the best form of on-the-job training. Rather than to be deterred by some of the early criticism he received following the release of the group's debut album The Listening, Pooh took the opportunity to examine what he had contributed to the music and take it back to the lab. It became a routine for him: to constantly write and record music as no more than conditioning and training. By the time Little Brother landed their major label deal with Atlantic Records and released their sophomore album The Minstrel Show, Pooh's solo debut Sleepers was born. Little Brother went on to release one more group album, Getback, in 2007 before they disbanded for good. Pooh's sophomore album Dirty Pretty Things would come almost four years and two more solo projects later than Pooh expected. In the year since the release of Dirty Pretty Things, Rapper Big Pooh has been solidifying his brand. While working on the second installment of his Fat Boy Fresh, which he started in 2011, Pooh also released Sleepers: The Narcoleptic EP, a collection of previously unreleased songs from the sessions that created his solo debut. Pooh has also partnered with his DJ, DJ Skillz, to create "Return Of Fresh," a serial nightlife experience that provides a pre-2002 soundtrack to lovers of dance and music. "Being a fan of my music is suggestive," says Pooh explaining his approach to personal branding. "But respect is undeniable. That's why it's important for me to connect to people beyond the music. Because at when it's all said and done, you will walk away from me knowing that my work ethic is unmatched. And you can't help but to respect that." Rapper Big Pooh has worked with Drake, Kendrick Lamar, Kanye West, and Lil Wayne amongst others.