Learn how to use rapid research to empower your teammates to gather and share customer insights
About this event
This talk is aimed at providing a framework for growing oneself as a researcher by collaborating with other disciplines, positioning yourself as an expert, and scaling research to impact more of your organization than if you were to do it alone.
Amanda Gelb will share true tales about being the first researcher in the NYC office for Lyft. With tons of examples, clear and engaging visuals of the process, and plenty of "Dos and Don'ts" you will leave this talk with a new approach to your research requests that can be put to immediate use.
Networking
UXRS strives to create a community where people can make meaningful connections with others in the UX field. Come for the presentation, stay for the UX networking.
Topic1: What are some tips you've learned for moderating research sessions?
Topic2: What have you done to get other people excited about research in your org?
We'll end the night with our usual "happy hour" open forum of questions and answers.
Agenda
5:00 -5:10 p.m. (Central time, similar to Chicago and Dallas, USA) - Introduction and announcements for UX Research and Strategy
5:10-6:10p.m. (Central time) - Presentation + Q&A
6:10 -7:00 p.m.(Central time) - Networking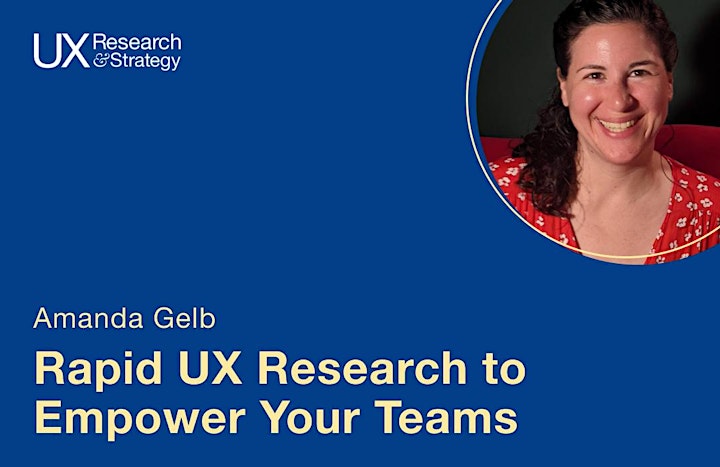 Presenter
Amanda Gelb leads User Research for Lyft's NYC office. She loves understanding transportation systems and the motivations and use cases of the people they serve. Amanda is currently focused on Mapping and has worked across Rideshare and Micro-mobility (transit, bikes, and scooters).
She uses her insights to determine 'what could be' for product teams. Amanda especially derives joy in researching "future of" scenarios and has done so at Amplify for the EdTech space, at Fuseproject in user-facing connected devices, at Google in dreaming up a new AR/VR app, and at HUGE, a creative agency, where she led a 9-month project on digital fandom around Harry Potter.
Amanda is a lifelong question-asker and tinkerer. She utilizes her experience with experiential education to run dynamic workshops and act as a research-coach, enabling many teams to conduct their own research under her guidance. Amanda lives in Manhattan with her partner Miki and their two children.
This event is limited to the first 1,000 who enter the Zoom meeting.
We know this speaker is going to be awesome and high demand. So please consider whether you will actually be able to attend to make room for those who are eager to be there.
** Please Consider Donating **
A Donation Ticket to this webinar is the same as a regular admission ticket to the event. Plus, you are helping keep this event FREE for attendees around the world. Please consider getting a donation ticket as your admission ticket to help UX Research and Strategy provide events like this to the UX community. If you prefer to donate to us directly, and bypass Eventbrite fees, donate now through PayPal.
Host: UX Research and Strategy
UX Research and Strategy is a registered 501c3 group devoted to teaching and exploring topics related to User Experience Research and Strategy. Started by three very talented ladies, Jen Blatz, Lorie Whitaker, and Lauren Singer, who saw the need to address the gap in these topics in the local UX community. The hope for this group is to enrich and complement the UX Design community through knowledge sharing and partnership.
Whether you are a researcher, designer, product owner, strategist, content creator, project manager, developer, technologist, marketer, customer experience pro or any other discipline, please join us.
For more information:
Please note that by attending our events, you are granting us permission to potentially use a photograph including you on our social media channels and website. Don't worry, we will try our best to make you look good.
For online events, and for your privacy, if you do not want your name or image potentially appearing on a Zoom screen, please anonymize your name in Zoom and hide your video.
Please note, we are unable to refund donations.
A Zoom link to the webinar will be provided in your confirmation ticket. Scroll down through the email and you will see the zoom link to join.
UXRS code of conduct. By getting a free or donation ticket to our events, you agree to read and abide by the conditions of this code of conduct. Failing to do so will result in immediate removal from our events and any social media channels. We expect you to be respectful of everyone in our UXRS community.
Thank you for your support!