Rapid Results Event - New York (W/Breakthrough Experience)

Saturday, March 23, 2013 at 9:00 AM

-

Sunday, March 24, 2013 at 7:00 PM (EDT)
Event Details
Saturday
Learn The Secret To Rapid Results
Create the CONFIDENCE and CERTAINTY it takes to achieve Your goals
Design a ROAD MAP to the RESULTS that You desire
Create a CLEAR and COMPELLING vision for Your life and business
Find ABSOLUTE FREEDOM as You discover and BREAKTHROUGH the mental and emotional barriers that have been holding you back
Sunday
Learn Cutting Edge Strategies For Success In Business
The 4-Part Foundational Freedom Formula--> learn how to...
Identify and live your PASSIONS Daily!
Add MASSIVE VALUE to the community around you through living your PASSIONs!
Learn to Monetize the AMAZING value you add!
Set it all up to work from a laptop anywhere in the world! (we work from a cruise ship 45+ days of each year :) 
INSIDER STRATEGY on Web, Social Media and SEO

POWER-BRANDING -- Creating lasting connections that leave your clients wanting more and telling EVERYONE about it! 

FEMALUTION - How WOMEN are now one of the Most POWERFUL Dynamics in Today's Economy.

BONUS -- Special Surprise Guests...
Using this brand new "Rapid Results Formula" for just 5 minutes a day, You Will join HUNDREDS of people worldwide who have:
Become RADIANTLY HEALTHY and full of ENERGY

Created UNSTOPPABLE CONFIDENCE

Overcome hurdles that previously held from living their DREAMS

Started SUCCESSFUL BUSINESSES from scratch

Created PASSIONATE and LOVING RELATIONSHIPS

Rapidly ACHIEVED GOALS that they had previously worked decades towards on their own
What others are saying... 
"Tonights Goal Setting Workshop: I have to give Jariek Robbins props for his authenticity, massive value proposition and relatability. His 2013 goal setting workshop was PACKED with unique, concise, and lasting takeaways and could be shared year round with immense value. He's the real deal. You can tell he cares. He's cleared his own path. Make way for this young, conscious, and unstoppable man who's on a mission to serve, and have a blast doing it.
Thanks for a great event Jariek!" 
- Kristina Millikan
"I had a great time at the event last night. It's really great to have been surrounded by some like-minded folks. I need more of that...
we all need more of that! haha." 
Jairek is one of the few speakers that will help you truly discover your purpose in this world, listening to him will help you understand what has been holding you back from achieving your true potential connecting with your love ones and making a difference while you are on this earth! Live the dream!

- Kendt Baggetto


There are many places you can go for personal development but the value and effectiveness of Jairek's programs are second to none.  His techniques and coaching push you to think broadly and deeply, providing you access to whatever you need to achieve the results you are looking for.  
- Lylee Kazem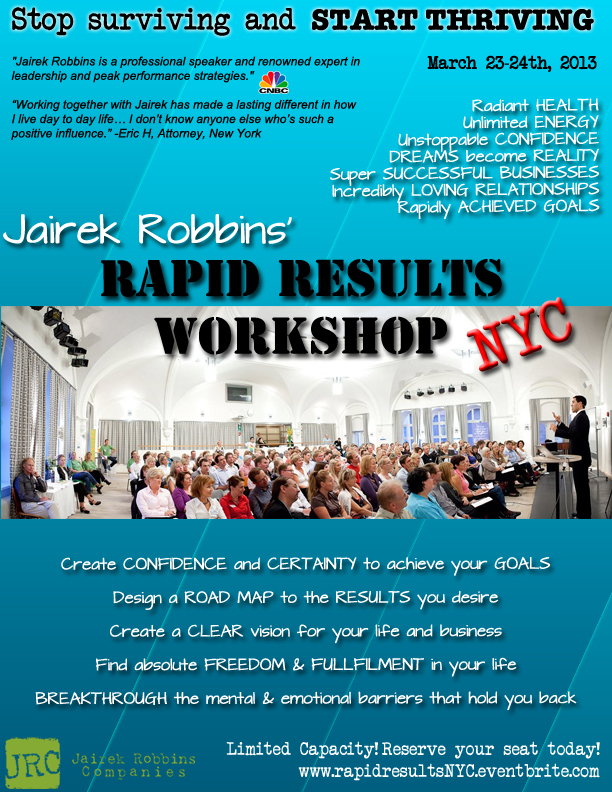 When & Where

The Tuscany - St. Giles Hotel New York
130 East 39th Street
New York, NY 10016


Saturday, March 23, 2013 at 9:00 AM

-

Sunday, March 24, 2013 at 7:00 PM (EDT)
Add to my calendar
Organizer
Jairek Robbins Companies, LLC.
Professional Speaker
Jairek Robbins is a man on a mission focused on creative solutions for accelerating results. By evaluating your and your companies strategic objectives, Jairek is able to build a customized roadmap for you to achieve your goals with speed and precision.
"My goal is to assist people in the process of rapidly achieving their goals so they are able to live the life of their dreams. My hope is that they will eventually pay-in-forward and help those that they care about the most do the same" -Jairek Robbins
Man on a mission
At only 23 years old, Jairek was awarded the Congressional Gold Medal from the United States Congress. By 25, he became and international phenom by developing a revolutionary approach to accelerating results for businesses in different industries. Today, the 27-year old is unlocking secrets for maximizing employee performance and organizational success (and he's just getting started).
Making it happen
Oliver Wendell Holmes once said "a mind that is stretched to a new idea never returns to its original dimensions."
As an innovator, Jairek is applying his own philosophy and living a life of adventure, philanthropy, and entrepreneurship. Whether it's cage diving with great white sharks, hanging with silverbacks in Rwanda, white water rafting down the Nile, working as a volunteer in underdeveloped regions, or building a powerful enterprise that's built for results, Jairek does more than talk about it, he stretches the boundaries of traditional thinking and makes it happen.
Rapid Results Event - New York (W/Breakthrough Experience)