Description
For a second year, the Florida Legislature has authorized SHIP to provide up to a year of rent subsidies for applicants who are homeless and/or special needs. Learn the basics of Rapid Rehousing, and how such a program can be implemented in coordination with the Continuum of Care. Also, Florida will receive over $4 million under the first allocation of the Federal Program, the National Housing Trust Funds. We'll discuss Florida Housing Finance Corporation's plan to leverage these funds with existing programs that serve extremely low income tenants.
Speaker Bio:
Lisa Hoffmeyer is a Technical Advisor for the Florida Housing Coalition where she provides classroom training as well as one on one technical assistance to nonprofit affordable housing agencies, CHDOs and local government organizations around the country. She has more than 20 years of practical experience in property acquisition, rehabilitation, demolition/redevelopment, new construction and property management and consolidated planning. She is a certified HOME Program Specialist in Regulations and provides assistance to nonprofits seeking funding through Florida Housing Finance Agency's Predevelopment Loan Program. Under the MacArthur Foundations' Windows of Opportunity Grant, Hoffmeyer co-wrote the Guide to Developing and Operating Small Scale Rental Properties and developed a capacity evaluation tool for nonprofits seeking to add multifamily preservation as a business line. Ms. Hoffmeyer was part the Neighborhood Stabilization Program team that delivered extensive training and technical assistance to NSP recipients in Florida, New York, California and Texas. Hoffmeyer began her career in banking originating mortgage loans for low income first time buyers and providing homebuyer education. Since then, she has worked for both city and county government administering HOME and SHIP (State Housing Initiatives Partnership Program) contracts for down payment assistance, multifamily rental development and single family construction. She also served as Chief Operating Officer for Broward Housing Solutions, a nonprofit where she successfully leveraged public and private funds to develop scattered site special needs housing for the mentally ill and youth aging out of foster care.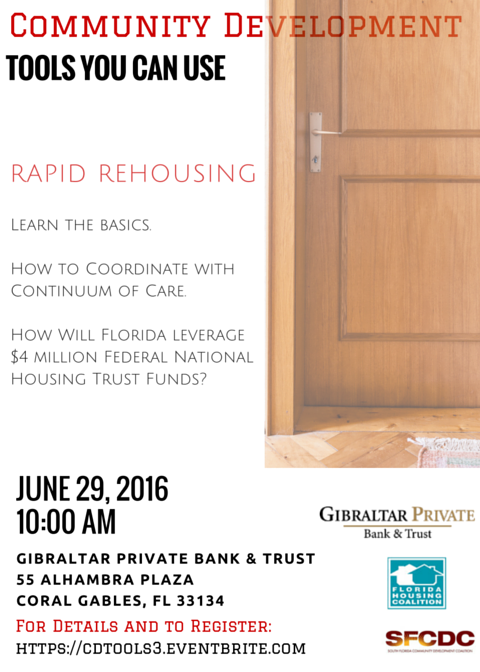 About the Florida Housing Coalition
The Florida Housing Coalition is commonly acknowledged as the foremost statewide authority in Florida on affordable housing, community development and related issues, as a clearinghouse for information, a provider of training and technical assistance, and an advocate at the state and national levels for people in need of affordable housing.

This event is made possible thanks to the generous support from Gibraltar Private Bank & Trust.