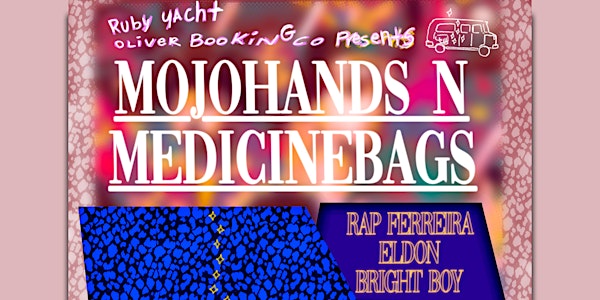 R.A.P. Ferreira, Eldon, Brightboy, and Sotolish
UNDER 21 WITH PARENT OR LEGAL GUARDIAN
The Mojohands in Medicine Bags tour hits the Elm City! One night only
When and where
Location
The State House 310 State St New Haven, CT 06510
About this event
3 hours

UNDER 21 WITH PARENT OR LEGAL GUARDIAN

Mobile eTicket
R.A.P. Ferreira
R.A.P. Ferreira fka milo aka scallops hotel is an mc, producer and theorist working in the Black arts tradition commonly categorized as rap. Having founded the label ruby yacht in 2015 and since releasing all of his music through this channel, Ferreira has earned a sizable following within independent hip hop by rigorous, constant touring and an elevated, explorational style of performance. He is known for an uncompromised, utopic flow that speaks directly to the root of the listener.
By 2018, the young artist galvanized his presence in the American rap scene with the opening of Soulfolks Records & Tapes in Biddeford, Maine. Ferreira has a sprawling, limitless catalog ranging years, names, geographies, intentions, collaborations, and vocabularies.
In an era defined by keyword search, soundbyte, cosign, marketing and virality this artist's work stands out by not cow tailing to the movements and trends of the digital sphere.
He currently makes his home in Nashville, Tennessee where he continues to helm the Ruby Yacht while studying to become a blues guitar legend and a farmer.
FB @modestmilo
Twitter @yomilo
IG @hipcatscience
New Album '5 to the Eyes with Stars'
Brightboy
Hailing from Boston with a life like a dreamy montage. One moment he's surrounded by bulky 80s rack stacks in his a/v tech dads mobile production lab, Jazz on the hi-fi. Next, on a commune in the forest, with his psychic Gemini mother and his yin-yang twin brother, sounds of laughter lofting from the lake. I'd say he was born under a RAD sign. For Bright Boy, music was always just a part of life. Memories of dropping rhymes on walks home as a youth, beatboxing and cracking jokes. Picking up sticks and busting a slick break his first time sitting at a kit. His brilliant skills on stage come from his natural good humor and impromptu impersonations of everybody's favorite cartoons. Which characters? All of them. Theme songs? Yep. To the T with a comedic twist on top.
https://linktr.ee/BrightBoyJNW
ELDON
https://eldonsound.bandcamp.com/
Sotolish
Hip Hop duo making get away driver music
https://www.instagram.com/sotolish