Randomness Is All Around: An Online Multimedia Arts Class
Description
We're interested in helping artists learn to use technology to expand their definition of art and in helping tech peeps learn to be more artistic and creative! Wherever you are on that spectrum, we invite you to join us for our Fall intensive workshops!
Introducing "Randomness Is All Around," part of a series of mini- School of Machines, Making & Make-Believe courses we've put together to help get you started!
The main goal for this online course is to explore the brilliance of randomness as a tool for programming sound art, computer graphics, and video manipulation through hands-on exercises.

No experience necessary, come as you are.
___________________________
From weather, to a roll of the dice, to the noise that surrounds us, randomness, or the lack of patterns and state of unpredictability, is all around.

Using computers to create mathematical models of randomness allows you to quickly begin to incorporate generative and unpredictable outcomes into your art practice. It's easier than you might think. We'll show you how!
Over four-weeks, you'll learn math for randomness, and dig in to probabilities, and how to use code for audio synthesis and manipulation, computer graphics, video manipulation, and web applications.
Participants from diverse backgrounds, with varied skillsets and interests are all welcome to join us!
Don't know a lot about these topics? No worries! If you can use a computer, you'll be able to follow along and learn something in every class!
If you're an expert in any of these topics, join us to learn how to incorporate other disciplines into your practice.
Note: All classes are live but if you need to miss one, not to worry, they will all be recorded and available for playback.

___________________________
DATES
___________________________
* To love programming with the same unhealthy passion that we do.
* The basic concepts of working with code.
* Robust knowledge to continue expanding your understanding of programming.
* To express yourself creatively through using code for producing audio-visual artworks.

* To make generative, unpredictable art pieces.
For a more complete listing of the syllabus, have a look at Aaron's github repo here.
___________________________
Any artist, programmer, musician, designer, or creative that wants to understand how to use randomness effectively to control events and make your creative work more organic or unpredictable.
___________________________
* This is an online course. Participants should have a computer accessible to view the course and complete assignments.

* No prior experience necessary.
* Small class, up to 20 attendees.
* Women and persons from LGBTQ+ and other underrepresented * communities in the tech field highly encouraged to attend.
___________________________
FEES
Students €135
Spaces are limited. Grab your ticket today on Eventbrite!
For alternative payment methods, message us at: info[at]schoolofma.org
___________________________
ABOUT THE INSTRUCTOR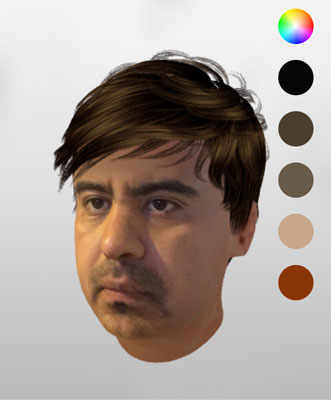 Aarón Montoya-Moraga is an artist, electrical engineer, and educator who specializes in writing software for audiovisual interactive installations and real-time live performances. Aarón's main interests are empathy, identity, performance art, synthesizers, machine learning and real-time manipulation.
Aarón has worked for the Processing Foundation and was a research resident at the Interactive Telecommunications Program, Tisch School of the Arts, New York University. Aarón co-founded CODED, a school for media arts based in Santiago de Chile and writes learning material for media arts and teaches workshops using Python, Processing, p5.js, ChucK and Pure Data for poetry, visual art, and sound art.