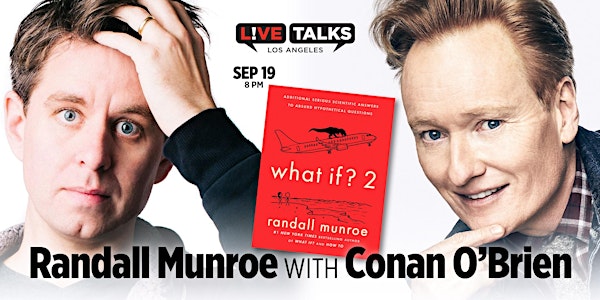 Randall Munroe with Conan O'Brien
Randall Munroe with Conan O'Brien discussing his book, "What If? 2: Additional Serious Scientific Answers to Absurd Hypothetical Questions"
When and where
Location
Glorya Kaufman Performing Arts Center at Vista Del Mar Child and Family Services 3200 Motor Avenue Los Angeles, CA 90034
About this event
***This in-person event has sold out.***
Tickets to the virtual event on September 24 at 3pm, taped from the in-person event, can be purchased here. It will be available on video-on-demand for three days from airing. Tickets include a signed book.
*Virtual event airs on September 24 at 3pm PT/6pm ET
Randall Munroe with Conan O'Brien
discussing his new book, "What If? 2: Additional Serious Scientific Answers to Absurd Hypothetical Questions"
TICKETS:
$48 General Admission + a signed copy of the book
$20 General Admission
Additional books available for purchase at event
Masks required for entry
Full vaccination proof required for entry
Tix also include opportunity to watch the virtual event
The virtual version of this event airs on September 24, at 3pm PT/6PM ET.
Tickets for the virtual event can be purchased here (includes the book)
ASL interpreter provided upon request.
*** PLEASE NOTE MASKS ARE REQUIRED FOR ENTRY INTO THE VENUE. PROOF OF FULL VACCINATION REQUIRED
Presented in association with the Glorya Kaufman Performing Arts Center
The New York Times bestselling author of What If? and How To answers more of the weirdest questions you never thought to ask.
Randall Munroe is the author of the #1 New York Times bestsellers How To, What If? and Thing Explainer, the science question-and-answer blog What If?, and the popular web comic xkcd. A former NASA roboticist, he left the agency in 2006 to draw comics on the internet full time. 
Conan O'Brien's path in comedy started when he served twice as the president of The Harvard Lampoon. He went on to become a writer and producer on several television shows, including Saturday Night Live and The Simpsons, until 1993, when NBC tapped him to take over as host of Late Night. Since then, he's won four Emmy Awards, seven Writers Guild Awards, and the People's Choice Award for "Favorite Television Host." Conan has hosted two Emmy Awards, and performed at the White House Correspondents Dinner for two presidents. In 2021, O'Brien concluded his 11 year run with "CONAN" on TBS, solidifying his 28 year career as a late night host and one of the longest tenures in late night history. His Emmy award winning Conan Without Borders series has visited 13 countries and his podcast Conan O'Brien Needs A Friend currently has over 312 million downloads since it launched in 2018. His award winning digital brand Team Coco, which spans across digital and branded content, live events, merchandise and expertly produced comedy specials was recently acquired by SiriusXM.
"With his steady regimen of math jokes, physics jokes, and antisocial optimism, xkcd creator Randall Munroe, a former NASA roboticist, scores traffic numbers in NBC.com or Oprah.com territory. One key to the strip's success may be that it doesn't just comment on nerd culture, it embodies nerd culture." —Wired, in an issue featuring "the people who have shaped the planet's past 20 years"
The millions of people around the world who read and loved What If? still have questions, and those questions are getting stranger. Thank goodness xkcd creator Randall Munroe is here to help. Planning to ride a fire pole from the Moon back to Earth? The hardest part is sticking the landing. Hoping to cool the atmosphere by opening everyone's freezer door at the same time? Maybe it's time for a brief introduction to thermodynamics. Want to know what would happen if you rode a helicopter blade, built a billion-story building, made a lava lamp out of lava, or jumped on a geyser as it erupted? Okay, if you insist.
Before you go on a cosmic road trip, feed the residents of New York City to a T. rex, or fill every church with bananas, be sure to consult this practical guide for impractical ideas. Unfazed by absurdity, Munroe consults the latest research on everything from swing-set physics to airliner catapult–design to answer his readers' questions, clearly and concisely, with illuminating and occasionally terrifying illustrations. As he consistently demonstrates, you can learn a lot from examining how the world might work in very specific extreme circumstances.