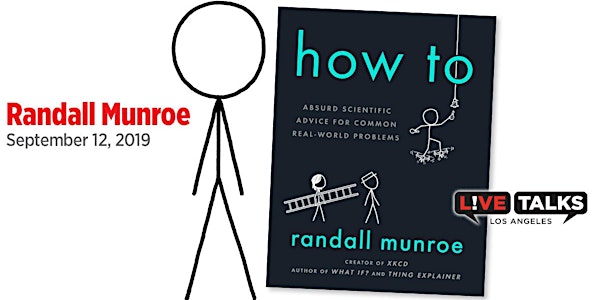 Randall Munroe in conversation with Kyle Hill
When and where
Location
Aratani Theatre 244 San Pedro Street Los Angeles, CA 90012
Description
Randall Munroe
in conversation with Kyle Hill
How To: Absurd Scientific Advice for Common Real-World Problems
at the Aratani Theatre in Little Tokyo
Q&A with Entertainment Weekly about Randall Munroe's new book, How To
The world's most entertaining and useless self-help guide, from the brilliant mind behind the wildly popular webcomic xkcd and the #1 New York Times bestsellers What If? and Thing Explainer
Randall Munroe is the author of the popular webcomic xkcd and the science question-and-answer blog What If. He is author of the New York Times bestsellers What If? and Thing Explainer. A former NASA roboticist, he left the agency in 2006 to draw comics on the internet full-time supporting himself through the sale of xkcd t-shirts, prints, posters, and books. He appeared at Live Talks Los Angeles in conversation with Will Wheaton when his book, What Ifwas published.
Kyle Hill is the science editor at Nerdist and host of the popular YouTube science show Because Science. He uses real-world math and science concepts to solve, measure, and make sense of pop culture quandaries in comics, video games, movies, and TV. His work has been published in WIRED, Popular Science, Slate and The Boston Globe, he has held writing positions at Scientific American and Discover Magazine, and has worked as a TV host/expert for Science Channel (MythBusters: The Search, How to Build Everything), Netflix (Bill Nye Saves the World), and Al Jazeera America (TechKnow).
For any task you might want to do, there's a right way, a wrong way, and a way so monumentally complex, excessive, and inadvisable that no one would ever try it. How To is a guide to the third kind of approach. It's full of highly impractical advice for everything from landing a plane to digging a hole.
Bestselling author and cartoonist Randall Munroe explains how to predict the weather by analyzing the pixels of your Facebook photos. He teaches you how to tell if you're a baby boomer or a 90's kid by measuring the radioactivity of your teeth. He offers tips for taking a selfie with a telescope, crossing a river by boiling it, and powering your house by destroying the fabric of space-time. And if you want to get rid of the book once you're done with it, he walks you through your options for proper disposal, including dissolving it in the ocean, converting it to a vapor, using tectonic plates to subduct it into the Earth's mantle, or launching it into the Sun.
By exploring the most complicated ways to do simple tasks, Munroe doesn't just make things difficult for himself and his readers. As he did so brilliantly in What If?, Munroe invites us to explore the most absurd reaches of the possible. Full of clever infographics and amusing illustrations, How To is a delightfully mind-bending way to better understand the science and technology underlying the things we do every day.
TICKETS
$75.00 first three rows (includes book)*
$53.00 orchestra section (includes book)
$45.00 balcony section (includes book)
$20.00 balcony
* also includes Live Talks Los Angeles 10th anniversary tote bag.
Ticket sales are final. No refunds.