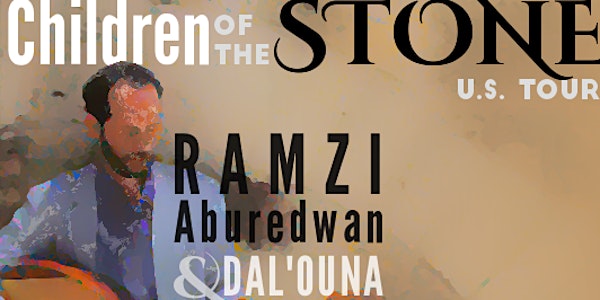 RAMZI ABUREDWAN, DAL'OUNA ENSEMBLE & SETH KIBEL JAZZ TRIO with Lena Seikaly...
Event Information
Location
Trinity Cathedral
315 Goldsborough Street
Easton, MD 21601
United States
Description
On Sunday, July 12 at 5:30pm, the Trinity Cathedral in Easton, Maryland will host the U.S. premiere "CHILDREN OF THE STONE/DAL'OUNA concert and book tour featuring the powerful music of renowned Palestinian composer and world musician Ramzi Aburedwan and his Arabic-French Dal'Ouna Ensemble, with special guest vocalist Lena Seikaly, and Sandy Tolan, award-winning author and journalist. Also featured will be the Seth Kibel Jazz Trio.
The tour corresponds with the release of "Children of the Stone: The Power of Music in a Hard Land" (Bloomsbury, April 2015) by Sandy Tolan, author of the international bestseller, "The Lemon Tree." The new book tells the story of Ramzi Aburedwan whose iconic image as an eight-year-old boy throwing a stone during the first Palestinian uprising captures the universal desire of Palestinians for freedom – a moving story of music as a means of empowerment and healing.
"In a world where so much popular fiction depicts life in a dystopian world, it is refreshing to have this non-fiction account that reflects one individual's belief in the power of music and culture to transform lives. Congratulations to Sandy Tolan for bringing us the story of Ramzi Hussein Aburedwan, his philosophy and his personal mission to make a difference. His story is proof of the famous words of Margaret Mead – 'Never doubt that a small group of thoughtful, committed citizens can change the world; indeed, it's the only thing that ever has.'"
—Yo-Yo Ma
The book traces Ramzi's subsequent transformation from a frustrated youth growing up in a refugee camp into a widely-respected classical and Arabic musician. He graduated from the world-renowned National Conservatory of Music in Ramallah, envisioned and created by Daniel Barenboim and Edward Said. After graduating from a national music conservatory in France, Ramzi succeeded in realizing his dream of founding the Al Kamandjati music schools for Palestinian children, with programs in the cities of Ramallah and Jenin, and Palestinian refugee camps in the West Bank and Lebanon, serving thousands of children.
Sandy Tolan, who first met Ramzi in 1998, documents his miraculous and inspiring journey from a child confronting an occupying army, to a burgeoning musician, to a music teacher and school founder.
CHILDREN OF THE STONE/DAL'OUNA CONCERT AND BOOK TOUR is a musical and literary tour de force, bridging cultural divides by promoting cross-cultural sharing through the fusion of unique musical and literary works including Palestinian folk, world and classical music, jazz, combined with biographical narrative nonfiction. At the heart of the tour, which brings together musicians from the Islamic world and the West, is Ramzi Aburedwan's own struggle in the midst of violence and hopelessness to find meaning and to protect and encourage children through music.
Members of the DAL'OUNA Ensemble include composer, violist and bouzouk player Ramzi Aburedwan with renowned percussionist Tareq Rantisi from Palestine, oud player Ben Youssef from Tunisia, multi-instrumentalist, accordion player Edwin Burger from Yugoslavia, and special guest vocalist Lena Seikaly from the U.S. Included in the program will be brief readings from Sandy Tolan's book, backed by original music from the Ensemble. Also performing in concert on July 12 will be the Seth Kibel Jazz Trio, with vocalist Lena Seikaly.
Date and time
Location
Trinity Cathedral
315 Goldsborough Street
Easton, MD 21601
United States