RampUp 2014: The LiveRamp Summit

Thursday, February 27, 2014 from 8:00 AM to 6:00 PM (PST)

Mountain View, CA
Who's Going
Loading your connections...
Event Details
Who & What
RampUp is LiveRamp's annual summit that brings together 1,200 marketers, agencies, and industry insiders. This year's summit will focus on connected data for the cross-channel marketer. We will cover topics such as:
What kinds of data should marketers be incorporating into their toolkits?

Why is it important that marketing data be accessible across all applications and platforms?

How do you take complex customer data and utilize it to create relevant and singular consumer experiences?
 Click below to see what RampUp is all about: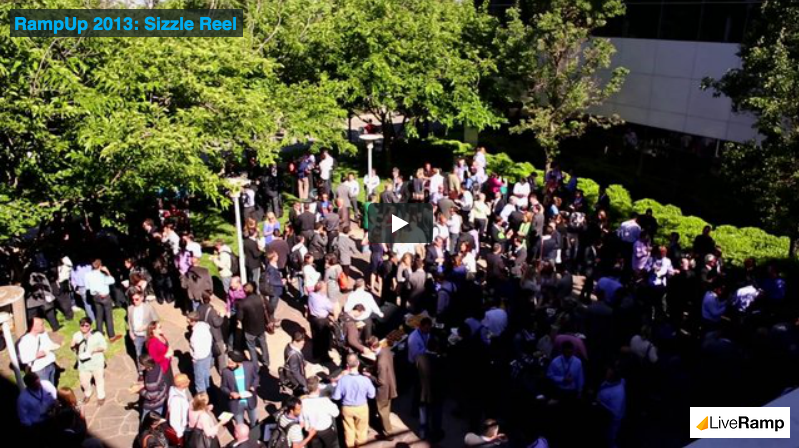 Where & When
RampUp 2014 will take place on February 27, 2014 at the Computer History Museum in Mountain View, California. The Computer History Museum is located one mile from Google's main campus, in the heart of Sillicon Valley.
Why
LiveRamp believes in educating the marketing community on the power of connected data. RampUp brings together leaders from brands and technology platforms to share knowledge and accelerate innovation.
Partial List of RampUp 2014 Participants
Neal Mohan, VP of Display Advertising -- Google
Mark Penn, CVP at Microsoft & Past Advisor to President Clinton and Hillary Clinton
Peter Thiel, Board of Facebook, Fmr. CEO of PayPal, Venture Capitalist & Entrepreneur
Kurt Abrahamson, CEO -- ShareThis
Dennis Ainge, SVP and GM - Information Services -- Neustar
Julian Aldridge, VP, Brand Evangelism and Activation -- Charles Schwab
Ken Allen, Managing Director -- Blackstone
Buddy Arnheim, Partner -- Perkins Coie
Andy Atherton, SVP -- AppNexus
Susan Athey, Professor of Economics -- Stanford GSB
Sanjay Banker, Principal -- TPG Capital
John Battelle, CEO -- Federated Media Publishing
Tom Bedecarre, President -- WPP Ventures
Adam Berke, President -- AdRoll
Bruce Biegel, Senior Managing Director -- Winterberry Group
Ryan Bonifacino, VP Digital Strategy -- Alex and Ani
Valerie Buckingham, Head of Marketing, North America -- Nokia
John Caldwell, VP Media & New Ventures -- Neustar
Paul Chachko, CEO -- V12 Group
Greg Colement, President -- Criteo
Pat Connolly, CMO -- Williams-Sonoma
Ari Daie, VP, LiveAnalytics -- LiveNation
Byron Deeter, Partner -- Bessemer Venture Partners
Bill Demas, CEO -- Turn
Subu Desaraju, SVP, Integrated Marketing -- Team Detroit
Salil Deshpande, Managing Director -- Bain Capital Ventures
Glenn Eisen, CMO -- Dish Digital
Jeff Epstein, Board of Priceline.com, Fmr. SVP and CFO of Oracle, Fmr. SVP and CFO of DoubleClick
Rick Erwin, President -- Experian Marketing Services
Mark Flaharty, SVP - Sales North America -- Criteo
Gian Fulgoni, Chairman -- comScore
Oscar Garza, Director of Acquisition -- Electronic Arts
Russ Glass, CEO -- Bizo
Rajeev Goel, CEO -- Pubmatic
Jonah Goodhart, CEO -- Moat
Jeff Green, CEO -- The Trade Desk
Marc Groman, CEO -- NAI
Saar Gur, General Partner -- Charles River Ventures
Layton Han, CEO -- Adara Media
Lisa Hook, CEO -- Neustar
Scott Howe, CEO -- Acxiom
Cezanne Huq, Head of Online Acquisition -- Intuit Small Businesses
Mike Iaccarino, CEO -- Info Group
Alisa Jenne, Global CRM Technology Manager -- Dell
Warren Jenson, CFO -- Acxiom
George John, CEO -- RocketFuel
Matt Kaiser, CEO -- LiveIntent
Steve Katelman, EVP Global Strategic Partnerships -- Omnicom
Terry Kawaja, CEO -- Luma Partners
Gary Kearns, Group Executive, Information Services -- MasterCard Advisors
Lou Kerner, Partner -- SecondShares
Matthew Keylock, Global Head of Data -- dunnhumby
Paul Kwan, Managing Director -- Morgan Stanley
Bryan Lamkin, Senior Vice President, Technology and Corporate Development  -- Adobe
Will Lansing, CEO -- FICO
Andre Lejeune, CEO -- Selligent
Chris Lien, CEO -- Marin Software
Rob LoCascio, CEO -- LivePerson
Marta Martinez, Head of Sales Strategy & Operations -- AOL
Ramsey McGrory, CEO -- AddThis
Patrick Mckenna, Managing Partner -- HighRidge Global
John Nardone, CEO -- [X+1]
Shawn O'Neill, Manging Director -- Silver Lake Partners
Christian Oestlien, Senior Director, Product Management -- Twitter
Catherine Paschkewitz, Senior Director, Digital & eCommerce Marketing, Americas -- Hewlett-Packard
Anika Price, Director Digital Marketing & Strategy -- Apollo Group
Matt Prohaska, Programmatic Maketing Director -- The New York Times
Will Quist, Managing Director -- Industry Ventures
Aniq Rahman, President -- Moat
Nikhil Raj, Sr. Director, Advertising & Demand Generation -- Walmart Labs
Ivy Ross, CMO -- Art.com
Randall Rothenberg, CEO  -- IAB
Eric Roza, CEO -- Datalogix
Tod Sacerdoti, CEO -- BrightRoll
Brian Schultz, Director - Corp Dev -- Microsoft
Amit Seth, EVP - Global Media Products -- Nielsen
Juan Silvera, SVP eMarketing -- Union Bank
Eric Stein, EVP -- Epsilon
Charlie Stryker, CEO -- Venture Development Center
Omar Tawakol, CEO -- BlueKai 
Kurt Unkel, President -- Publicis (VivaKi)
John Volturo, CMO -- Beachmint
Ben Whitmer, Director of Digital Marketing -- StageStores
David Williams, CEO -- Merkle
Noah Wintroub, ED -- JP Morgan
Linda Woolley, CEO & President  -- Direct Marketing Association
Joe Zawadzki, CEO -- MediaMath
Tony Zito, CEO -- Rakuten Mediaforge
When & Where


Computer History Museum
1401 N Shoreline Blvd


Mountain View

,

CA

94043

Thursday, February 27, 2014 from 8:00 AM to 6:00 PM (PST)
Add to my calendar