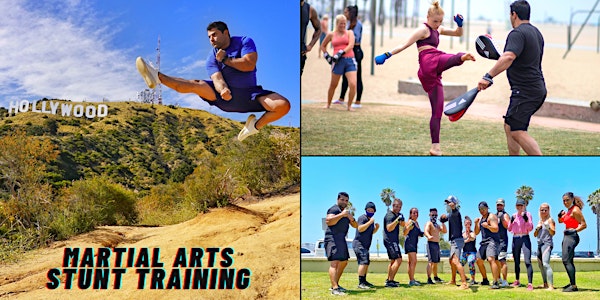 Ramin Sohrab Martial Arts and Stunt Training
Free Martial Arts and Stunt Training at Santa Monica Beach
When and where
Location
Ocean front green, Santa Monica 90401 Santa Monica, CA 90401
About this event
Join us for a Free Martial Arts & Stunt Training at Santa Monica Beach
Address: Ocean front green, Santa Monica
https://goo.gl/maps/TVNJsK32fETDmwX79
WHO IS TEACHING?
Ramin Sohrab is an award-winning film Director, Stunt Coordinator, and Martial Artist with over 30 years of experience.
WHAT WILL YOU LEARN?
With Ramin Sohrab Niina Carita and Pepe Karai you will learn a variety of different Martial Arts and Stunts movements no matter what level you are. We will be training hits, kicks, blocks, stunts, and every week there is a special movement that you will learn.
WHAT WILL YOU NEED?
If you have boxing glows or pads please bring them with you and if you don't, no worries we got you. Also, it is good to remember to bring suns cream and plenty of water. Trust us you need it.
WHY IS IT FREE?
The classes are free, because Ramin enjoys teaching and meeting new people, but if you enjoyed the class and learned something new you can Venmo @raminsohrab (four last digits 5425).
Come and train with us, meet new people and get some cool pictures and videos for your social media.
If you are planning to join us, please join our Facebook group where we share pictures videos, and information about the upcoming training.
https://www.facebook.com/groups/stuntmartialarts