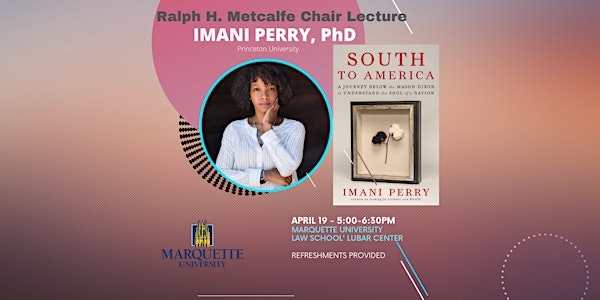 Ralph H. Metcalfe Chair Lecture Imani Perry,PhD
Dr. Perry's talk will focus on her latest best seller, South to America: A Journey Below the Mason-Dixon to Understand the Soul of a Nation
When and where
Location
Marquette University, Law School's Lubar Center 1215 W. Michigan St Milwaukee, WI 53233
About this event
Dr. Perry's talk will focus on her latest best seller, South to America: A Journey Below the Mason-Dixon to Understand the Soul of a Nation This is the story of a Black woman and native Alabaman returning to the region she has always called home and considering it with fresh eyes. Her journey is full of detours, deep dives, and surprising encounters with places and people. She renders Southerners from all walks of life with sensitivity and honesty, sharing her thoughts about a troubling history and the ritual humiliations and joys that characterize so much of Southern life.
Weaving together stories of immigrant communities, contemporary artists, exploitative opportunists, enslaved peoples, unsung heroes, her own ancestors, and her lived experiences, Imani Perry crafts a tapestry unlike any other. With uncommon insight and breathtaking clarity, South to America offers an assertion that if we want to build a more humane future for the United States, we must center our concern below the Mason-Dixon Line. Future planned projects include an examination of African American theories of law and justice, and a meditation on the color blue in Black life.
Imani Perry is the Hughes-Rogers Professor of African American Studies at Princeton University and a faculty associate with the Programs in Law and Public Affairs, Gender and Sexuality Studies and Jazz Studies. She is the author of 6 books, including Looking for Lorraine: The Radiant and Radical Life of Lorraine Hansberry, which received the Pen Bograd-Weld Award for Biography, The Phi Beta Kappa Christian Gauss Award for outstanding work in literary scholarship, the Lambda Literary Award for LGBTQ Nonfiction and the Shilts-Grahn Award for nonfiction from the Publishing Triangle. Looking for Lorraine was also named a 2018 notable book by the New York Times, and a honor book by the Black Caucus of the American Library Association. It was a finalist for the African American Intellectual History Society Paul Murray Book Prize. Her book May We Forever Stand: A History of the Black National Anthem, winner of the 2019 American Studies Association John Hope Franklin Book Award for the best book in American Studies, the Hurston Wright Award for Nonfiction, and finalist for an NAACP Image Award in Nonfiction. Her most recent book is: Breathe: A Letter to My Sons (Beacon Press, 2019) which was a finalist for the 2020 Chautauqua Prize and a finalist for the NAACP Image Award for Excellence in Nonfiction.
Perry is a scholar of law, literary and cultural studies, and an author of creative nonfiction. She earned her Ph.D. in American Studies from Harvard University, a J.D. from Harvard Law School, an LLM from Georgetown University Law Center and a BA from Yale College in Literature and American Studies. Her writing and scholarship primarily focuses on the history of Black thought, art, and imagination crafted in response to, and resistance against, the social, political and legal realities of domination in the West. She seeks to understand the processes of retrenchment after moments of social progress, and how freedom dreams are nevertheless sustained.