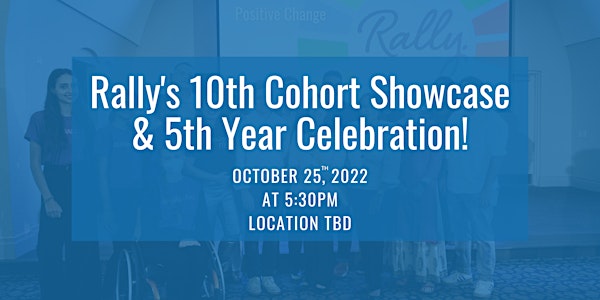 Rally's 10th Cohort Showcase & 5th Year Celebration!
Come celebrate our 5th-year anniversary with us and witness our Fellows' Final presentations!
When and where
Location
TBD TBD Orlando, FL 32801
About this event
Join us on Tuesday, October 25, 2022, from 5:30 to 7 pm for Rally's 10th Cohort Showcase & 5th Year Celebration!! For 16-weeks, our Fellows have been working hard to build sustainable ventures that create positive social change. During this event, you'll hear 3-minute presentations about their vision, work, and how you can assist them along their journey.
Presenting Fellows
Ian Winbrock, ChangeFinder| ChangeFinder improves the grant application success rates for nonprofits and the foundations that fund them through best-in-class matching. ChangeFinder is a SaaS solution that combines grant research and management, donor research and management and fundraising management for nonprofits as well as full cycle grant management for foundations.
Kelli Casto, Saving Our Seniors | Saving Our Seniors provides assistance to seniors with durable medical equipment and food insecurity.
Margaux Pagán, The Sharing Center's Housing| TSC Housing will provide access to attainable housing for families and individuals who fall under the poverty guidelines and ALICE households to reduce the risk of or experience of homelessness.
Mohamed Kamara, InovCares | InovCares is an active digital platform established to address health inequities in healthcare access and delivery. Inspired by personal tragedy, we are seeking support to expand our operating structure of telehealth services to include specialized point-of-care testing (POCT) and referrals for maternal health issues such as hypertensive disease, hemorrhage, infertility, infection, and auto immune disorders like SLE within our virtual obstetrics and gynecology (OB-GYN) clinic.
Oscar Pedroso, Thimble.io| Thimble Academy exposes kids to over 100 technology fields through an engaging, one-stop-shop curriculum of lessons, professional training, and reusable STEM kits. Students have the opportunity to learn about robotics, drone technology, machine learning, cybersecurity, 3D printing, coding, AR/VR, Blockchain, audio engineering, and other technical fields.
Raymond Horal & Giuliana Sofia Rossi, BOHO | BOHO is a software application that helps consumers directly donate a portion of their spending to the causes they care about during the checkout process.
Sahar Jamal, Maziwa Breastfeeding| Maziwa Breastfeeding's mission is to ignite the potential of mothers in developing markets to take control of the health and well-being of their families. Maziwa has launched the Wema breast pump, which ensures that mothers can express breastmilk in any environment. Maziwa is also training a network of Community Breastfeeding Ambassadors to disseminate lactation support.
Sam Baker, WriggleBrew| WriggleBrew fertilizer & pesticide helps gardeners and plant owners who want to grow plants sustainably, affordably, & with ease. It's entirely organic, unlike mineral fertilizers, entirely odorless, unlike manures, and uniquely doubles as a pesticide - and most importantly, it generates no pollution.
William Glass & Andrew Holliday, Ostrich| Ostrich is a financial fitness app for college students who need a simple way to start improving their finances in order to live the life they want.
Register today to access the event and learn more about our world-class fellows and how you can come alongside them!
We'd like to extend a special thank you to all of the Rally Makers and supporters of Rally that have made this class possible through investments and mentorship. Their support is creating our shared vision of putting Orlando on the map as a hub for social enterprise.
Additional Information
Directions & Parking: TBD
Safety Considerations: Masks are optional. Feel free to wear one as much or as little as you like. To keep everyone safe and healthy, please stay home if you (or someone in your household) has:
Had a fever in the last 24 hours
Been exposed to someone who tested positive in the past two weeks
Is experiencing cold-like symptoms