Rally Obedience & Coursework (Intro & Novice) | 6-Week Course | 2.8.14

Saturday, February 8, 2014 at 10:30 AM

-

Saturday, April 12, 2014 at 11:30 AM (CST)

Round Rock, TX
Who's Going
Loading your connections...
Event Details
Advance Your Skillset. Solidify Your Teamwork. Broaden Your Journey.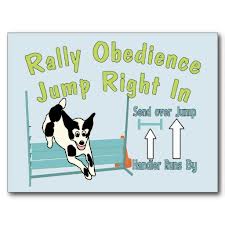 Experience your training and learning zone! Now that you've got the fundamentals of basic training with your puppy or adult dog in place, I invite you to pull your newfound skills together and and enjoy the BIGness of your learnings!
Rally Obedience? Jump Right In!

Rally Obedience is a form of dog obedience with a total focus on "focus"! This "focus" is sure to bring some ZING, fun and excitement to both dog AND handler! You'll fluidly learn to move, together, through and obstacle course of obedience exercises, performing the exercises indicated by 10-20 consecutive signs. In Rally the emphasis is on the relationship between the handler and dog, therefore handlers may talk to their dogs and praise them throughout the course. Handlers can even use hand signals, point, and in Novice and Advanced levels, clap their hands as often as necessary–this is not only allowed, it is encouraged. It is the new dog sport that is taking the nation by storm, a successful stepping stone from the AKC Canine Good Citizen® program to the world of obedience, therapy dog work or agility. 
What does it look like? What's the point?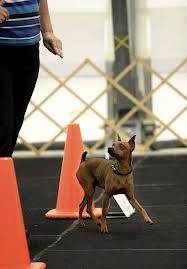 A rally course includes 10 to 20 "stations", depending on the level (Novice, Intermediate, Advanced). Perfect heel position is not required, but there should be a sense of teamwork between the dog and handler...once you've got it, you'll find this GLORIOUS! The main objective of rally is to produce dogs that have been trained to behave in the home, in public places, and in the presence of other dogs, in a manner that will reflect positively on the canine community at all times. THIS is why we do it...this is why we LOVE it! While some are here to learn the sport for competition purposes, most are just looking to improve their pet-dog-skill-set in a fun and positive way! KBDT also uses Rally Obedience as a successful tool in preparation for the AKC Canine Good Citizen® program. 
KBDT Rally is open to puppies 6 months and up and will occur over a 6-week period. Dog owners of all levels are invited to come and advance at their own pace, in a fun, low-pressure and nurturing environment. This class is usually a mix of pups fresh out of puppy class, canine/handler teams preparing for their AKC Canine Good Citizen Exam, those who have already acquired their Canine Good Citizen Title, active or retired therapy dogs and good old fashion every-day dogs and their people looking to learn, play and grow together!
How will my dog benefit from Rally Obedience?
There are many benefits to participating in KBDT Rally Obedience classes. Dogs enjoy having a job and when you take one of our Rally classes, you will be teaching your dog many fine-tuned obedience commands that will engage them mentally. Along with this mental workout, your dog is getting a physical workout (yet, not nearly as strenuous on handler and dog as agility). Perhaps the most important benefit is the end result ===> relationships between dogs and their owners grow, strengthen, and reach communication levels owners never dreamed they could achieve! Jump in!
CLASS FEE: $299.00
Pre-Requisite: Open to the public. Your dog should have mediocre leash-walking skills and a basic understanding of "sit" and "down".

Your class includes six instructional visits and like all other KBDT services, ongoing phone or email support.

NOTE: If you are experiencing any significant behavior problems with your puppy or adult dog, such as moderate-severe separation anxiety or aggressive displays, we recommend a private in-home Initial Behavior Consultation as soon as possible.
Thank you for choosing KBDT. We are confident that your class will provide an enjoyable experience for you and your companion. The learnings solidified here are sure to remain with you for the lifetime of your pet and possibly beyond!
Paws UP!
Kimberly

Kimberly Burgan, CPDT-KA
Accredited Behavior Consultant and Certified Professional Dog Trainer
Owner, Kimberly Burgan Dog Training | Austin, TX
Certification Instructor, dog*tec Dog Walking Academy | Austin, TX
Author, "Poppy and Puppy are Friends: A Child's Introduction to Responsible Dog Ownership"

*********************************************************

 FREQUENTLY ASKED QUESTIONS

1. Are there age limits/other requirements to enter this class?
Yes. Your dog should be 6 months or older to join this class. This class is open only to existing KBDT Clients who have already received some sort of private and or group class instruction by KBDT or affiliated trainers. Intro to Rally Obedienc, however, is open to the public. Contact kimberly@kimberlyburgan.com for affiliated trainer approval and/or other group class options for dogs that do not meet the above criteria!
2. I really like the concept of this class, but have not trained with KBDT before. How do I get started?
Great question. We'd love to have you! Please contact Kimberly at kimberly@kimberlyburgan.com to set up a private consultation and we'll get you into our next class faster than you can say "Affenpinscher"!
3. What is the exact location for the training event?
301 Chisholm Trail in Round Rock. Your Google Maps will get you lost! From I-35, exit and travel west on Hwy 620. At your first light (Chisholm Trail), turn left. Make an immediate right across the railroad tracks and you'll see signs for Central Texas Veterinary Specialty Hospital. Our classes take place in the lovely, fully-fenced, park-like setting to the north of the hospital building. You'll see several gazebos and we meet for class right there!
4. What are my parking options at the event?
You will be parking at the Central Texas Veterinary Specialty Hospital. Please reserve all up-front parking spaces for emergency patients at the hospital. Feel free to park anywhere else!
5. Are restrooms available at your outdoor training field?
We recommend you potty before you arrive so that you may maximize your 60 minutes of class time! However, there are restrooms on-site within the animal hospital. We just ask that you check-in with the front-desk and let them know you are training with KBDT! Always keep your dogs away from other dogs visiting the hospital.
6. What can/can't I bring to the event?
We do not allow any prong, choke, pinch collars or flexi-leads. Your dog should arrive on a fitted martingale collar or easy-walk/no pull harness and a six-foot leash. Humans are discouraged from wearing open toed shoes to any training class. 
Do bring a variety of treats and toys for your pet and water for yourself and your pup.
7. What else should I know about classes with KBDT?
Training events by KBDT are always offered in a fun, safe and nurturing environment using only rewards-based training techniques. KBDT reserves the right to discontinue services at any time, under circumstances deemed appropriate, which will always be communicated to our clients.


An individual handler is required for each dog in attendance. Under no circumstances will a single handler be allowed to attend class with more than one dog at a time.

All human family members are welcome and encouraged to attend, with appropriate adult supervision as applicable.

Classes are subject to cancellation one week in advance due to low enrollment and/or with shorter notice due to inclement weather and/or unsafe driving conditions. Rain date classes are assigned (in advance) with every course to ensure that KBDT makes 6 classes available to you!

8. Where can I contact the organizer with any questions?
Please contact Kimberly directly at kimberly@kimberlyburgan.com or 512-636-6996. Visit www.kbdogtraining.com for additional details regarding KBDT!
9. Is my registration/ticket transferrable? No.
10. Do I have to bring my printed ticket to the event? No.
11. What is the class make up policy?
We do not offer make-up classes or missed-class credits and hope that you are able to attend all six sessions to maximize your dollars and learning opportunity. Should you have to miss a class, just let us know in advance and we'll be sure to follow up with you to ensure you don't miss out on the class material presented!

12. What is the refund policy?
Thank you for understanding that we are a small business offering an exclusive service. Our refund policy is in place to keep our administrative time and costs to a minimum. Payment in full is required at the time of registration. In the event of cancellation before the course begins, a 50% refund will be issued when the cancellation is communicated 5 business days before the course start date. We are unable to offer any type of refund after the course start date.
While services are non-refundable upon beginning the course, should you feel unsatisfied with your service and would like to request consideration for a partial refund (of no more than 50% of class fee minus attended class charges) we ask that you notify Kimberly in writing at kimberly@kimberlyburgan.com within 24 hours of your service. Such a refund will be considered on a case-by-case basis.
When & Where


KBDT Training Field @ Round Rock
301 Chisholm Trail


Round Rock

,

TX

78681


Saturday, February 8, 2014 at 10:30 AM

-

Saturday, April 12, 2014 at 11:30 AM (CST)
Add to my calendar
Organizer
Kimberly Burgan Dog Training
Serving the Central Texas Canine Community Since 2001 | Excellence in Canine Education!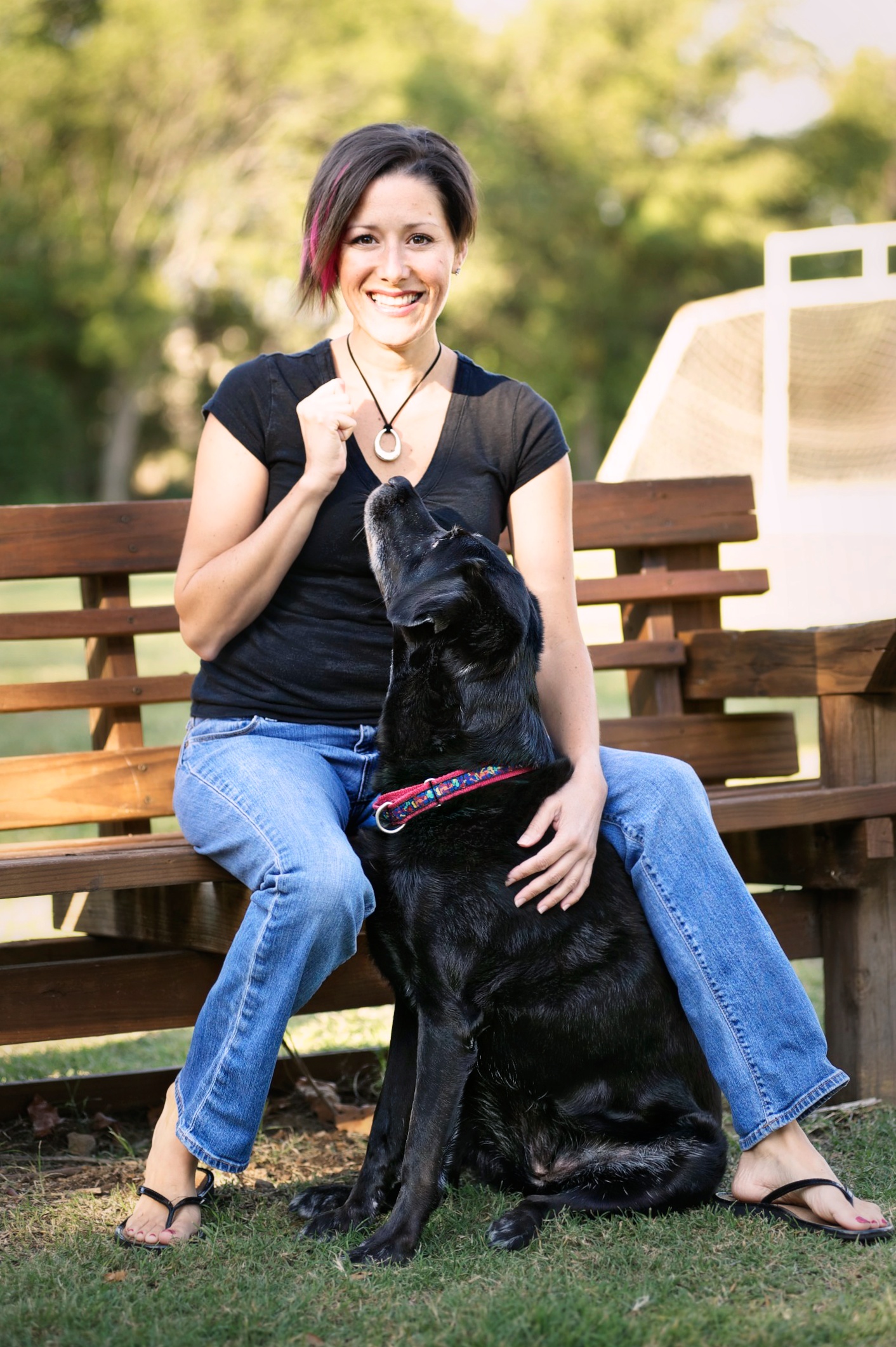 Thank you for allowing me to be your guide on this most fabulous journey!
Your partner in canine education,
Kimberly Burgan, CPDT-KA
Owner, Kimberly Burgan Dog Training 
Author, "Poppy and Puppy Are Friends: A Child's Introduction to Responsible Dog Ownership"
Certification Instructor, dog*tec Dog Walking Academy @ Austin, TX