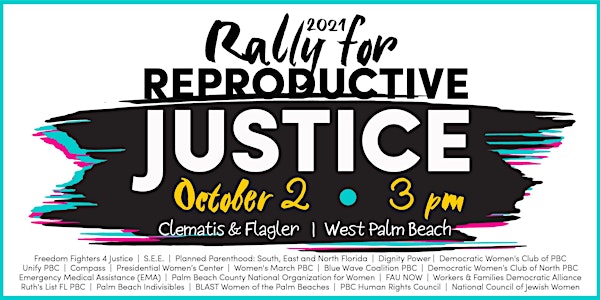 Rally for Reproductive Justice
Join us for a peaceful rally to support reproductive justice.
When and where
Location
Green space at North Clematis Street and South Flagler Drive West Palm Beach, FL 33401
About this event
Hosted by
Freedom Fighters 4 Justice, S.E.E., Planned Parenthood: South, East and North Florida, Dignity Power, Democratic Women's Club of PBC, Unify PBC, Presidential Women's Center, Women's March PBC, Blue Wave Coalition PBC, Democratic Women's Club of North PBC, Palm Beach County National Organization for Women, FAU NOW, Workers & Families Democratic Alliance, Compass, Emergency Medical Assistance (EMA), Ruth's List FL PBC, Palm Beach Indivisibles, BLAST Women of the Palm Beaches, PBC Human Rights Council, National Council of Jewish Women
We will meet in West Palm Beach in the green space at South Flagler Drive between North and South Clematis Streets.
We are going to send the Supreme Court and Florida lawmakers a clear, unified message. The attack on our reproductive rights will not be tolerated. We will make our voices heard in support of reproductive justice for all!
Rally Guidelines-What to Expect:
The Rally for Reproductive Justice is a PEACEFUL event. If counter protesters are present, do not engage or confront counter protesters. Trained volunteer safety marshals will be available to monitor and de-escalate; look for those wearing safety vests. Move away from potential confrontation. Center the message of those most impacted. Listen to the speakers and to each other. Look out for each other. Signs are welcome.
• COVID safety: Participants should wear masks. Safely distance yourself from others during the rally. If you are not feeling well, please stay home (we will miss you!)
• General comfort: It will most likely be a typical Florida afternoon. You know what to do—stay hydrated, wear sunscreen and a hat. There are public restrooms adjacent to the rally area.
Parking Near the Rally:
Banyan Garage, 200 Banyan Blvd (1 block)
City Center Garage, 199 North Dixie Hwy (3 blocks)
Evernia Garage, 333 Evernia St (5 blocks)
Qué esperar
• El Rally por la Justicia Reproductiva es un evento PACÍFICO.
- Si hay protestas en contra, no se involucre.
- Voluntarios entrenados estarán disponibles para monitorear y reducir problemas; busque a los que llevan chalecos de seguridad. Aléjese de una posible confrontación.
• Nuestro mensaje central es el de los más impactados. Vamos a escuchar a los oradores y los unos a los otros. Nos vamos a cuidar mutuamente. Los pósters son bienvenidos.
• Seguridad de COVID:
- Los participantes deben usar máscaras.
- Aléjese de forma segura de los demás durante el rally.
- Si no se siente bien, quédese en casa (¡los extrañaremos!)
• Comodidad general
- Lo más probable es que sea una tarde típica de Florida. Manténgase hidratado, use protector solar y un sombrero.
- Hay baños públicos adyacentes al área del rally.
Rally Purpose
On September 1 the U.S. Supreme Court allowed Texas to enact a law which bans abortions after 6 weeks, before most people even know they are pregnant. Shortly thereafter, Florida politicians vowed to propose a similar abortion ban.
As a result of these attacks on our bodily autonomy, national and local reproductive health rights and justice organizations are joining together with activists across the country to take action on October 2, two days before the Supreme Court hears a 15 week abortion ban case from Mississippi. We must defend 50 years of constitutional rights under Roe v. Wade.
In West Palm Beach we join the struggle and demand the following:
• The rights, freedoms, and opportunities to control our lives at the most basic level -- our bodies, our families, and our personal paths -- which includes access to respectful, quality, and affordable reproductive health care, including abortion.
• Justice for BIPOC, queer, working class and incarcerated women who have suffered systemic oppressions and will bear the brunt of these attacks on reproductive rights.
• Policies and laws that serve our communities, instead of imposing personal beliefs and views.
Propósito
El dia 1 de septiembre, la Corte Suprema de EUA permitió que Texas promulgara una ley que prohíbe los abortos después de 6 semanas, antes de que la mayoría de las personas sepan que están embarazadas. Poco después, los políticos de Florida se comprometieron a proponer una ley similar.
Como resultado de estos ataques a nuestra autonomía corporal, un numero de organizaciones de justicia y de derechos de salud reproductiva nacionales y locales se han unido con activistas nacionalmente para tomar accion el 2 de octubre, dos días antes de que la Corte Suprema escuche un caso de prohibición del aborto de 15 semanas en Mississippi. Tenemos que defender 50 años de derechos constitucionales bajo Roe v. Wade.
En West Palm Beach nos unimos a la lucha y exigimos lo siguiente:
• Los derechos, libertades y oportunidades para controlar nuestras vidas al nivel más básico - nuestros cuerpos, nuestras familias y nuestros caminos personales - que incluye acceso a atención médica respetuosa, de calidad y asequible, e incluido el aborto.
• Justicia para todos, inconsequente de raza, clase, sexualidad, e inclusiva de mujeres encarceladas que han sufrido opresiones sistémicas y serán las más afectadas por estos ataques a los derechos reproductivos.
• Leyes que ayudan a nuestras comunidades, en lugar de imponer creencias y puntos de vista personales.