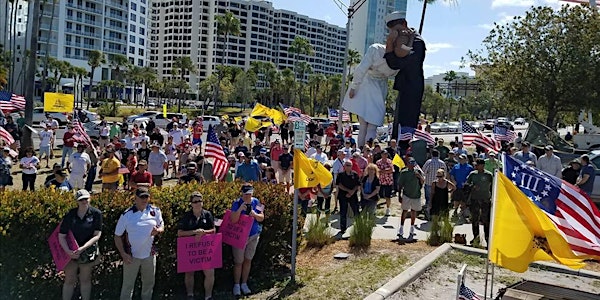 Rally For Our Rights Manasota II
When and where
Location
Bayfront Park Marina Jack Trail Sarasota, FL 34236
Description
RALLY FOR OUR RIGHTS MANASOTA II
Pro – Second Amendment

Demonstration & March

(Sponsored by grassroots volunteers of the local gun community)

Sarasota Bayfront Park

Saturday, Sept. 22, 2018

10:00 a.m. – 1:00 p.m.

Peaceful • Positive • Patriotic

Our first rally on and march on May 5th was a success, so let's do it again!!

It's time to stand up. To be seen and heard. To let people see us as we REALLY are – men & women of all races and backgrounds who love their children and their country, and who cherish the rights so many have died defending.

Let's once again create a sea of red, white, and blue all along Bayfront. Bring your large U.S. flags and Gadsden flags. Bring your children (free small flags available while they last). Proudly wear your veteran, 2nd Amendment, and NRA ball caps and t-shirts. Bring your signs with Pro-Second Amendment messages – keep them positive and factual. Please - no profanity, no personal attacks.

Police your trash – take it with you when you leave. We left the area spotless the last time.

No open carry.

Don't be "that guy" that will allow the media to portray all of us as extremists, haters, or crazies. Be willing to ignore and/or walk away from any antagonizers.

Special guests: Matt Bruce, from The Captain's America Radio Show, has once again agreed to be our emcee, and Gold Star Father, Kris Hager, has graciously agreed to deliver the invocation. Other guests will be announced soon.

We'll gather near the Unconditional Surrender (Kissing) statue by 10:00 am and an optional march across Ringling Bridge to Bird Key and back will start at 11:30 am for those who want to do the 2-mile roundtrip walk. No police escort – we must follow traffic laws.

Let's once again have dozens, if not hundreds, of American and Gadsden flags going across our beautiful Ringling Bridge…

Questions, or would like to help? Email us at rallyforourrightsmanasota@gmail.com.

For more info: www.rallyforourrightsmanasota.com.

About 400 people came the last time; let's see if we can double that!

Bring your friends – see you there!

FAQs

Are there ID or minimum age requirements to enter the event?

No, all ages are welcome. Bring your children and your parents!

What are my transportation/parking options for getting to and from the event?

There may be parking available at the Bayfront/Marina parking areas if you get there early, and there are public garages and on-street parking spots in the area. Here's a link to a Downtown Sarasota parking map.


What can I bring into the event?

U.S. flags & Gadsden flags (no Confederate flags please), positive pro-Second Amendment signs (please, no personal attacks or profanity), patience and a sense of humor, chairs if needed, sunscreen, WATER, a trash bag. Please take everything you brought - especially your trash - with you when you leave! We want to leave the area cleaner than when we came.

What are the City of Sarasota's rules for demonstrations?

The following applies to all demonstrations within the City of Sarasota:
All participants shall use only the sidewalks and shall not interfere with or impede other pedestrian traffic or any vehicular traffic. Participants shall not use any other areas, whether public or private, grassy, paved, or otherwise, or any buildings, unless written permission has been granted by the property owner.
All City and County ordinances and State and Federal statutes shall be obeyed, including, but not limited to, noise ordinance and zoning codes, and all necessary permits shall be obtained.
The demonstration shall be peaceful and nonviolent at all times.
Neither pedestrians nor motorists may be accosted, obstructed, or harassed in any way.
All signs or posters shall contain no profanity, obscene language/pictures or hate speech.
All materials used shall be removed immediately upon the conclusion of the demonstration.
Participants shall park only in legal parking spaces and shall not exceed specified time limits. No special parking privileges are granted for demonstrations.
How can I contact the organizer with any questions?
Email the volunteer organizers at rallyforourrightsmanasota@gmail.com.