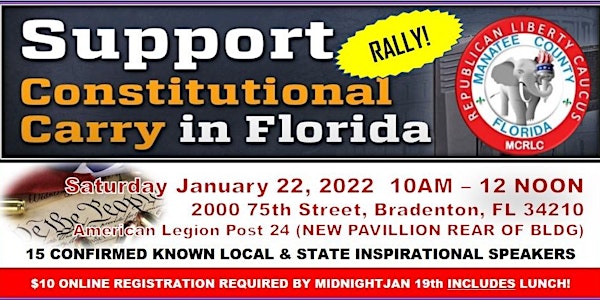 RALLY FOR FLORIDA CONSTITUTIONAL CARRY-2ND AMENDMENT
RALLY FOR OUR INALIENABLE RIGHT OF SELF DEFENSE-2A STRONG!
By MANATEE COUNTY REPUBLICAN LIBERTY CAUCUS
Date and time
Saturday, January 22, 2022 · 10am - 12pm EST
Location
American Legion Kirby Stewart Post 24-Pavillion Rear of Building 2000 75th Street West Bradenton, FL 34209
About this event
Throughout January the Republican Liberty Caucus of Florida (RLC-FL) will hold events and rallies state-wide in an effort to encourage the state legislature to place a Constitutional Carry bill on Governor DeSantis desk to sign as he said he would. Each county chapter will decide how it will advocate for Constitutional Carry on the 22nd.
Manatee County Republican Liberty Caucus (MCRLC) will hold a "rally" at American Legion Post 24, 2000 75th Street, Bradenton, Florida in the brand new pavilion in back of the main building .
The event is open to the public at minimal cost of $10 each to offset rent. Ticket price includes choice of lunch (hamburger, hot dogs or turkey sandwich-all include choice of chips and cookie) Coffee, water and assorted soft drinks will be on hand throughout the rally. The diverse and dynamic speakers include:
STATE REPRESENTATIVE TOMMY GREGORY
FLORIDA REPUBLICAN LIBERTY CAUCUS CHAIRMAN BOB WHITE
STATE REPRESENTATIVE & US CONGRESSIONAL CANDIDATE ANTHONY SABATINI (UNCONFIRMED)
FLORIDA GUN RIGHTS MATT COLLINS (UNCONFIRMED)
NATIONAL RADIO SHOW HOST/VIN VETERAN/9-11 WTC FIRST RESPONDER: CAPTAIN MATT BRUCE
COUNTY COMMISSIONER DISTRICT 6 AT LARGE CANDIDATE/USMC VETERAN JASON BEARDEN
MANATEE COUNTY BOARD OF COMMISSIONERS CHAIRMAN KEVIN VAN OSTENBRIDGE
ATTORNEY ENDORSED IN BID FOR STATE ATTORNEY BY THE NRA LISA CHITTARO
US CONGRESSIONAL DISTRICT 16 2022 CANDIDATE MARTIN HYDE
MANATEE HERALD POLITICAL COLUMNIST MARK YOUNG
AUTHOR "RULES FOR DEPLORABLES" CATHI CHAMBERLAIN
COMMISSIONER DISTRICT 5 VANESSA BAUGH
COMMISSIONER DISTRICT 1 JAMES SATCHER
"JUSTIN AMERICAN" RADIO/PODCAST HOST RICHARD TATEM
ATTORNEY/ CONSERVATIVE PRINCIPLE ADVOCATE AMANDA BALLARD
CO-CHAIR/FOUNDER DEFEND FLORIDA RAJ DORAISAMY
CONCERNED VETERANS FOR AMERICA JIMMIE T. SMITH/DAVID HUSTON
PRESIDENT MANATEE PATRIOTS JACK MAY (UNCONFIRMED)
The RLC-FL starts that week with lobby days in Tallahassee on January 18-19. Protecting and preserving our right to self defense-the 2A is one of several issues that will be at the fore of our lobby efforts.