Raleigh Slow Art Day - Gregg Museum of Art & Design - April 12, 2014
When and where
Location
Gregg Museum of Art & Design 1903 Hillsborough Street Raleigh, NC 27606
Description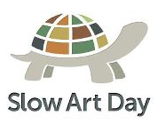 Gregg Museum of Art & Design
Art viewing: 11:00 AM - 1:00 PM
Lunch: 1:00 PM - 2:00 PM
At Irregardless Cafe, 901 W Morgan St.

Host / Facilitator: Susan Fennell
Email: roger_manley@ncsu.edu
View Kimonos, textiles, ceramics, and 19th century woodblock images from feudal Japan's pleasure and entertainment districts at the Gregg Museum, 1903 Hillsborough Street, Raleigh. To visit the museum during other times of the week, call 919-513-7244 or 919-515-3503 or email zoe_starling@ncsu.edu
Zen priest Asai Ryōi, in his 1661 book, Ukiyo-monogatari (浮世物語, Tales of the Floating World), described a sensation of ". . . living only for the moment, savoring the moon, the snow, the cherry blossoms and the maple leaves, singing songs, diverting oneself in just letting oneself drift, buoyant and carefree, like a gourd floating along in a river current . . . ." REMNANTS OF THE FLOATING WORLD draws upon the treasures of the Gregg's permanent collection to explore a world of courtesans in elegant kimonos, warrior-heroes on military ventures, sinister ghosts and witches, theatrical performances and scenes of leisure.
Slow Art Day is a worldwide celebration of art that encourages people to look at art SLOWLY – and thereby experience art in a new way. You can see more about Slow Art Day and the mission behind it on our website: http://SlowArtDay.com.
As Slow Art Day approaches, you'll hear from your host with more information, as well as instructions about what to do when you arrive for Slow Art Day.
More info about Slow Art Day movement: facebook | twitter | tumblr