Rakugo Performance: The Art of Japanese Comic Storytelling (in English)
Description
Join us on Thursday 5 March for an evening of Japanese comedy with master storyteller Kanariya Eiraku. Rakugo comic monologues have a long history in Japan, and have grown in popularity in recent years.
The evening's entertainment includes an introduction to rakugo, a selection of comedic (sometimes sentimental) rakugo tales – told in English, and will be a special Oyako-Kai (Master-Disciple) show with Eiraku-shishō's Auckland based disciple, Kanariya Eishi, founder of Auckland-based English Rakugo NZ.
Want to learn some rakugo storytelling skills? Check out Eiraku-shishō's rakugo workshop on Wedsnesday 4 March: http://bit.ly/36YoU9O.
Learn more about Rakugo: https://en.wikipedia.org/wiki/Rakugo.
(Ticket price includes GST and ticketing service charges.)
About the Performers:
Kanariya Eiraku started English rakugo in 2007 and began overseas tours in 2015. So far, he has toured US, UK, Denmark, Georgia, Kazakhstan and Laos. He has more than 50 English rakugo stories in his repertoire. He leads Canary English Rakugo Company, which includes some 50 members. He has English rakugo classes in Tokyo, and he also teaches at Kanda University of International Studies and Komazawa University.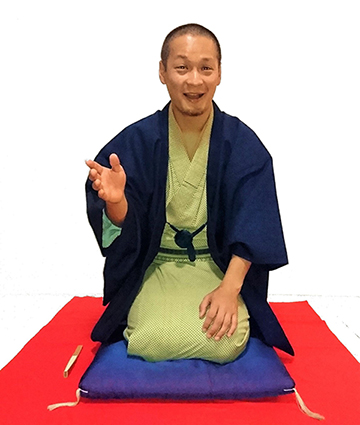 Kanariya Eishi (aka Hiroshi) performed his first English Rakugo at Herald Theatre in 2009 and later in 2016 started his training under Eiraku-shishō to learn more authentic style of rakugo. As an Aucklander, Eishi strives to create rakugo that is relevant to New Zealanders with his acting and stand-up comedy background. Eishi/Hiroshi was the winner of Raw Comedy Quest 2005 at NZ International Comedy Festival.
This event is made possible thanks to the support of University of Auckland & Short+Sweet New Zealand.