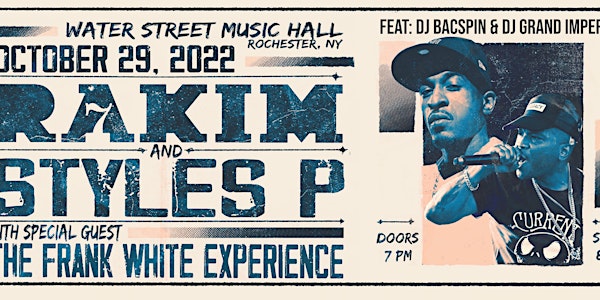 Rakim and Styles P w/ The Frank White Experience
Join us on Saturday, October 29th as we welcome the legendary RAKIM & STYLES P to Water Street Music Hall w/s/g The Frank White Experience!
When and where
Location
Water Street Music Hall 204 N Water Street Rochester, NY 14604
Performers
Headliners
More Performers
About this event
About Rakim:
In the history of the Hip-Hop, few artists have had as great an impact on the development and progression of the art forms lyrical style as Rakim Allah. Universally referenced as one of the Masters of the Microphone and an influence and inspiration to his peers and followers alike, Rakim first exploded onto the scene with the release of iconic Eric B. is President in 1986 with long time collaborator Eric B. The single marked a turning point in the Rap world – raising the bar for future emcees and revolutionizing the way rhymes are delivered to this day. No serious discussion of the music's greatest performers is held without a deferential accounting of his achievements, and no serious rap artist grips a microphone without channeling some of his legend.
Rakim's intricately intellectual lyrics draw their force from his worldly experience, inner faith and progressive contemplation; his liquid and seemingly effortless delivery – often imitated but still unrivaled – from a fire fueled by a deep understanding of not just Hip-Hop, but also the Jazz and R&B influences that have surrounded his family since his youth. His recordings – including the all-time classics Paid In Full, Follow the Leader and The 18th Letter - have sold in the multi-millions worldwide. Billboard, Rolling Stone, MTV and a host of others consistently refer to Paid in Full as "the greatest Hip-Hop album of all time" – a claim that often repeated in audience polls. These Platinum albums line the walls of the Broadway, MCA and Universal labels and, with a Rakim appearance near guaranteeing an explosion of sales, he has been recruited to add his star talents to projects for Alicia Keys, Jody Watley, Damian Marley, Jay-Z, Dr. Dre, Mobb Deep, Lloyd Banks, Limp Bizkit, Gang Starr and Truth Hurts among many others.
Rakim's uncanny innovation was the focal point of the critically acclaimed recreation of Bob Marley's Concrete Jungle and has helped propel movie soundtracks such as Juice, Brown Sugar, the Rugrats, American Psycho and 8 Mile to Best Seller status. His role model status has led world famous brands such as Reebok, The Coca Cola Company, LVMH, Ecko and Sean Jean to choose him as spokesperson.
Now with twenty-five years at the top of Hip-Hop's Greatest list, the Long Island, NY native not only continues to record for himself, but also works with young artists signed to his own record imprint, Ra Records. With recent tributes in 2012 such as being named the #1 Lyricist of All Time by The Source magazine, receiving the coveted BET Lifetime Achievement Award and being nominated to the Rock and Roll Hall of Fame, two original music projects, his first feature film role and sold-out international tours keeping the world's eye on the one many call The GOD EmCee, Rakim Allah continues to lead where others just follow.
About Styles P:
Styles P, a member of The LOX, grew up on the streets of Yonkers, NY, rapping alongside Jadakiss and Sheek Louch. In their late teens the trio met Mary J. Blige who was so impressed with their tough street east coast lyrics, she gave them a big break by putting their demo in the hands of Sean "Diddy" Combs. Diddy immediately hired the trio to write for Bad Boy Records. With the label, The LOX quickly started collaborating on hits with Diddy, the Notorious BIG, Mary J Blige, and Mariah Carey which gave them instant notoriety and status within the hip-hop and mainstream charts.
In 1996 and 1997, the group wrote and performed on a number of Diddy hits, including "It's All About the Benjamins" and "I Got the Power", Mase's "24 Hrs. to Live", Mariah Carey's "Honey," the Notorious B.I.G.'s "Last Day", and Mary J. Blige's "Can't Get You Off My Mind". In 1997 The LOX received international acclaim when their tribute to the late Biggie Smalls, "We'll Always Love Big Poppa", was picked as the B side track off of Diddy's album (3x Platinum) with the number one hit, "I'll Be Missing You". This single was the most played hit in 1997, which opened the door for The LOX first solo album debut in January 1998 entitled Money, Power & Respect (Certified Gold). Though the album was a chart toping success, The LOX felt the glossy sheen of Bad Boy Records conflicted with their grimier rap aesthetic and therefore cut their ties and moved on to Ruff Ryder Records. After another LOX album, We Are The Streets (2002), Jadakiss was the first to release a solo in 2001 Kiss The Game Goodbye and Styles followed with his own in 2002 A Gangster & A Gentleman, which sold more than 700,000 copies.
Styles continued his solo career with two more critically acclaimed solo albums: Time is Money and Supa Gangsta (Extraordinary Gentlemen), furthering his reputation as one of the rap game's most talented lyricists.
In 2011 Styles diversified his talents, signing a book deal with Random House and releasing his first novel Invincible. While maintaining a demanding tour schedule, he also released the soundtrack to the novel as well as Master of Ceremonies.
Styles continued recording and collaborating in the studio, releasing The World's Most Hardest MC Project in November 2012, and Float in April 2013. "I'm proud to be operating as an independent where I have total control of my projects".
With the reactivation of The LOX and the release of The Trinity EP at the tail end of 2014 to critical acclaim and commercial success, Styles P has been touring extensively, both with The LOX as well as giving solo performances.
Also in the year 2014 he released his 7th studio Album Phantom and the Ghost and in 2015 he released number eight, A Wise Guy and A Wise Guy.
Styles, who has been juicing for the last decade, found that supplementing his diet with juicing brought balance to his fast-paced rapper lifestyle. This vision continues to fuel his success.
Styles P and Jadakiss are co-owners of Juices for Life juice bar, with 2 locations in New York, and one in Yonkers. They are fully committed to the health and wellness movement. On September 1, 2015, Elite Daily did a very unique piece on their commitment to the health and wellness movement. Watch: "How Jadakiss and Styles P Are Using Juice Bars To Give Back To The Streets".
Whether a part of the triple threat The LOX, or as a solo artist, Styles' razor sharp slick talk has created a cult-like following by his countless fans within the hip-hop and "gangsta" rap community.
About The Frank White Experience:
THE FRANK WHITE EXPERIENCE brings things to a new level with live instrumentation, bringing the sounds of The ""NOTORIOUS B.I.G." to your ears in a way never heard before!
THE FRANK WHITE EXPERIENCE is the genre leader in live Hip-Hop tribute bands. Best described as the DARK STAR ORCHESTRA of Hip-Hop, THE FRANK WHITE EXPERIENCE delivers a quality of sound and homage akin to acts like PINK TALKING PHISH, LIZARDS, and START MAKING SENSE. The 1st of its kind, THE FRANK WHITE EXPERIENCE, not only covers the music of BIGGIE, but takes their listeners on a journey back through the beloved soundscape of 1990's Hip-Hip, making them a guaranteed crowd pleaser sure to rock any AUDIENCE in any VENUE, large or small.