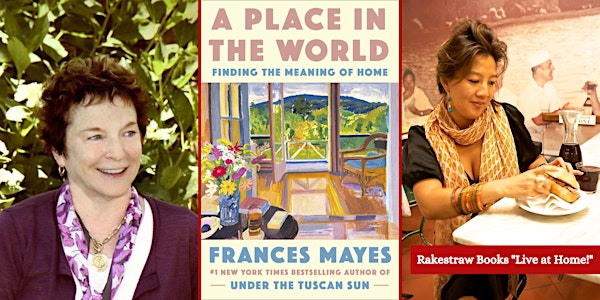 Rakestraw Books "Live at Home!" presents Frances Mayes & Kim Sunee
Rakestraw Books "Live at Home!" presents a virtual event with bestselling writer Frances Mayes in conversation with Kim Sunee.
About this event
Rakestraw Books "The Bookstore in Danville" is delighted to present a special virtual event with bestselling writer (and our great friend) Frances Mayes as we celebrate the publication of her new book, A Place in the World: Finding the Meaning of Home. This event will take place - via Crowdcast.io - on Saturday, 27 August 2022 at 9:30 AM (PDT). For this special event only, Frances will be joined in conversation by writer and cookbook author Kim Sunee (Trail of Crumbs: Hunger, Love, and the Search for Home).
Though Frances Mayes is known for her travels, she has always sought a sense of home wherever she goes. In this poetic testament to the power of place in our lives, Mayes reflects on the idea of home, from the earliest imprint of four walls to the startling discoveries of feeling the strange ease of homes abroad, friends' homes, and even momentary homes that spark desires for other lives. Her musings are all the more poignant after so many have spent their long pandemic months at home. From her travels across Italy—Tuscany, of course, but also Venice and Capri—to the American South, France, and Mexico, Mayes examines the connective tissue among them through the homes she's inhabited.
A Place in the World explores Mayes's passion and obsessions with houses and the things that inhabit them—old books, rich food, beloved friends, transportive art. The indelible marks each refuge has left on her and how each home influenced the next serve as the foundations of its chapters.
Written in Mayes's signature intimate style, A Place in the World captures the adventure of moving on while seeking comfort in the cornerstone closest to all of us—home.
This is a FREE event, but advance reservations are required. We do home you will take this opportunity to purchase a copy of A Place in the World by Frances Mayes from Rakestraw Books.