Rak the Kasbah 5: featuring Ebony (D.C) and Virginia (Miami)!

Friday, June 6, 2014 at 6:00 PM

-

Sunday, June 8, 2014 at 8:00 PM (EDT)
Event Details
Rak the Kasbah 5: AFBD's 5th Anniversary Weekend
Featuring workshops with International mega stars
Ebony Qualls (Washington DC) and Virginia (Miami, Rakstar)
Anniversary Gala Sunday June 8 at the Woodruff Arts Center
Visit our website for more info!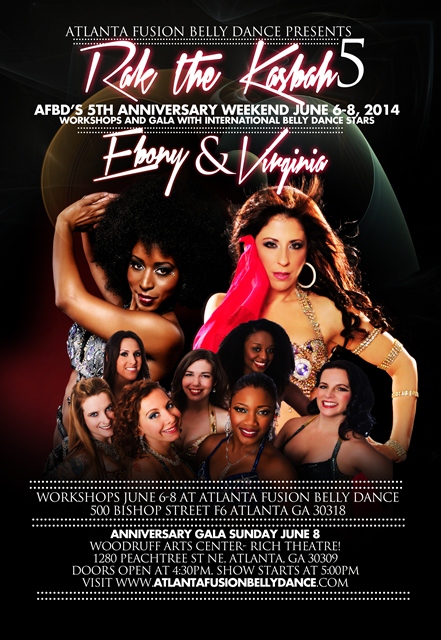 ABOUT EBONY:
Ebony's playful and sharing spirit flavors both her performances and her approach to teaching!  A combination of strong technique, musicality, and innovation are the foundations of her colorful dance presence. Ebony performs both traditional raqs sharqi and her own dynamic urban fusion belly dance styleTraditional and Fusion Style Dancer, Ebony has taught and performed throughout Asia, Canada, Europe and the United States. She has toured internationally with the world famous Bellydance Superstars and Bellydance Evolution. Ebony has performed onstage with Grammy nominated band Thievery Corporation, with electronic musician and performance artist Peaches, and with Turkish/Electronic fusion recording artist Oojami. She performs with the award winning troupe Raqs Sahara, has guest performed with Solstice Ensemble, directs fusion troupes Raquettes ShimmyPop and Raqs Caravan Urban, and is a soloist at a variety of engagements including restaurants, private parties, weddings, festivals, concerts and numerous theater performances. Ebony is a featured soloist in the upcoming DVD America's History of Bellydancers of Color. Along with her love of dance, Ebony is in love with teaching. A founding instructor of Sahara Dance - Washington DC's Center for Middle Eastern Dance, her students describe her as "approachable" and her classes as "fun" and "challenging". She teaches weekly classes in both traditional and urban fusion formats and has choreographed for Raqs Sahara, Sahara Tribal, Raqs Caravan West, Raqs Caravan East, and is the director of both Raquettes ShimmyPop and Raqs Caravan Urban. Newcomers to belly dance are Ebony's favorite students, as they are a major source of inspiration to her.
Ebony continues her own regular dance studies and has trained with world-renowned master instructors from traditional raqs sharqi and tribal fusion circuits
ABOUT VIRGINIA:
Having brought audiences to their feet and to tears, Virginia has captivated a worldwide public with breathtaking performances, a dynamic presence, and a soulful interpretation of Oriental Dance. She has crossed all borders leaving her indigenous mark on a diverse audience with performances that ignite the human spirit and illuminate the soul.  Considered to be one of the most influential and sought after performers, a gifted choreographer, and one of the most profound master instructors of this ancient art form, Virginia has been presented in the most prominent theaters and festivals across 5 continents and over 54 countries. Utilizing her innovative musicality and ingenious choreographic prowess, Virginia is known for constantly reinventing the dance. She dares to elevate the dance to all new levels while staying true to its indigenous roots. Her theatrical productions are touted as the perfect embodiment of contemporary relevance steeped in ancient traditions.
Respected by legendary artists and students alike as one of the world's foremost instructors, she is also considered to be one of its most generous.  Constantly creating motivating  and  articulated workshops, Virginia shares a wealth of knowledge each and every time she instructs.  She is personally invested in each student's growth, and devotes one on one attention throughout the teaching process. True to this reputation she has created 7 instructional DVD's, 2 theatrical productions on DVD, and 2 Oriental Dance Music CD's, all critically acclaimed by the Bellydance and Arts Communities.  Regarded by many dancers as a great inspiration, she has been extremely influential in creating competition winners, and stunning performers worldwide. Virginia is the founder of C.O.M.E. Dance & Rakstar Productions as well as the director/ choreographer for her award winning professional performing company, Virginia's Wa Nour Al Ayun. Admired by many as the premiere protégé of Mr. Yousry Sharif, Virginia is proud of this lineage and honored to have him as Rakstar's Legendary Artist.
***Rakstar is an annual long weekend event with the Oriental Dance Communities greatest legends, and brightest stars all converging on the glorious beaches of Miami for an unforgettable weekend of workshops, performances and an International Bellydance Competition.
When & Where

Atlanta Fusion Belly Dance
500 Bishop Street NW
Suite F-6
Atlanta, GA 30318


Friday, June 6, 2014 at 6:00 PM

-

Sunday, June 8, 2014 at 8:00 PM (EDT)
Add to my calendar