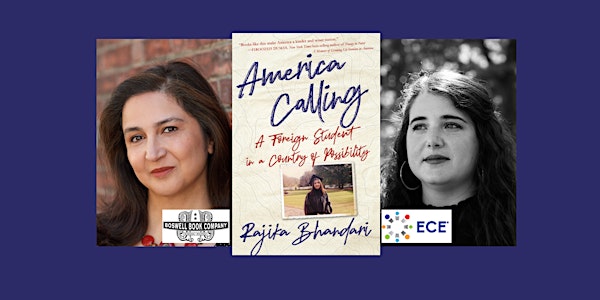 Rajika Bhandari, author of AMERICA CALLING - an in-person Boswell event
Rajika Bhandhari, author of AMERICA CALLING - an in-person Boswell event
When and where
Location
Boswell Book Company 2559 North Downer Avenue Milwaukee, WI 53211
About this event
Boswell presents an evening with Rajika Bhandari, author of America Calling: A Foreign Student in a Country of Possibility. In conversation with Elly Fishman, who teaches in the Journalism Department at UWM.
Growing up in middle-class India, Rajika Bhandari has seen generations of her family look westward, where an American education means status and success. But she resists the lure of America because those who left never return - they all become flies trapped in honey in a land of opportunity. But then she finds herself in a job where the personal is political and professional: she is immersed in the lives of international students who come to America from over 200 countries, the universities that attract them, and the tangled web of immigration that a student must navigate.
An unflinching and insightful narrative that explores the global appeal of a Made in America education that is a bridge to America's successful past and to its future, America Calling is both a deeply personal story of Bhandari's search for her place and voice, and an incisive analysis of America's relationship with the rest of the world through the most powerful tool of diplomacy: education. At a time of growing nationalism, a turning inward, and fear of the "other," America Calling is ultimately a call to action to keep America's borders - and minds - open.
From Kirkus: "An Indian woman's wonderfully written, illuminating account... a valuable study of an extremely important area of 'soft diplomacy,' dispelling all sorts of easy and false assumptions. Bhandari's informative memoir is for readers who want to understand how interconnected the world really is. Bhandari is a very talented writer, knowing that in a sea of data there is no better life raft than the telling anecdote."
A former international student from India to the US and an Indian American immigrant, Rajika Bhandari is an international higher education expert, a widely published author, and a sought-after speaker on issues of international education, skilled immigrants, and educational and cultural diplomacy. An author of five academic books and one previous nonfiction book, Dr. Bhandari is quoted frequently in the global press, and her writing has appeared in The Guardian, The Chronicle of Higher Education, and University World News, among others.
Elly Fishman is a former senior staff editor at Chicago magazine, where her stories won numerous awards, including the Chicago Tribune's Beardstown Award and the prestigious Peter Lisagor Award for best feature reporting, and she is the author of Refugee High: Coming of Age in America.
Click here to purchase your copy of America Calling. Signed copies and personalization available on pre-orders. Please note that signed copies will not be shipped until after the event.