Rajdulari's "Autumn Equinox" Live UStream Video!

Friday, October 5, 2012 from 8:00 PM to 10:00 PM (EDT)
Event Details
Join Rajdulari, her band, and Billie's Black for "Autumn Equinox" Rajdulari's birthday celebration combining her two loves: Live Music and Chicago-Style Steppin'....
Our LIVE tickets have sold out, so we'd like to invite you to USTREAM and watch the concert with us right from the comfort of your own home!
This means that no matter where you are in the world - you'll be able to join us for a magical evening of Music, Fun and Celebration!
Tune in as we kick the 2nd set into high gear and watch us as we perform for the FIRST TIME EVER with a live Stepper's Set!
Purchase your ticket here and a confirmation email will be sent to you with all of the sign-in information you'll need to gain access to the Live Feed.
Date: October 5th, 2012 (Rajdulari's Birthday)
Time: 7-10pm (concert starts promptly at 7pm, dinner served @ 7:45p)
Address: Billie's Black 271 W 119th Street, Harlem 
In-person ticket: $25, (SOLD OUT)
Livestream ticket (& digital video download): $7 BUY NOW
Note: This ticket is for Ustream access and a download of the final video recording. We cannot control the tech Gods so you will receive the video regardless of how well the livestream performs.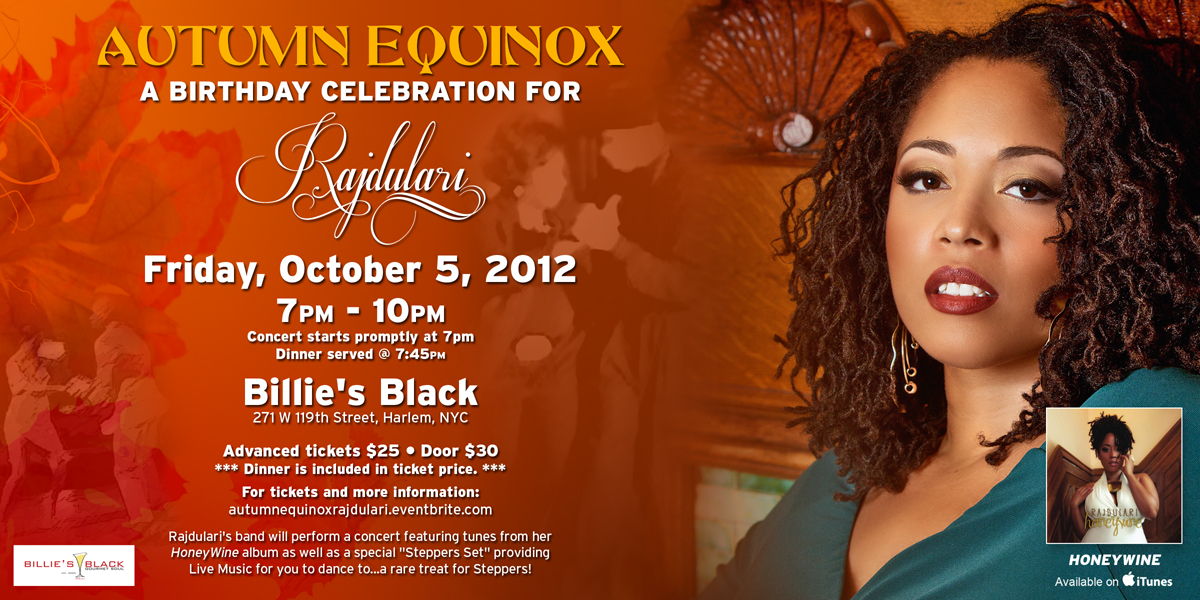 Organizer
Harlem-based Jazz vocalist Rajdulari inspires an engaging listening experience for music lovers. Her buoyant voice vibrates with a clear and honest joyfulness; no doubt the result of her choral upbringing in the church. Although her family relocated often, she has always found a home in music. Jazz opened up an entirely new world to an adolescent Rajdulari, when she heard Sarah Vaughan's "Shullie A Bop" and Ella Fitzgerald's "Lemon Drop" for the first time. She became fascinated, and wanted to know every nuance of each solo, scat, and harmony. At seventeen she was offered her first gig at Ryles Jazz Club in Cambridge and found performing to be a sensation she couldn't abandon or ignore. While attending Berklee College of Music in Boston, Rajdulari shared a stage with the renowned Bobby McFerrin. In 2010 she moved to New York City and started her own solo project. Her ensemble was nominated for, and won, Best Jazz Band at the New England Urban Music Awards in 2011, and their debut release – Honeywine – remains among Amazon.com's Top 100 Most Downloaded Mp3s. In 2012, Rajdulari was selected by Visions Beauty Distributors to write and perform the theme song for their first annual Natural Hair and Health Expo. The single - entitled "Natural" - is featured on her upcoming sophomore album, Journey Of A Woman. As a member of the Boston-based, all female World Music Band, Zili Misik, Rajdulari won Boston Music Awards 2007 & 2008 for "Outstanding International Music", Boston Phoenix Award and WFNX's "Best World Music Band"-two years in a row; and was 2007 Winner of ROCKRGRL's and Berklee College of Music's "Battle of the All-Female Bands". For Rajdulari singing is a healing and soothing activity. Her ability to share uplifting messages of confidence, empowerment, love, and hope – through song – is the most gratifying gift she can exchange. For more information, visit www.rajdulari.com