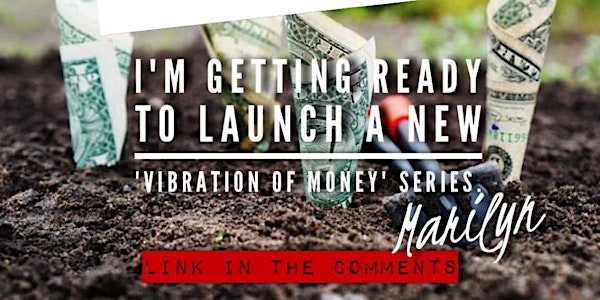 Raising Your Money Vibration Online TranceFormation™Program
When and where
Location
Global Online Program Online/E-mail/From the comfort of your own home
Description
THE TRANCEFORMATION™ ONLINE
RAISING YOUR MONEY VIBRATION PROGRAM
+
10-PART ON-DEMAND VIDEO WEBINAR SERIES - CLICK HERE FOR INSTANT ON-DEMAND ACCESS
+
NEW MONEY BREAKTHROUGH ORACLE CARDS - CLICK HERE
"I've loved it all, worth getting up for 5.30am!"
"Oh wow-za Marilyn, that was huge! HUGE!!!"
Read the updated and ongoing feedback at:
https://marilyndevonish.com/online-raising-your-money-vibration-the-results-are-in/
WHAT IS THIS PROGRAM DESIGNED TO DO?
During this Online Webinar Series we will clear some of the most common energies and dynamics associated to money:
Many have become disconnected from money and avoidance of money because it is associated with pain, stress, worry, anxiety, disappointment, fear, shackled, powerless, guilty, ashamed, stuck, blocked, suffering, enslaved, buried, cursed, control, being controlled, dis-empowered, abandonment, a target, burden, money is alive, the enemy, identity, our worth, feeling less than, broken money matrix, trapped, debt energy, escape, disbelief, unconscious, lack, not enough, anger, frustration, not good enough, not enough, never enough, unworthy, lost, drowning, resistance to money, past life energy, karma, genealogy, ancestral ties, blame, shame, cultural ties and paradigms, despair, who am I to . . . . . The list is long and we'll be touching on it all during this ground breaking energy shifting Program.
This program is not a 'make money now get rich quick scheme' even though many of my clients have experienced instant manifestations and changes; see the Money Breakthrough Testimonials below, it is designed to help you change your thoughts, feelings, energy, and vibration about the whole subject of money.
From there you have the head space, inner balance, and calm to interact with the world differently and be in a more creative and resourceful space. The space where the magic happens.
I recently wrote a piece for a magazine article about going beyond the Law of Attraction and why many get stuck and draw towards them what they don't want. The Exercises and Processes and Guided Meditations included as part of this Program will also help you shift that.
We will also use my new Money Breakthrough Oracle Cards to do live Readings and Energy Clearings.
WHAT DOES THE SERIES INCLUDE?
In terms of my first draft, the Online Series will include Webinar Sessions on:
Part 1: Clearing Money Beliefs.
Part 2: Cutting Ancestral, Generational and Karmic Ties.
Part 3: Past Life Readings and Healing Your Money Relationship.
Part 4: Soul of Money Guided Meditation.
Part 5: Clearing Negative Emotions, Limited Possibilities, and Judgements.
Part 6: Meeting the Ultimate Abundant Version of You.
Part 7: Huna Energy Symbols and Chakra Clearing.
Part 8: Ho'oponopono Cord Cutting.
Part 9: Members Choice.
Part 10: Soul Blueprint Ignition and Realigning your Money DNA.
For a preview of the Sales Page go to: https://marilyndevonish.kyvio.com/moneymatrix
HOW ARE THE SESSIONS DELIVERED?
The Group Sessions were delivered by Video Webinar with a live studio audience. The Replay Recordings are now available on-demand. If instant access and get started as soon as today go to: https://www.bigmarker.com/series/raising-your-money-vibration/series_details
FEEDBACK FROM THE RAISING YOUR MONEY VIBRATION ATTENDEES
"I've loved it all, worth getting up for 5.30am!" "Oh wow-za Marilyn, that was huge! HUGE!!!"
The recording is now in your email in-box if you missed the live Raising Your Money Vibration Video Webinar last night.
It was another epic journey. Feedback from last night included:
"I've loved it all, worth getting up for 5.30am!"
Pippa Neve
, Australia
"Oh wow-za Marilyn, that was huge! HUGE!!!"
"Goodness me. I thought how strange, most of what you were saying was what I was thinking about before I logged in when meditating. This is one of the most powerful processes for me. Yes, please can I have a copy of the picture? Soul Plan webinar series coming up."
"Today was huge but I think realising that Money is not evil, it's the humans that use it to create evil, that really freed me."
Productivity and business ideas and creativity have speeded up and have more flow since joining the Program:
"I needed to find a new way to market my program and I'm feeling that this current direction has some flow - feels right - like I created the sales page pretty fast - stuff like that."
"Yeah I'm making decisions faster - love that."
Perspective on life and business and self-value has changed:
"Not willing to settle for less in my life on many levels...especially with regards to my work in whichever field I operate in... I have much greater self value and regard."
"Also voiced my intention to build a xxxxxx biz to an accountability group which I would never have done before and also breaking it down to make it happen."
THE NEW MONEY BREAKTHROUGH ORACLE CARDS
For feedback about the new Oracle Cards go to: http://marilyndevonish.com/omg-the-money-breakthrough-card-oracle-readings/
DISCLAIMER
DISCLAIMER: The Program in no way offers financial advice and is for entertainment purposes only. Participants are responsible for their own actions and decisions taken.
-0-
FEEDBACK FROM MONEY BREAKTHROUGH PARTICIPANTS
"Marilyn, Yes please feel free to use that quote which I will repeat here - Money has been flowing in my direction ever since I joined your money programme. Have just registered (for your new Science of Getting Rich Programme), yay. I paid using passive income received whilst sleeping, I kid you not!! Bring it on!! SUSAN FRITSCHE, LAWYER
FEEDBACK ON THE MONEY BREAKTHROUGH CARDS
You can read client feedback on the Money Breakthrough Card Oracle Readings at: http://marilyndevonish.com/omg-the-money-breakthrough-card-oracle-readings/
WHAT HAVE PREVIOUS MONEY BREAKTHROUGH 28-DAY PROGRAM PARTICIPANTS SAID & EXPERIENCED?
I received an e-mail from someone from my mailing list that volunteered to try out a couple of the exercises from this 28-Day Programme before I completed the launch:
"I have just completed my first round of the Money Breakthrough Exercise. Thank you for sending it to me.
I came up with a practical idea to increase my income and by following all the steps, my mindset definitely altered. The idea of keeping a £50 to trigger positive memories about success with money and inspire positive ideas was VERY powerful - what a reframe
I will carry out the action steps this week and let you know the results"
WOW! That was based on just 2 of the 28 Daily eCoaching Exercises.
Below is the message from the first person to do my new Money Release & Attraction Programme where we are blasting through old stuff, baggage, limiting beliefs, fears, stress and anxiety and past patterns around money. The message read:
"Morning Marilyn, I had a super day yesterday, thank you so much. I feel so much more relaxed about money now. I am so tired though. You are so amazing. I have became a fan of yours now and would be recommending you to everyone. I want to do the photo reading now in May. lets hope that I will. If you do anything new, I want to be one of the first one to try. This is just amazing.thanks a million. Sending you lots of love and light.xx"
How cool is that?????? I am never 100% sure how my 'alchemic experiments' will turn out, (these have included the amazing Magic Programme, adding Huna and Belief Change work to my PhotoReading Classes, The TranceFormation Programme), however once again this one seems to be shaping up very nicely, even if I do say so myself.
FEEDBACK FROM THE ONE-TO-ONE MONEY BREAKTHROUGH SESSIONS
Another participant of the Live Money Breakthrough Coaching Programme said:
"Hi Marilyn,
Little update on the finances, for the first time in 4 years both my business and personal bank accounts have + above 0 balances!!!!! It is major! I am really happy I reached this first milestone and I am sure it wouldn't have happened without your great support.
Next milestones are to clear all debts and the make this positive balance climb to over £5K per month in business and in the personal one save for a deposit on an apartment in London (my main residence will remain X with my boyfriend, but a London solid base will give me peace of mind and a work base too).
Just though I would share my happy news from today ;-)
Thank you,"
Clients who were talented but not fully using their gifts have gone on to speak on stages across the country, and gotten new paid commissions for the work that they love to do.
This 28-Day Money Breakthrough Programme is based on that live Breakthrough Coaching Format. Some elements, such as the Past Life Regression, Future Life Progression, and Time Line Therapy will not be included in the 28-Day home study portion as they are designed as individually tailored modules, however a selection of the exercises from the live personal Breakthrough Programme will be included.
We will work not just on theorising about the past and current patterns, but on uncovering old beliefs, re-aligning values, appreciating what money really means, and changing and transforming your mindset so that you can go beyond the current limitations.
WHAT IS THE MONEY BREAKTHROUGH PROGRAMME DESIGNED TO DO?
First of all, let me say what it is not. It is not designed as a get rich quick programme or a programme to have money fall in your lap (however that has happened for participants in my Magic Programme). It is designed as the first step in changing your relationship with money and the limiting beliefs or negative connotations that you might both consciously and unconsciously have around it.
Yes, many of my clients do go on to transform their finances and make and attract a lot more money however I can't guarantee exactly what will happen with you, particularly in a 28-Day online process where I am not so involved in assisting with the transitions, transformations, and changes.
Designed to bring together a number of the cutting edge tools, techniques, therapies, and processes that I have specialised in over the past 13+ years, it is my most through process yet for focusing on the issue of money.
WHO IS THE TRANCEFORMATION™ MONEY BREAKTHROUGH PROGRAMME FOR?
If you identify with any of the common frustrations around money then this Programme is definitely for you:
In a place of almost constant 'lack' when it comes to money

You are great at 'manifesting' everything besides money

Even when money comes in it goes out just as fast, often in larger amounts

You feel as though there there 'something' deep inside blocking your flow and abundance

Your relationship with money doesn't make you feel good

You are always struggling to keep up or 'robbing Peter to pay Paul'

The boom and bust seems like a never-ending pattern or internal programme
If you have said 'Yes' to any of the above then this Programme is definitely for you.
One of the patterns that I noticed in myself, and saw reflected in many people around me was being able to make money and then something would happen, an unexpected bill or demand of some kind and 'poof' it was gone again, sometimes in even greater amounts.
HOW IS THE 28-DAY PROGRAMME STRUCTURED?
Designed in the same style and format as my hugely successful Magic & Gratitude Programme, and my new Limitless NeuroSucces Programme, the Money Breakthrough Programme is a 28-Day mind and emotion workout to shake off any unhelpful old money beliefs and paradigms.
This Programme is delivered via e-mail so you can take part from anywhere in the world as long as you have a smart phone or e-mail access. An e-mail containing the Money Breakthrough Exercises will be delivered directly to your e-mail in-box every for 28-Days.
You will receive a different Money eCoaching Exercise daily for 28-days. Those taking part in the Live Breakthrough version of this Programme will also go through the 6-Part TranceFormation™ Money Breakthrough Process which is further outlined below.
An example of one of the e-mail draft Exercises is below: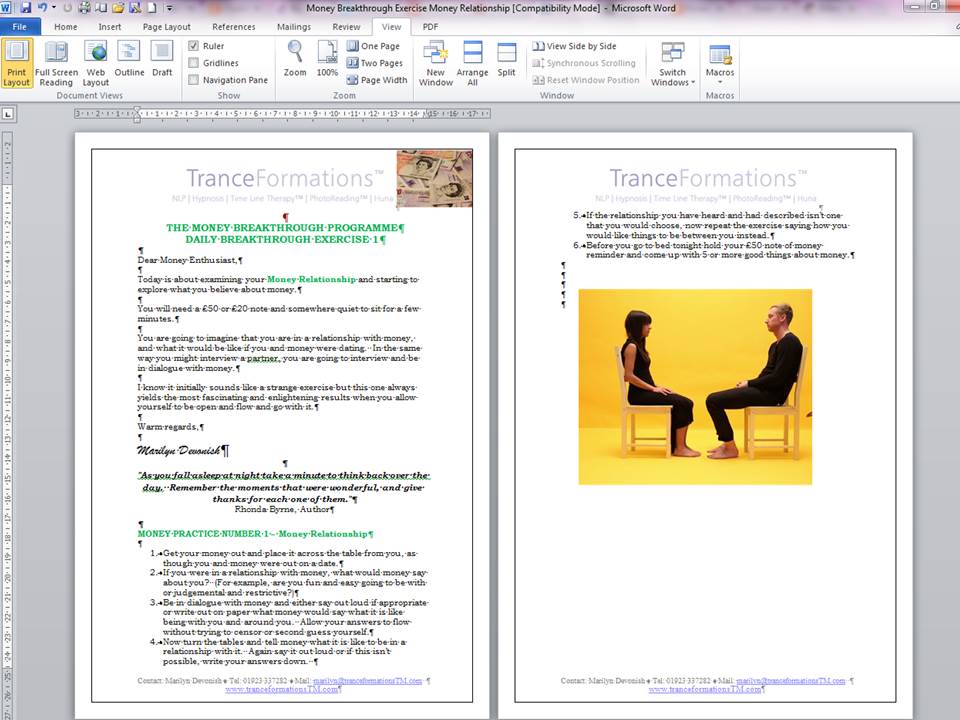 WHAT HAVE THE MONEY BREAKTHROUGH PARTICIPANTS SAID ABOUT THE 28-DAY PROGRAMME?
Participants the joined this Programme in January have shared some of their experiences on our Private Money Breakthrough Facebook page and have given permission to share those insights:
On the Money Beliefs Exercise:
"I've just done the first exercise, very interesting! 15 negatives about money and one positive. ONE! oops!"
On the £50 Note Exercise (which always gets a reaction when done in detail):
"I had in my head all we needed to do was to keep it under my pillow and look at it. When you said to spend it when we became too attached to it I immediately felt really panicked. OMG! I want to save as many £50 notes as possible, not spend them . . . "
"I'm in denial at the moment. Which I love, I can feel the tug inside of me. The voice that says, 'let go' to the other says 'no way!"
"You're cool Marilyn, I love your sense of humor - but not at the moment! grrrr!"
"wahoo! a crisp fifty pound note is sitting in my purse and it feels really good - I too felt slightly alarmed when I read I had to spend it when I felt the need to hold on to it."
On expanding the meaning of money and abundance:
"I am here in the (London Silver) vaults surrounded by an abundance of wealth, capturing that energy vibe and sending it out to you all."
One being part of the Money Breakthrough Programme:
"Thank you for sharing your gift with the world and bringing so many good people and vibes together! Lifechanger you are!"
"Thanks For the programme...it certainly is giving me food for thought.
Love"
On the Imagineering and Dream Play aspect:
"Dream....someone asked me to be his coach and I told him I couldn't because I was coaching someone else ...someone who wasn't paying...then I learned he negotiated a fee with someone else and I woke up out of my dreams with the image of me smacking myself on my 3rd eye saying "I'm so angry with myself"...I actually woke up with that imagery it slapped me out of my sleep.
I realised that it didn't even occur to me to set a price on my service when he asked me and I automatically assumed he wasn't going to pay. The learning for me is that even when the money comes to me my instinct is to doubt that it was meant for me."
On Money Relationships:
"So, I said I'd share with you my experience of the talk with money, as if it was our partner. Well, in short it was deeply profound. It was so clear and strong it felt like money had been waiting for this opportunity to have a talk with me . . . . ."
" . . . . . . these exercises are seriously taking me to another place. ...and I love it . . . . ."
This was just from Week 1 of the eCoaching Programme, so I can barely begin to imagine what the rest next 3 weeks will bring.
HOW IS THE NEW 6-WEEK SCIENCE OF GETTING RICH PROGRAMME STRUCTURED?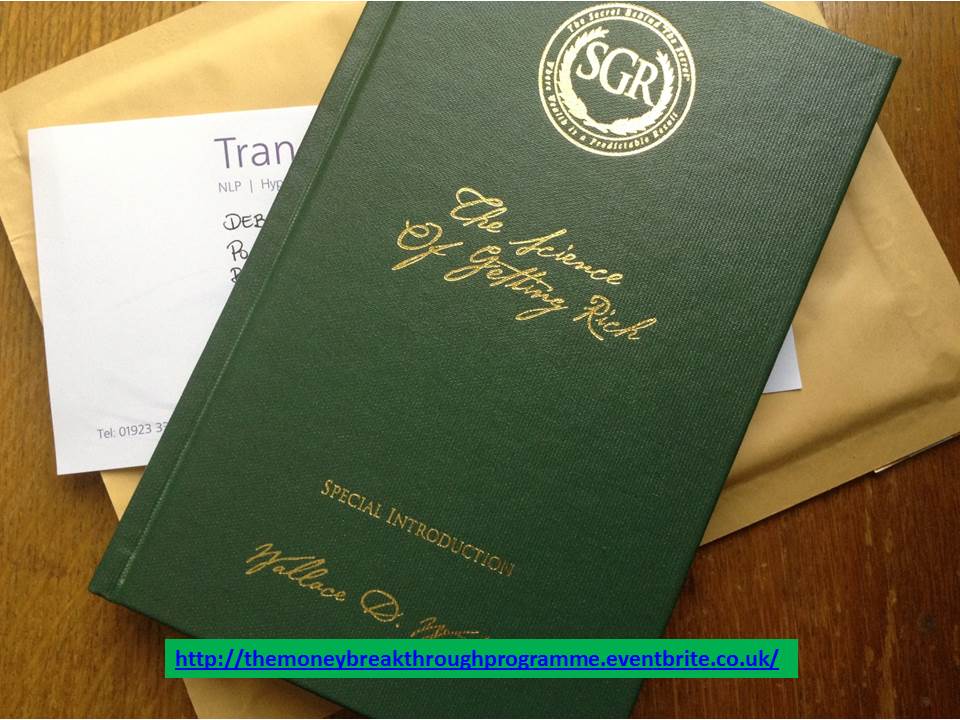 Although a separate Programme to the 28-Day Money Breakthrough Programme, it is designed to work in synergy with the whole concept of breaking through the blockages in mindset when it comes to money, based on the principles which formed the basis of the groundbreaking movie The Secret.
Each participant will receive a hardcover copy of The Science of Getting Rich (as above) and have a couple of weeks to acquaint themselves with and read the book. We will then do a series of live Teleseminar/Webinar calls to discuss the key themes of each chapter and what you have been learning and discovering, dates and times to be agreed with the participants.
All calls will be recorded and an mp3 made available to all participants. There will also be a series of e-mails to help reinforce the learning.
It will be structured in a similar way to my Magic & Gratitude Programme which you can view here: http://themagic.eventbrite.com/
As you will also see from the examples from some of my previous programmes, the online 28-Day Programmes have been successful for previous participants regardless of their background and experience. I know that some of the success stories from my The Magic Programme and Mind Body Spirit Energy Fest Workshop might sound outlandish; Being handed £10,000 cheques, effortless new jobs abroad, finding the long awaited love of their life, being headhunted to headline top industry events, being sent money in the post to be able to take some much needed time off, and the list goes on.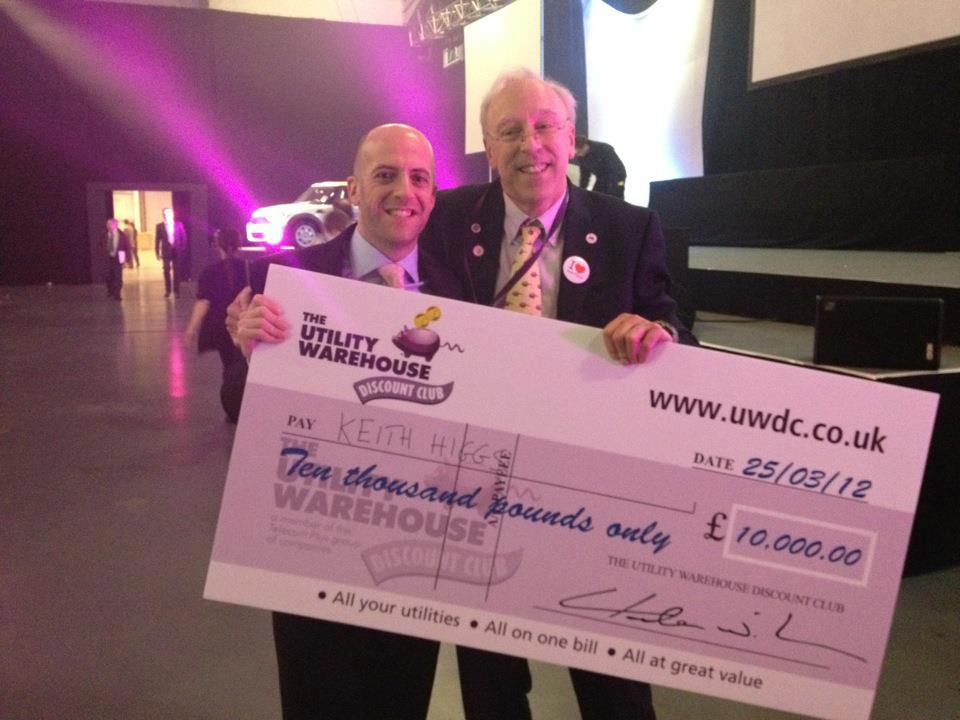 I always design my Programmes to ensure maximum success, particularly for those that I am working with on a one-to-one basis, so I expect the fabulous and jaw dropping results to continue.
WHEN DOES THE PROGRAMME START?
The Money Breakthrough Programme went live in January 2015. You can now join at anytime and it will start automatically upon booking by using the payment options above.
The Live Breakthrough Programme and Private Coaching Sessions with Marilyn Devonish are available by appointment.
INTERESTED IN THE LIVE PERSONAL BREAKTHROUGH VERSION?
The forerunner to this 28-Day online Programme was the Live Breakthrough Process where we systematically worked through a series of processes and stages on a one-to-one basis.
I did a Skype session with one of my Money Breakthrough clients. When we first met last year they were borrowing money to help make ends meet.
They casually said during our Breakthrough Coaching Call: "I've opened 2 new accounts, and when these new contracts come in I'll be rolling in it."
How cool is that, and what a massive difference a few months of sorting out your mind set and emotional stuff can make.
HOW IS THE LIVE TRANCEFORMATION™ MONEY BREAKTHROUGH PROGRAMME STRUCTURED?
Having tested a number of options with the launch Programme this summer, what I have found to be the optimum approaches are outlined below:
OPTION 1 is my traditional Breakthrough Session, 6-Hours, back to back, no messing, all in one sitting, job done.
OPTION 2 is a series of 3 x 2-hour sessions.
OPTION 3 is a series of 6 x 1-hour sessions.
Timings for the Sessions will be agreed on an individual basis. Options 2 and 3 seemed to be preferable, allowing people time to process and incubate in between sessions.
WHAT IS COVERED IN THE LIVE TRANCEFORMATION™ MONEY BREAKTHROUGH PROGRAMME?
In a nutshell, the TranceFormation™ Money Programme is a 6-Part Process which includes the following:
Past Life Regression to uncover any old patterns, past lives, or genealogical 'stories'

Time Line Therapy to clear old emotions, worries, and frustrations around money

Access Consciousness to address current beliefs, judgements, and limitations

Opening The Heart (OTH) session to release internal resistance

Future Life Progression to envision a different future and gather resources

Energy Intention Creation Process to put new 'untainted' goals and outcomes into the future
Looking at the things that I do with clients on a more ad-hoc basis, this is designed as a step-by-step process for systematic and lasting transformation and change from the inside out.
The beta test version also means that you get to test out everything whilst I do the final evaluation of what to included and what to leave out as I move forwards.
WHAT ELSE IN INCLUDED IN THE LIVE PROGRAMME?
The 28-Day eCoaching Programme is also included free of charge in order to help cement the new beliefs and reinforce a different way of thinking and being with money.
Like my Life TranceFormation™ Programme this Live Breakthrough Process is an alchemic mix of the best strategies that I have both learnt and developed for my clients over the past 14 years.
I will also be combining ideas and strategies from the business world which has been a signature part of my life since completing my Business Degree and the 35 years in industry that have followed. (I also suspect that several additional cool things will be added to the mix as we test and play!)
I have also thought of a couple of possible Bonus Sessions, so those taking part in this first round of the Programme can access those free of charge should I decide to include them.
WHAT CAN YOU EXPECT AS A RESULT OF PARTICIPATING IN THIS PROGRAMME?
Clients who have taken my regular programmes and Breakthrough Sessions have focused on and achieved greater incomes: "My revenue is up 300% since working with you Marilyn!"
There are often also other lovely side effects: One client wanted to find their soul mate (I hope to be dusting off a few hats soon as there are some lovely hooks ups that have come to pass). Others have wanted to up new areas and opportunities for their business (see the video of one of these amazing stories below). Others have improved their health and well being, released negative thinking and the moods that have held them back, and created and started living the lives they have always dreamed of.
For client testimonials you can visit: http://www.tranceformationstm.com/testimonials.html
The Money Release & Attraction TranceFormation™ Programme is the first time that I've put everything together in such a comprehensive way so I await with interest to see exactly how it will unfold for you.
WHY THE TRANCEFORMATION™ MONEY BREAKTHROUGH PROGRAMME?
Basically because I am seeing the same patterns and struggled being experienced year in, year out.
The TranceFormation™ Money Breakthrough Programme is my way of seeing what can be done to change this once and for all.
The 28-Day Programme is designed as Step 1 and is about helping to become aware of and break down, and release some of the old mindsets and limitations the often exist around money and start to create a new thought, feeling and relationship with it.
Step 2 is the Live Breakthrough version of the Programme where you examine what is really going on for you and start working on getting to the heart of the matter by systematically going through the processes