Description
Join Zoe Torres for the "Raising Your Frequency series" at Morphē Health & Fitness Studio in Miami this December 14th!
This 3-month series will consist of 4-hour sessions, monthly teaching methods to connect with your highest self, true purpose, and how to find fulfillment in all areas of your life. A beautiful journey awaits...
We invite you to dress in your best yoga outfit or most comfortable workout clothes, wear socks, and sneakers. If you have a favorite yoga mat, you're more than welcomed to bring it to the seminar. If you don't, it's okay, we'll also be providing them at the event.
Month One - Power of Intention
Intention gets the energy flowing to bring you all that you desire as it allows you to receive the abundant, prosperous life you deserve! As you learn to masterfully raise your frequency the creative essence of your intentions are unleashed to positively impact your life!
Raising Your Frequency is about accepting your journey, who you are, where you're going and why lower frequencies are considered the areas of inner struggle and pain. Coach Zoe will show you how to feel the frequencies as they manifest allowing you to vibrationally shift into higher levels of self-awareness and mindfulness.
As you open yourself to change, you will learn how to break the patterns that keep you from moving towards your highest form of expression. You will learn how to set intentions towards finding your true self and purpose by:
Set intentions that are grounded upon the essence of true healing

Explore the benefits of reframing your perceptions to be in the present moment

Find inner peace through resilience, forgiveness, and non-resistance

Become empowered in every area of your life by reconnecting with your true purpose at home, in business, at social engagements and your romantic life


Understand the power of breathwork and energy yoga to operate at high frequency

Learn to quiet the mind through meditation and music to allow chi energy in
Reclaim the power and freedom to be happy, healthy and fully alive!
---
Learn more about COACH ZOE TORRES:
Morphē Health & Fitness Studio has partnered with Coach Zoe to create a curated coaching experience that will grant attendees the opportunity of experiencing a very personal and curated coaching session. Coach Zoe is a nationally renowned success and holistic coach who has helped thousands of people find their true purpose in life. She is also the founder and creative director of Z Advertising Group, full-service marketing, and advertising boutique agency based in Miami and Chicago.
Additionally, Zoe has reached a vast audience on multiple platforms as the host and producer of Vida Mujer, an Emmy and GLAAD nominated show dedicated to empowering women in our multicultural community. Coach Zoe's accomplishments and titles are built upon the strong foundation of the truth she believes in: the transformative power of love she shares and the importance of understanding the benefits of connecting with your highest self in order to find fulfillment and inner peace.
Whether you are a busy mom building a beautiful home and family, an empty nester looking for that next big adventure, a professional looking for balance and connection, a media personality looking to grow your reach, a Fortune 500 company, or a startup or mid-sized business entreprenuer who is searching for guidance on how to take your business to the top; you will find answers in working with Coach Zoe Torres. She attributes her own success to her holistic lifestyle, daily practice of meditation, energy yoga and healthy diet that allows her to stay focused on a happy, service-driven life!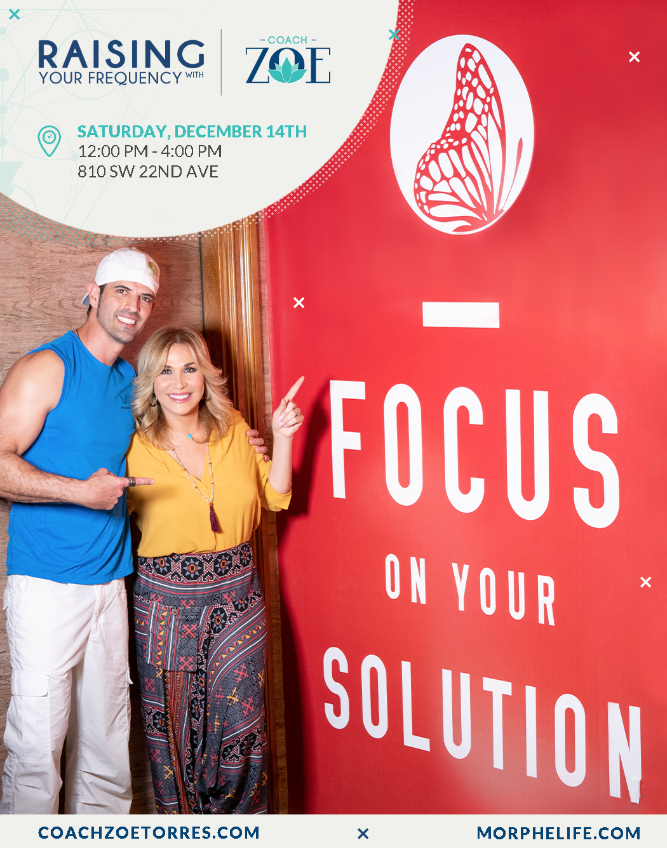 Month Two - The Art of Abundance (Date: January 18th)
Learn how to communicate and express rich emotions that allow you to connect with the energy of oneness and vibrate at a much higher level. Coach Zoe will show you how to contemplate upon the wealth that is available for everyone as we are flowers blooming from the same tree. This series will teach you how to feel the force that fuels abundant living contained within yourself. She will walk you through the steps of how to manifest your desires as you learn to identify what is holding you back from fully receving and how to unblock the blockages that exist in your life to set you free!
This seminar will help you amplify the emotions you want to experience by:
Act with true integrity as the most effective way of manifesting your dreams

Learn the way of the sages and cultivate the art of being patient to receive your prosperous blessings

Understand that actions are the spark that ignites the engine

Connect and feel unconditional love as this will allow you to see all people as God's creation and see the divine in all areas of your life
Month Three - Positive Impact (Date: February 22nd)
Learn how to become self-aware of how your intentions match the impact you make in the lives of others and for yourself. This curated series will teach you how to take action to create real change that is constantly offering you miracles after miracle with what will feel like there is magic which is never ceasing.
We will also cover the importance of a healthy mind, body, and soul in order to positively impact those around you. You will experience how energy-centric exercises and meditation will allow you to use your talents effectively.
We will intimately address each person's progression and help you raise your frequency by:
Understanding the importance of being mindful of your performance, the relationship between self-awareness and individual effectiveness

Thriving in the business arena in order to be considered excellent in your work, more effective in managing teams, coordinating efforts, and develop conflict management skills

Connecting with the people in your community

Accepting that our body is not the definition of who we are but rather it is ours to use as a vessel in which we contain our souls
Curate the life you want to live NOW!