Description
Join us for the Baltimore CeaseFire Edition of Raising Voices Film Series featuring an in-depth, post-screening, conversation with Baltimore CeaseFire organizers; Erricka Bridgeford, Ellen Gee, Ogun, Michelle Shellers, Darnyle Wharton and Jakia Jason, led by The Real News Network Host & Reporter Eze Jackson.
Featured Film: The Interrupters
Preview: https://youtu.be/3yr-pD3lRKM
The Interrupters captures a period when Chicago became a national symbol for the violence in US cities. The film tells the story of 3 "Violence Interrupters" who were the driving force behind the Chicago CeaseFire, an organization fueled by the philosophy that the spread of violence mimics an infectious disease: "to treat it, you need to stop the infection at the source."
Special Performance by Beats Not Bullets
All donations to benefit Baltimore Ceasefire 365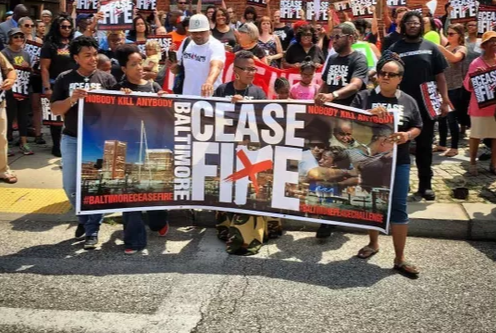 In May, 2017, this movement started as a city-wide call, asking Baltimore residents to avoid having any murders from Friday, August 4th through Sunday, August 6th, 2017. It was also a city-wide call, asking Baltimore residents to celebrate life during the ceasefire, by joining with others to plan life-affirming events.
About Raising Voices Film Series
Raising Voices Film Series is produced by The Real News Network and made possible by the a generous grant from the Bertha Foundation. The series is designed to inspire solution-driven conversations about issues facing Baltimore and major cities across the country through docucmentary films.
About The Bertha Foundation
Bertha Foundation fights for a more just world. We support activists, storytellers, and lawyers who are working to bring about social and economic justice and human rights for all.