Description





Speaker : Ms. Ha Nguyen, Founding partner Spero Ventures
Raising Venture Capital: Think Like a VC to Successfully Raise for Your Startup
In this workshop, Ha Nguyen, Founding Partner of Spero Ventures, will share best practices on raising venture capital. By understanding how VCs think, you'll increase your chances of raising funding for your startup.
The topics that Ha will cover include:
VC fund structure & incentives

Determining if VC is the right type of financing for your company

When to fundraise

Running a seed round fundraising process

What makes a great pitch deck

Finding investors and creating an investor list

Getting investor introductions

Writing a great investor blurb

Pitching, and answering questions

What should be in your data room

Setting valuation and negotiating terms
This workshop is intended for diverse founders who are looking to fundraise in the next 3-6 months. However, we also welcome anyone who might be interested in the topic of VC, startups and fundraising.
Agenda :
5.30 pm to 6. 15 pm . Check in . Food and drinks.
6.15 pm to 6. 30 pm. Welcome and participant Intros.
6.30 pm to 7. 30 pm. Speaker presentation. Q & A.
7. 30 pm to 8.00 pm Networking and Wrap Up.
About Ha Nguyen:
Ha Nguyen is a founding partner at Spero Ventures, an early stage venture capital firm that invests in the things that make life worth living: our well-being, work & purpose and human connection. Ha leads the firm's investments in purpose-driven startups that have the potential to reach venture scale led by underrepresented founders. She also advises portfolio CEOs and product leaders on design-thinking, org design, product strategy and hiring.
Ha also gives talks around the globe on design-thinking and how to build products that customers love. She believes in building community and elevating women in tech. She is on the Board of Women In Product (non-profit organization of 16k female product builders) and co-founded the Product Leader Summit (invite-only conference bringing together founders and VP-level product leaders).
Ha previously was a product executive at several early and mid-stage startups. She received her MBA from Harvard and BS in Economics from the Wharton School at the University of Pennsylvania.
Lean more about Ha here:
https://spero.vc/team/ha-nguyen/
Note: This is a Private Invite only Event.
Signing up will put your name in the hat, it does not guarantee a spot at the event. Once signed up we will let you know if a seat is available, if not we will refund your contribution. Thanks for understanding.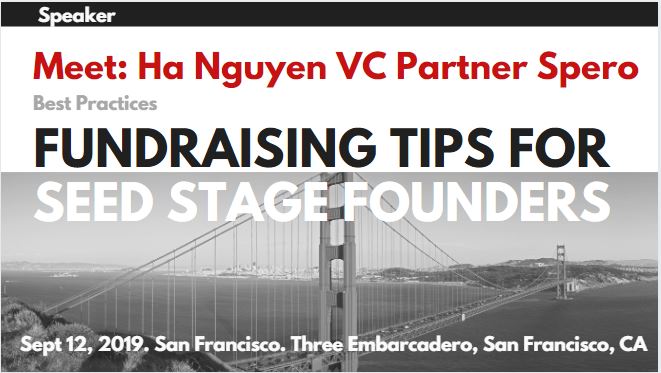 Event Sponsor :