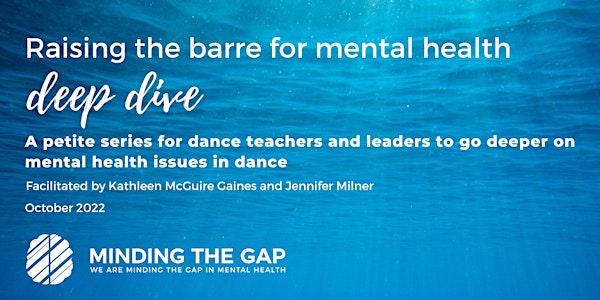 Raising the Barre for Mental Health - Deep Dive on Mental Health in Dance
This is a dive deep on mental health related issues to help dance teachers and leadership positively impact the mental well being of dancers
Refund Policy
Contact the organizer to request a refund.
Eventbrite's fee is nonrefundable.
About this event
Mental health is as important as physical health in order to teach and facilitate healthy, happy dancers. We know that many dance teachers out there want to support the mental wellbeing of their dancers, but it can feel like a daunting task with few resources available from reputable sources. The purpose of this workshop series is to bring Minding the Gap's innovative work on fostering mentally healthy environments with dance teachers to any teacher who wants to participate.
Our founder, Kathleen McGuire Gaines, is teaming up with our friend Jennifer Milner, a celebrated dance teacher and coach, dance parent, and Pilates instructor to facilitate a three session series focused on some of the biggest challenges dance teachers face to create environments that foster the mental health of dancers - and the mental health of teachers too!
Each session will be presented by an accredited professional working with dancers who specializes in the topic we are discussing. We have pulled together some of the brightest and most highly celebrated professionals in their craft from all over the world.
We hope that you will sign up for the whole series (there is a discount for that), but you are welcome to sign up for an individual course as well. We also have discounted packages for entire studios to participate with their team.
Session dates will be:
Session #1 - October 9, 2022 - 1-2:30pm EST
Perfectionism and motivation. This session will explore perfectionism in dance and how it can help and hurt dancers, as well as explore the difference between quality and quantity of motivation in dancers. Dance teachers and leaders will learn how to motivate and support dancers effectively in a manner that supports their mental health.
Presenter: Sanna Nordin-Bates, PhD - Senior lecturer in sport psychology, Swedish School of Sport & Health Sciences
Session #2 - October 16, 2022 - 1-2:30pm EST
Teaching neurodivergent dancers. Between 15-20% of the world's population is neurodivergent. Neurodivergence describes people whose brain differences affect how their brain works. Examples include Autism, ADHD, dyslexia and others. While neurodivergence is not a mental health condition, the way these dancers experience things in a neurotypical setting can cause harm to their mental health.
Presenter: Jessica Eccles, PhD - Clinical Senior Lecturer in the department of Neuroscience at Brighton and Sussex Medical School
Session #3 - October 23, 2022 - 1-2:30pm EST
Effective use of touch in dance. The use of touch and mental health are interconnected. In this session we will explore touch as an effective teaching tool and how it can be effective, as well as overused. There are different types of touch, and we will discuss why some methods are more constructive than others. Participants will learn about how our bodies learn and retain information, as well as explore how adding alternatives to touch in your teaching will benefit your students and their learning.
Presenter: Donna Krasnow, PhD - Professor Emerita, York University, Toronto, Canada, co-author of Motor Learning and Control for Dance
If you are unable to attend a course live, you will be sent a video link to watch the session at your leisure in the two weeks following the live session. Attendees of the live session will have the ability to ask questions of our guests during the course.
We can't wait to see you at the (virtual) barre!
If you have any questions please contact:
Kathleen at kathleen@WeAreMindingTheGap.org
Jennifer at JenniferMilner@gmail.com