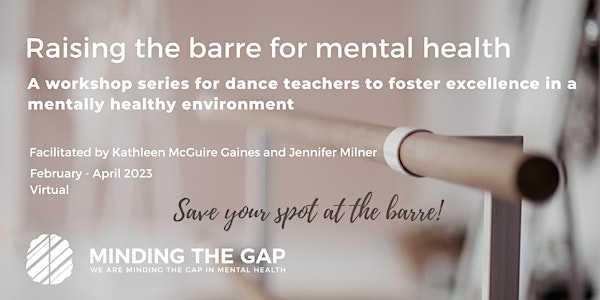 Raising the Barre for Mental Health - A Dance Teacher Workshop Series
This is a workshop series for dance teachers to foster excellence in a mentally healthy environment.
Refund Policy
Contact the organizer to request a refund.
Eventbrite's fee is nonrefundable.
About this event
Back by popular demand! When we first did this series in 2022 more than 150 dance teachers and leaders took part. This series is our foundational training for supporting the mental health of dancers in dance settings.
Mental health is as important as physical health in order to teach and facilitate healthy, happy dancers. We know that many dance teachers out there want to support the mental wellbeing of their dancers, but it can feel like a daunting task with few resources available from reputable sources. The purpose of this workshop series is to bring Minding the Gap's innovative work on fostering mentally healthy environments with dance teachers to any teacher who wants to participate.
Our founder, Kathleen McGuire Gaines, is teaming up with our friend Jennifer Milner, a celebrated dance teacher and coach, dance parent, and Pilates instructor to facilitate a five session series focused on some of the biggest challenges dance teachers face to create environments that foster the mental health of dancers - and the mental health of teachers too!
Each session will be presented by an accredited professional working with dancers who specializes in the topic we are discussing. We have pulled together some of the brightest and most highly celebrated professionals in their craft from all over the world.
We hope that you will sign up for the whole series (there is a discount for that), but you are welcome to sign up for an individual course as well. We also have discounted packages for entire studios to participate with their team.
Session dates will be:
Session #1 - February 12, 2023
Common mental health challenges for dancers, signs of distress, and what actions can be taken.
Presenter: Josh Spell MSW, LICSW - consulting mental health professional to Pacific Northwest Ballet.
Session #2 - February 26, 2023
Tough Love in teaching. What is it? How is it done correctly? Unlearning problematic methods from our past and moving on with a mental health approach to dance pedagogy.
Presenter: Jo-Anne La Flèche, MPsy, MA Dance - consulting psychologist to l'École supérieure de ballet du Québec.
Session #3 - March 12, 2023
Productive, proactive communication. How to engage students and dancers on the tough topics and disappointments.
Presenter: Jackson Jirard, M.Ed - Education psychology specialist and dance educator, associate director of Urban Improv at Rehearsal For Life in Massachusetts.
Session #4 - March 26, 2023
Language Matters: Shifting how we speak about food and bodies to prevent eating disorders and improve dancer health.
Presenter: Monika Saigal, MS, RD, CEDRD-S, CDN - nutritionist and eating disorder expert based in New York City.
Session #5 - April 2, 2023
How to support an injured dancer. Best practices to get the dancer back into the studio strong both mentally and physically.
Presenter: Marissa Schaeffer, PT, DPT, CSCS - licensed physical therapist and NSCA Certified Strength and Conditioning Specialist in New York City.
If you are unable to attend a course live, you will be sent a video link to watch the session at your leisure in the two weeks following the live session. Attendees of the live session will have the ability to ask questions of our guests during the course.
We can't wait to see you at the (virtual) barre!
If you have any questions please contact:
Kathleen at kathleen@WeAreMindingTheGap.org
Jennifer at JenniferMilner@gmail.com