Description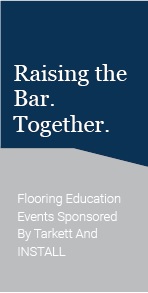 Hamilton Ticket Giveaway!

Hands-On Installation Demontration!






Flooring in Healthcare Environments
Date: Tuesday May 1, 2018
Location: Chicago Regional Council of Carpenters
12 E. Erie Street
Chicago, IL 60611
5:30 p.m. Refreshments
6:00 p.m. Program begins


Raising the Bar- Together
Flooring Education Events
Tarkett® and INSTALL have partnered to create a robust education program for architects, designers, flooring specifiers, general contractors, end-users, and flooring installation contractors to highlight the advantages of working together and creating positive outcomes for our customers while supporting successful results for our channel partners.
Flooring Specifiers
Protect the Spec
To achieve a design vision that is uncompromised requires the use of a qualified flooring contractor who can provide good project management, and a skilled labor force to protect the integrity of the flooring system specification. Working with INSTALL contractors ensures that your specified materials will be installed in accordance with Tarkett guidelines and Industry Standards to provide the look and performance you intended—now and for years to come.
General Contractors
Build a Qualified Labor Force
With shortened timelines and a diminishing labor work force, it is important to utilize the skills, expertise and resources of a qualified flooring contractor to provide certified installers who understand the proper installation methods and techniques to perform the work correctly the first time and avoid costly delays and frustrating claims.
End-Users
Meet the Customers' Expectations
Often claims or problems develop when the Customers' expectations are not meet. Working with Tarkett during the planning stages and utilizing a certified INSTALL installation team to perform the work will help avoid common issues that prevent successful outcomes for the customer.
Our educational sessions are designed to help you:
Identify common challenges associated with flooring installations and know what questions to ask at each stage of the project

Become familiar with the INSTALL Infectious Control Risk Assessment (ICRA) program

View proper installation techniques performed by certified installation experts

Understand the importance of selecting the correct adhesive to protect the integrity and performance of the flooring system and maintain health and wellness certifications

Join our growing network of channel partner professionals
Meet us in Chicago for an upcoming event and join our growing network of channel partner professionals.