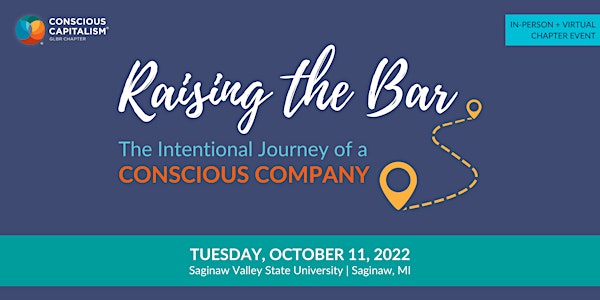 Raising the Bar: The Intentional Journey of a Conscious Company (Virtual)
Join fellow conscious leaders for networking + conversation to ignite the next step of your Conscious Capitalism journey.
About this event
VIRTUAL EVENT DETAILS
OCTOBER 11, 2022
7:45am: Virtual Doors Open
8:00am - 9:30am: Program and Q&A (Virtual access 8:00am-9:30am)
You are cordially invited to join us for our Conscious Capitalism Great Lakes Bay Region Chapter community event, Raising the Bar: The Intentional Journey of a Conscious Company, taking place on Tuesday, October 11th, 7:30-9:30am ET, virtually and in-person at Saginaw Valley State University.
Keynote speaker Catherine Allen, Co-Founder and CEO of Washington D.C. based AO People Partners and co-author of Conscious, Capable, and Ready to Contribute: A Fable-How Employee Development Can Become the Highest Form of Social Contribution, will set the context as she illuminates the employee as stakeholder dimension of the Stakeholder Orientation tenant, as well as the imperative for business success and the opportunity for social contribution employers make by investing in employee development.
Catherine will then facilitate a fireside chat featuring members of local conscious company Tri-Star Trust's senior leadership team. Together, they will share their years long company journey to intentionally incorporate the four tenets of Conscious Capitalism: Higher Purpose, Stakeholder Orientation, Conscious Culture, and Conscious Leadership to serve and contribute to their clients, their employees, and their community's success.
Following the fireside chat, you will have the opportunity to mastermind with fellow Conscious Capitalists through small group breakout room conversations to uncover the next action you, your team, and your organization can take to shift your mindset and change how you operate so that you can intentionally produce the biggest impact on your business's performance and to accelerate your transformation to Conscious Capitalism.
KEYNOTE SPEAKER + PANELISTS