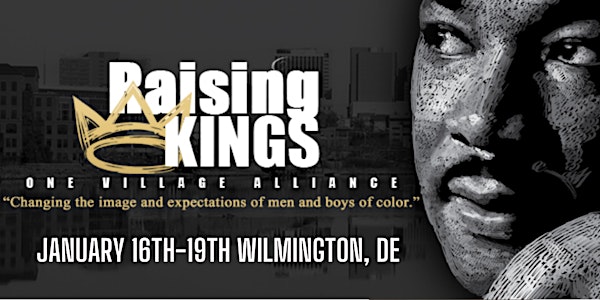 RAISING KINGS 2023
Changing society's prominent image, expectations and outcomes for men & boys of Color. This powerful conference series launches on MLK Day.
When and where
Location
One Village Alliance The Freedom Center 31 West 31st Wilmington, DE 19802
About this event
One Village Alliance presents the 9th Annual Raising Kings Conference, honoring the life of Dr. Martin Luther King, Jr. As we look at where we are today as a nation, it's clear that mere social gatherings are not enough. Raising Kings is a year-round, high impact initiative that kicks off during National Mentoring Month. The goal is to increase exposure and strengthen relationships between boys, mentors, role models and fathers. With your help, we can continue to raise the next generation of King leaders and empower our children to start living "the Dream"!
Events: Register now for these highly collaborative, engaging events throughout Raising Kings Week!
1/16 MON  Dr. Martin Luther King Day of Service | 9:30AM - 2:30 PM | OVA's Freedom Center | 31 West 31st Street, Wilmington, DE 19802
1/17 TUES Louis L. Redding Street Law Session | 5:30PM - 7:30 PM | DYRS Residential Cottages | Hosted by the Delaware State Bar Association
1/18 WED Raising Kings Mentor Training: F.A.M.I.L.Y (Fathers As Mentors In the Lives of Youth) 5:30PM - 7:30 PM | Wilmington Public Library | Hosted by David Miller, MSW, Dare To Be King
1/19 THUR Raising Kings Conference | 9:00AM - 2:00PM | OVA's Freedom Center | 31 West 31st Street, Wilmington, DE 19802
Click on RESERVE A SPOT to participate in Raising Kings Week!