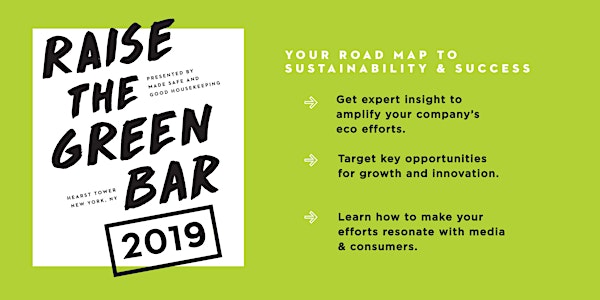 Raise the Green Bar 2019: Your Roadmap to Sustainability & Success
Location
Hearst Tower
300 W. 57th Street
44th Floor
New York, NY 10019
Refund policy
Refunds up to 30 days before event
Sales Have Ended
Registrations are closed
Thank you for your interest in attending! Please email if you have more questions or you are interested in Sponsorship.
Description
Join the Good Housekeeping Institute and MADE SAFE for the third annual Raise the Green Bar Summit focusing on maximizing your brand's sustainability efforts for increased consumer engagement and better ROI.

Registration includes cutting-edge keynotes, sessions, and panels; light breakfast; full lunch at the famed Hearst Tower; and cocktail hour at the Good Housekeeping Institute.
8:30am CONTINENTAL BREAKFAST & NETWORKING
9:00am OPENING REMARKS
Speaker Laurie Jennings, Good Housekeeping Deputy Editor & Institute Director
9:10am KEYNOTE | The Rise of the New Blue Mindset
Speaker Dr. Wallace J. Nichols, Ph.D. Marine Biologist & Founder, Blue Mind
9:35am PANEL | The Good, the Bad & the Opportunity Around Single-Use Plastic
Moderated by Dianna Cohen, Cofounder & CEO, Plastic Pollution Coalition
Speakers Lauren Singer (Founder, Package Free); Kyra Sedgwick (Celebrity Climate Activist)
10:05am SPECIAL PRESENTATION | Good Housekeeping Sustainable Packaging Awards
Speakers Birnur Aral, Carolyn Forté and Rachel Rothman, Good Housekeeping Institute
10:20am COFFEE & NETWORKING BREAK
10:30am FIRESIDE CHAT | Chefs for a Green Plate
Host Jane Francisco, Good Housekeeping Editor in Chief/Hearst Group Editorial Director
Guests Shayna Taylor (Chef, Influencer & Founder, Shayna's Kitchen); Camilla Marcus (Restaurateur & Founder, west~bourne)
10:50am PANEL | Waves of Green: Marketing to Gens X, Y, Z and Beyond
Moderated by Jaleh Bisharat, Cofounder & CEO, NakedPoppy
Speakers Meika Hollender (Cofounder & CEO, Sustain Natural); Kate Solomon (Founder & President, Babo Botanicals); Valerie Grandury (Founder, Odacité Skincare)
11:20am PANEL | Green Business: How Corporate Catalysts Are Moving the Dial
Moderated by Randi Kranthal-Sacco, Senior Scholar, Marketing & Corporate Outreach, Center for Sustainable Business, NYU
Speakers Laura Goodman (Senior Scientist NA, Fabric Care, Procter & Gamble); Adrian Horotan (General Partner, Safer Made Venture Capital)
11:45am MISSION MOMENTS
Speaker Steven R. Swartz, President & Chief Executive Officer, Hearst
Speaker Martina Joseph, CEO, Dr. Hauschka
12:05pm GOURMET PLANT-BASED NETWORKING LUNCH & EXPO
During lunch, visit the Good Housekeeping Institute (29th floor) to experience our Sustainable Brand Showcase, where you'll have the opportunity to meet with brand ambassadors, sample products and more.
1:30pm SPECIAL PRESENTATION | Carbon Capture 101
Speaker Dr. Graciela Chichilnisky, CEO, Global Thermostat & Author, Reversing Climate Change
1:50pm ROUNDTABLE | Ready, Set, Jet! Insights From Travel Frontlines
Moderated by Tedd Evers, Founder, Trip Tuner
Speakers Tara Nolan (Travel Influencer, Conscious Connoisseur), Scott Kania (CEO, Earthwatch US); Matthew Hurlburt (Kimpton Hotels & Restaurants); Tomika Bryant (Lifestyle/Travel Influencer, Life in Pumps)
2:20pm PANEL | Coming Clean: The New Age of Beauty
Moderated by Melanie Rud, Journalist & Beauty Expert
Speakers Romain Gaillard (Founder, The Detox Market & The Detox Mode), Sonika Malhotra (Global Brand Director, Unilever); Gianne Doherty (Founder, The Well Summit & Organic Bath Company)
2:50pm PANEL | Sustainable Fashion Trends: How Conscious Consumers are Re-Sizing the Industry
Moderated by Aya Kanai, Chief Fashion Director, Hearst Magazines
Speakers Ericka Garcia (Business Development & Marketing, Lenzing Group); Deb Johns (Cofounder & Chief Creative Officer, Scout Bags); Valerie Sorbie (Board Chair, LXR and Co)
3:15pm COFFEE & NETWORKING BREAK
3:25pm PANEL | The Future of Farm to Table
Moderated by Jaclyn London, Head of Nutrition, WW (formerly Weight Watchers)
Speakers Bob Quinn (Organic Farmer & Founder, Kamut Khorasan Wheat); Carrie Brownstein (Global Seafood Quality Standards Advocate, Whole Foods Market); Gina Asoudegan (VP, Mission & Innovation, Applegate)
3:55pm MISSION MOMENT
Speaker Emy Kane Director, Lonely Whale
4:10pm PANEL | Meet the Young Activists Shaping the Future
Moderated by Lucy Biggers, Correspondent & Producer, Now This
Speakers Rachel Parent (Founder, KidsRightToKnow.org & GenEarthEvent.org); Alexandria Villaseñor (Youth Climate Activist); Shelby O'Neil (Founder, Junior Ocean Guardians & No Straw November)
4:35pm SPECIAL PRESENTATION & WRAP-UP | Closing the Loop on Ingredients
Speaker Amy Ziff Founder, MADE SAFE
5:00pm COCKTAIL RECEPTION | Head to the GH Institute (29th floor)
Speakers include
Wallace J. Nichols,

PhD, Marine Biologist, Water and Ocean Advocate, Founder of Blue Mind

;

Kyra Sedgwick

,

Celebrity Climate Activist, Actress, Producer and Director

;

Lauren Singer,

Founder & CEO of Package Free;

Dianna Cohen,

CEO & co-founder of Plastic Pollution Coalition

;
Rachel Parent

,

Youth, Food & Climate Activist, Founder

KidsRightToKnow.org

and

GenEarthEvent.org

;

Meika Hollender,

Co-founder and CEO of Sustain Natural

;
and many more! View 2019 Speaker List.
#raisethegreenbar

---
Get the Raise the Green Bar Schedule & App!
We're excited to announce that the full summit schedule is now available online. In order to be mindful of our consumption, we only print necessary items for the event. Instead we have a digital app for use on Guidebook! Get the guide to access the most up-to-date information about our event, including full schedule, speaker bios, maps, sponsor information, and much more.
Android and iOS users:
Tap the "Download" button to download the free Guidebook app

Open Guidebook and search for the "Raise the Green Bar 2019" guide
Read about the speakers, brand sponsors, and more on the app.
Remember the day starts at 8:30am with breakfast; programming begins at 9am and runs to 5pm. Check back for agenda updates; schedule is subject to change without warning.

See you soon!