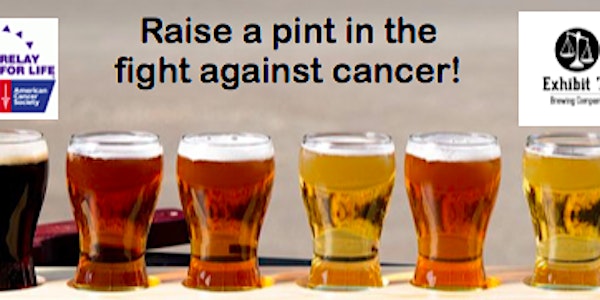 Raise a Pint in the Fight Against Cancer
DO YOU LIKE BEER & HATE CANCER?
By Relay For Life of Charles River
Date and time
Sunday, April 30 · 3 - 5pm EDT
Location
Exhibit 'A' Brewing Company 81 Morton Street Framingham, MA 01702
About this event
DO YOU LIKE BEER & HATE CANCER?
Raise a pint in the fight against cancer.   Come hang out at a local brewery & enjoy a pint of Exhibit 'A' Brewing Company's handcrafted beers right on the actual production floor surrounded by mash tuns & fermenters!  Get out of the house & join us for a fun afternoon with great beer, great food, & great company.  Learn more about how the Relay for Life impacts our community and about our upcoming Relay May 20, 2023.  Join us on Sunday April 23 at Exhibit-A Brewing in Framingham to help us in the fight against cancer.  Light food will be provided by Michael's Deli of Brookline & Hearth Pizzeria of Needham. Admission gets you 1 Drink Ticket.  Cash Bar for any additional beverages.  In addition, live music will be provided by the Fresno Street Jazz band! Portion of the proceeds will benefit the Amercian Cancer Society's Relay for Life of Charles River and the Boston Hope Lodge.
More about the Brewery:
Exhibit 'A' Brewing Company https://www.exhibit-a-brewing.com
Exhibit 'A' Brewing Company offers a fun look at storytelling through beer with a subtle nod towards the meaning of life. While we may know the answer (42), it's the questions that keep us searching. We are all about experiencing life and having a great beer or three along the way. If the beer came from our own brewery, even better! We keep our lives, and our beers, simple and honest.
Beer was meant to be enjoyed together. So we invite you to join us at our brewery in Framingham, Massachusetts. While you are here, enjoy full, half or sample pours of our beers in our brewery taproom and 16 ounce cans to go. We think our beers taste the best in our brewery, but they will probably taste even better in the comfort of your own home, shared with friends and family. That's because we believe it's the way beer was meant to be enjoyed.
More about the Food:
Michael's Deli https://michaelsdelibrookline.com
Michael's Deli in Brookline has been serving up the finest New York style deli, including our world-famous award winning melt-in-your mouth Corned Beef Sandwich, for over 45 years. Our meats are "imported" from the Bronx and are cooked on site daily. Our delicious knishes, soups, kasha and kugels are homemade from treasured family recipes using the freshest ingredients. 
Our quality is unwavering; our taste is out of this world! Michael's Deli has been featured in the Boston Globe, Boston Magazine, The Improper Bostonian, Eater Boston, Phantom Gourmet and on Anthony Bourdain's No Reservations show. Our "Best of" awards are too numerous to list, but include Boston Magazine's "Best of Boston" and "Readers' Choice" awards and a Trip Advisor Award of Excellence. 
Michael's Deli owner, Steven Peljovich, is known around town for his commitment to excellent food, amazing "mi casa es su casa" customer service and a dedication to community and charity involvement with partners like the American Cancer Society, Shawn Thornton Foundation, Greg Hill Foundation and Martin Richard Foundation. 
Steven hopes you'll stop by soon, grab a sandwich and a knish, and say 'hello'.
Hearth Pizzeria https://hearthpizzeria.com
Opened in 2015, Hearth Pizzeria owner and chef Ivan Millan-Pulecio has taken the traditional open-flame hearth oven method of pizza and entrée making and seamlessly added his personal flavor inspired by international cuisine as well as his local community of Needham, MA. With a large following created by Chef Ivan's innovative approach to making real food for all lifestyles, Hearth Pizzeria is a much needed and beloved addition to the Needham restaurant scene offering gluten-free pizza and pastas as well as vegan options. Craft beer and hand-selected wines are custom paired with monthly specials offering the best of each New England season.
More about the Band:
Fenno Street Jazz https://fennostreetjazz.com
Jazz is creation. Jazz is connection. Jazz is beauty born of struggle. Jazz is rebirth. The musicians of Fenno Street Jazz draw from the vast vocabulary of traditional and modern jazz infused with the soul of Delta blues and the fearlessness of progressive rock resulting in an intense musical experience that pushes the boundaries of the present while honoring all that has come before.
Must be 21+ with a valid ID
No refunds
About the organizer
https://bit.ly/CANCERSTINKS
Relay For Life is a community-based fundraising event for the American Cancer Society.  Each year, more than 5,000 Relay For Life events take place in over twenty countries.  Events are held in local communities, campus universities and in virtual worlds.  As the American Cancer Society's most successful fundraiser and the organization's signature event, the mission of Relay For Life is to raise funds to improve cancer survival, decrease the incidence of cancer, and improve the quality of life for cancer patients and their caretakers.