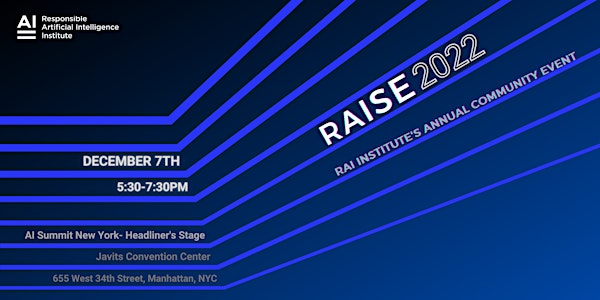 RAISE 2022— RAI Institute's Annual Community Event
RAISE is the Responsible AI Institute's annual community event dedicated to bringing positive impact by raising the bar for responsible AI.
When and where
Location
AI Summit New York Javits Convention Center 655 West 34th Street, Manhattan New York, NY 10014
About this event
RAISE is Responsible AI Institute's annual community event dedicated to bringing positive impact in the field and identifying how we can collectively raise the bar for responsible AI.
It will also include the RAI Institute's annual RAISE Leadership Awards Ceremony to close out the event by honoring and celebrating the amazing work being done by leaders in various fields.
This year's RAISE event is co-located with the AI Summit New York and access to the event space will be provided via the AI Summit. The event will be held at the AI Summit Headliner's Stage.
The agenda for the evening will include:
5:30pm- Mingle and Drinks with Community
6:15pm- RAISE Opening Presentation
RAI Institute 2022 Year in Review
State of Responsible AI
RAI Institute's product and offerings
6:25pm- Fireside Chat: How Standardizing AI Governance will Ensure Responsible AI Practices
This discussion will focus on the need for standard AI Governance approaches and practices including the development of standards, conformity assessments, and emerging research leading to industry best practices.
6:50pm- RAI Institute: The Year Ahead, 2023 Outlook
6:55pm- RAISE Award Ceremony
Leading Community Organization Award
Leading Start-up Award
Leading Individual Award
Leading Enterprise Award
7:20pm- Closing Remarks
TICKETS: Please complete registration by registering at the AI Summit New York as well (Please be advised, your registration is not complete without this step).
ONLINE: We will also have a webinar link available for any people that cannot attend in person. This link will be shared in the follow up email.
For more information on this event co-located with the AI Summit New York, please check out our website