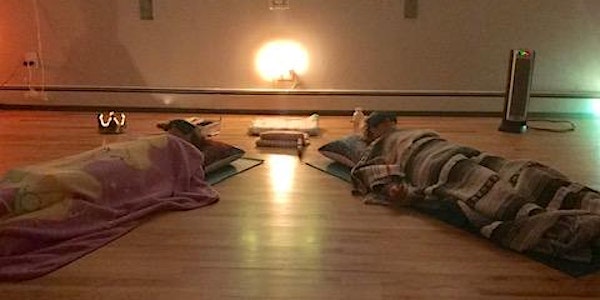 Raindrops & Reposes Small Group Guided Relaxation & Meditation
Event Information
Location
Soul Shed Wellness
Julie Crescent
Islip Terrace, NY 11722
Description
Bring a friend to this unique & beautiful self-care experience that will calm your senses & soothe your soul.
The lights are low & the atmosphere is warm, peaceful, & cozy.
Spiritual and Transformational Coach, Debbie Young will guide you into a DEEP resting state with the soothing sound of her healing voice.
As you snuggle under a blanket with an eye pillow over your eyes, essential oils fill the air & are gently massaged along your face, temples, earlobes, and shins.
Feel gentle feathering strokes on the feet & arms as you explore a beautiful place in nature in your minds eye.
You SO deserve to end your week being pampered in this way!
This once a month event has been sold out for 12 of the last 14 months, so register asap to reserve your spot for PURE BLISS!
FAQs
How can I contact the organizer with any questions?
Feel free to email Debbie at hello@SoulShedWellness.com. Allow 24 - 48 hours for a reply.
What's the refund policy?
*$30 is non-refundable.
*Cancellation at least 24 hours before the event required in order to reschedule.
*1 reschedule allowed per ticket (if you've cancelled 24 hours before the event).
*Reschedule must be used within 3 months of original event date.
Where is the event held each month?
In Islip Terrace, NY, 11722. Street Address will be provided upon registration. :)
What else do I need to know?
*Arrive about 10 minutes early.
*Wear comfortable clothes such as sweatpants or leggings and a t-shirt.
*Come ready to relax, release all stress and tension, and to receive deeply.
*Men and women are welcome. :)
What do I need to bring?
Absolutely nothing.
What is it like?
*This is a very small group event – 6 people maximum in attendance.
*You will lay down on your back on a yoga mat, under a blanket, a pillow under your head, an eye pillow over your eyes, and a bolster under your knees, if desired, to deepen relaxation.
(These are optional; it's all about YOUR comfort!)

*The lights will be low.
*Soft, relaxing music will be playing in the background.
*Debbie will guide you into a deep state of peace and relaxation using her voice, gently massaging the purest of essential oils along the forehead, temples, earlobes, and shins, and feathering along the arms.
Location
Soul Shed Wellness
Julie Crescent
Islip Terrace, NY 11722
Refund policy