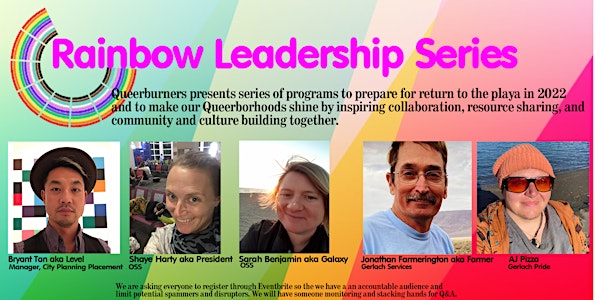 Rainbow Leadership Summit: LGBTQAI & Allies of the Queerborhoods
We are looking to bring together camp leaders for the Queerborhoods, LGBTQ and our allies, to help set an amazing return to BRC!!
About this event
Updated 3/25/2022
On March 26 we do a Zoom meeting with Placement and OSS as the headliner. (1.5 to 2 hours)
Queerburners is proud to present for the community a series of programs to prepare for return to the playa in 2022 and to make our Queerborhoods shine by inspiring collaboration, resource sharing, and community and culture building together.
13:00 We start at 1pm with Toaster welcoming people to the Rainbow Leadership Series
13:05 Level: Placement and the Queerborhoods
13:20 Q&A
13:25 OSS: We go into the topics there that Galaxy wanted to talk about about anything else OSS specific we were going
13:40 Q&A
13:45 Farmer: Farmer from Gerlach wants to talk about storage and other services available in Gerlach and Empire that he wants Queer Camps to be aware of
14:00 AJ from Gerlach: Wants to talk about
Gerlach Gay Pride
Farmer will talk about a growing Queer Culture in Gerlach
We are asking everyone to register through Eventbrite so the we have a an accountable audience and limit potential spammers and disruptors. We will have someone monitoring and stacking hands for Q&A.