Description
On Wednesday February 5th RAIN Summits will host Pureplays and Podcasts Day, featuring an afternoon and evening of great discussion and networking at WNYC's The Greene Space in NYC's trendy TriBeCa neighborhood in partnership with Interactive Advertising Bureau. Join RAIN Founder Kurt Hanson and CEO Jennifer Lane for a great afternoon and evening of panel discussions and presentations on all aspects of the evolving streaming audio marketplace, followed by a cocktail reception for speakers and attendees.
To see how Pureplays and Podcasts Day is shaping up, visit the RAIN Summit New York information page.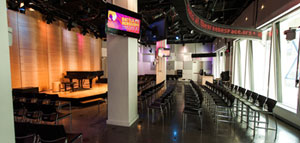 Registration is valid and binding when registration fee is received by RAIN Summits. Participation fee will not be refunded. Change of person attending will, however, be accepted.
Organizer of RAIN Summit NYC: Pureplays and Podcasts Day
RAIN Summits are the premiere knowledge and networking conferences for the internet radio and online audio industry in the US and Europe.
Join broadcast radio executives, Internet radio entrepreneurs, sales executives and technology visionaries for a day-long event of panels, research presentations, and talks by industry leaders, followed by an excellent networking and cocktail party.
Topics include programming, marketing, ratings, ad sales, technical aspects, legal aspects, business strategies, financial considerations, music industry relations, social networks, international opportunities and more. This is a conference you can't afford to miss!
"RAIN: Radio And Internet Newsletter" is the world's leading trade publication covering the field of Internet radio, published daily at https://rainnews.com/

Since 2004, our RAIN Summits have been the leading gatherings of broadcasters and webcasters working together to advance the future of radio.