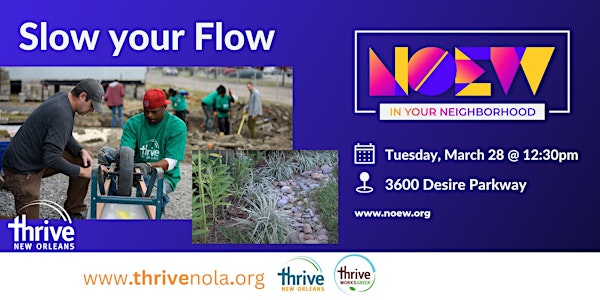 Rain, rain, won't go away; let's manage storm water a better way.
Slow your Flow! Green landscapes help to: 1) Slow the flow of rain drainage; 2) Curb street flooding; and 3) Restore our water table
Date and time
Tuesday, March 28 · 12:30 - 1:30pm CDT
Location
3600 Desire Pkwy 3600 Desire Parkway New Orleans, LA 70126
About this event
When it rains, it pours in New Orleans. Did you know Louisiana is one of the rainiest states in the country? And climate change means more rain is coming.
Our beautiful, bowl-shaped city needs better practices to manage all the water that inundates our city in a storm.
We believe the answer lies in training up indigenous leaders to find and build solutions.
New Orleans is at the forefront of climate change. When we get a major rain event, our streets flood and our property is damaged. We are working to alleviate the impact of stormwater by teaching Black, Indigenous, and people of color to install better, green infrastructure.
----------------------
At this NOEW in your Neighborhood event, Thrive New Orleans will share (1) how we train up a local workforce to install green landscaping and (2) how we develop small business' capacity to win contracts in green infrastructure.
Watch how we roll. We're going to walk the walk while we talk the talk. We'll be doing a live demo of a green landscape installation -- all at our training center in the 9th Ward's Desire neighborhood.
----------------------
NOEW in your Neighborhood
Slow your Flow, produced by Thrive New Orleans, is one of more than a dozen "NOEW in Your Neighborhood events" that kick off the NOEW week! NOEW in Your Neighborhood puts the spotlight on leading organizations across the city, who host their own events centered around the NOEW 2023 themes that showcase the local entrepreneurial ecosystem.
About Thrive New Orleans
Thrive New Orleans is achieving social justice by connecting Black, Indigenous, and people of color with equitable opportunities. Thrive works in four impact areas: workforce development; small business capacity building; engaged youth and families; and critical resources and care. Thrive believes that true equity means identifying and providing the resources and relationships that individuals, families, and our community, need to thrive.
------------------------------
About NOEW
New Orleans Entrepreneur Week (NOEW) is an annual celebration at the intersection of innovation and culture. Now in its 12th year, NOEW (pronounced noh-wee!) brings together business owners, startup founders, industry leaders, forward-thinking investors, and business-minded creatives committed to imagining and building an exceptional future for New Orleans and the Gulf Coast region. Produced by non-profit business accelerator The Idea Village and presented this year by JPMorgan Chase & Co, NOEW 2023 will build connections across entrepreneurship, innovation, technology, startups, and culture, in a signature-style event that only New Orleans can host. Get your NOEW Pass today at www.noew.org.
------------------------------
Registration
In addition to signing up for this event, you must also register for NOEW 2023 at www.noew.org. By registering for a free NOEW 2023 Access Pass - or any of the other NOEW 2023 Passes - you will be considered officially registered for this NOEW in Your Neighborhood event, and you will receive all other NOEW benefits and activities that are available through your Pass for the entire week. Register here: www.noew.org