Description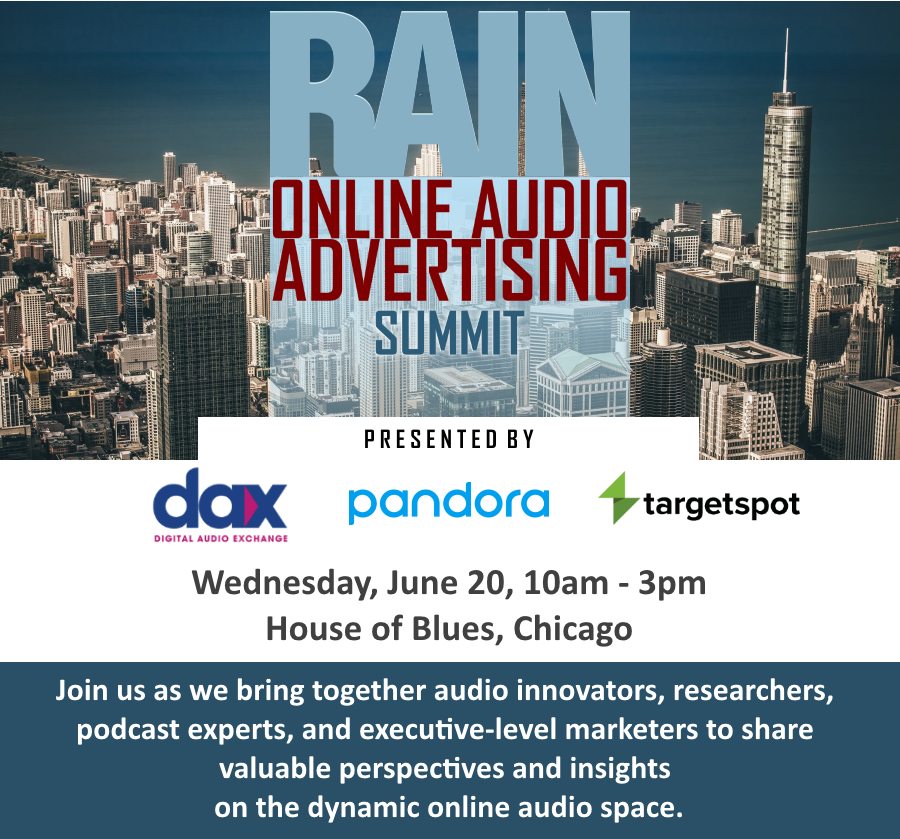 AGENDA

10:00 WELCOME
RAIN President
Brad Hill
and RAIN Founder
Kurt Hanson
10:15 OPENING ADDRESS
Kurt Hanson (Founder and Publisher, RAIN News / Founder and CEO, AccuRadio)
10:40 PANEL PREP: The Where and How of Consumer Listening
As new delivery platforms integrate audio deeper into new locations and dayparts, how are consumers listening today? Moderator Tom Webster presents Edison Research data to establish a framework for the following panel discussion.
Tom Webster (Senior Vice President, Strategy and Marketing, Edison Research)
10:50 PANEL: Audio: The Paradigm Shift
From the exploding growth of connected home and connected car to voice technology revolutionizing how we interact with devices, audio is at the center of a paradigm shift. Nielsen estimates that 79% of audio consumption takes place where visual media cannot reach consumers. In our screen-less world, the power of audio can bring your brand to life and engage your audience in new, meaningful ways. With audiences spending more time with audio, does your media mix reflect where and how your audience is spending their time?
MODERATOR: Tom Webster (Senior Vice President, Strategy and Marketing, Edison Research)
Jonathan Eccles (Director Product Management, Listener Ad Experience, Pandora)
Tracy Kalfas (SVP Group Director, initiative)
Dan Richardson (Director, Invention Studio, Mindshare)
11:35 Innovation in Audio Advertising
Advertisers are finding new ways to market in digital audio to optimize the message and maximize campaign performance. Guy Jones presents new information and case studies.
Guy Jones (Head of Commercial Digital Strategy, DAX)
------------ LUNCH ------------
1:15 PANEL: Increasing Investment in Digital Audio: Why and How
Digital audio ad spending was up 39% in 2017, to $1.6 billion industry growing faster than display, video, and search. Clearly, online audio is an increasing priority as buyers and advertisers plan their campaigns. What are the attributes driving demand? How is it working? What tools are available to break down walls between buy channels? This panel spotlights viewpoints from several industry touchpoints -- publisher, advertiser, technology, and agency.
MODERATOR: Erik Portier (Chief Revenue Officer, TargetSpot, Radionomy Group)
Michael O'Neil (Vice President of Programmatic Partnerships, Triton Digital)
Kunal Singh (Director, Engagement, MediaMath)
Scott Porretti (Executive Vice President of Digital, Katz Media Group)
Nathan Joslin (Mobile Supervisor, Mobext/Havas Group)
2:00 - PANEL PREP: Podcast Advertising Reveneus
Recent research from the IAB shows accelerating podcast ad revenue, and projects growth reaching for a billion-dollar industry. Panel moderator Mark McCrery sets a framework for the discussion to follow.
Mark McCrery (Founder, CEO, Authentic and Podtrac)
2:10 PANEL: Podcasting FTW! But -- What Actually Works?
In the last four years podcasting has matured creatively, technologically, and as a media category with great revenue potential. Within the buzz, what are the keys to success for producers and publishers when selling their shows to advertisers? This panel brings the latest thought leadership to the present and future of podcasting.
MODERATOR: Mark McCrery (Founder & CEO, Authentic & Podtrac)
Lex Friedman (Chief Business Development Officer, Midroll Media)
Fannie Cohen (Founder & Podcast Producer, Fannieco)
Tom Yeung (VP, Supply, North America, AdsWizz)
3:00 to 5:00 - NETWORKING AFTER-PARTY
Two hours of lively mingling at the legendary House of Blues. Food, drinks, music, photos, and great conversations!