This is the rain date performance Featuring Talking Gong Trio (Claire Chase/Susie Ibarra/Alex Peh), Senem Pirler, IONE and Friends.
About this event
RAIN DATE PERFORMANCE of our canceled May date!
**Ticketholders of May's event will be carried over automatically to this event**
Saturday, May 29—the "joint birthday" of IONE (May 28) and Pauline Oliveros (May 30)—Talking Gong will invite participants in the previous week's explorations to gather and join forces at the Deep Listening Plaza at sunset for a community performance of "The Witness." The event will be filmed and will join a living archive of "Witnesses" around the world as part of the SONIC MATTER Festival.
Artists performing include Talking Gong Trio (Claire Chase/Susie Ibarra/Alex Peh), Senem Pirler, IONE, Henry Lowengard, Peter Wetzler, Norman Lowrey, Lisa B Kelley, JL and more!
As part of SONIC MATTER—an international, multi-year festival bringing together artists, scientists, environmentalists and the general public—flutist Claire Chase and Talking Gong (percussionist/sound artist Susie Ibarra, pianist Alex Peh and Chase) join selected students, artists and community members in the Hudson Valley area in a weeklong exploration of Pauline Oliveros' seminal 1989 open-form work "The Witness." The piece, which is scored for an ensemble of two to one hundred or more performers, asks participants to engage in three specific strategies for listening and responding to their environment. "The Witness" may be performed either as music, movement, or drama, or in any combination.
For this special iteration of the project in the area in which Oliveros and Ione made their home for over 3 decades , Talking Gong is honored to work alongside the celebrated author, playwright/director and poet IONE.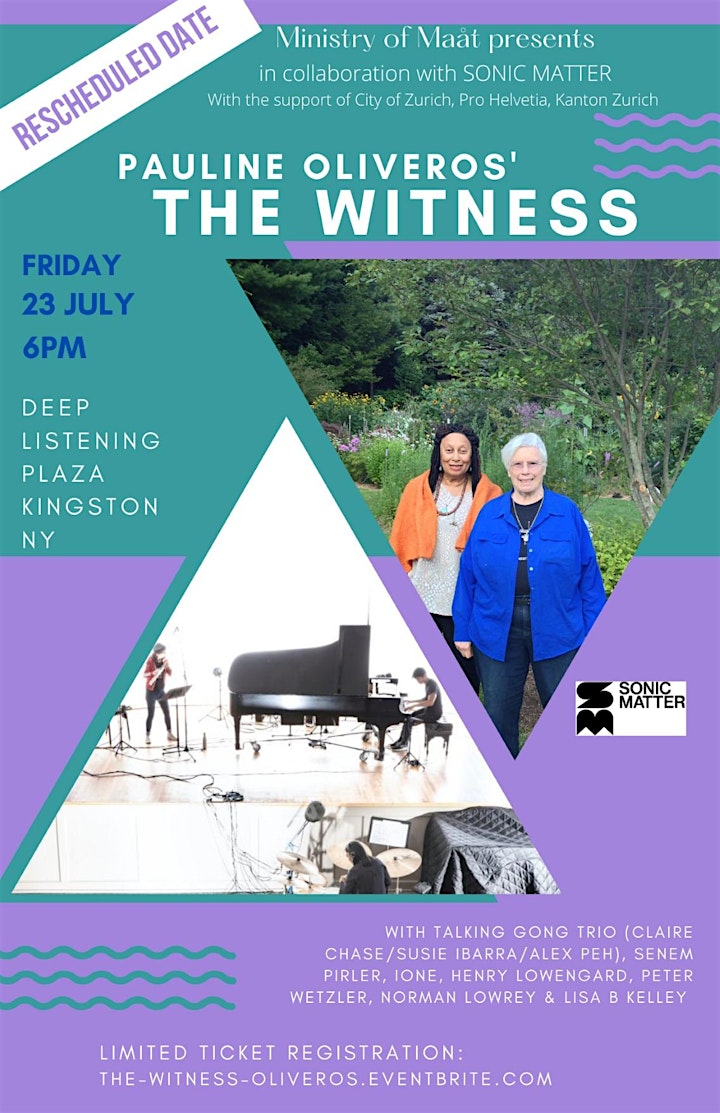 Organizer of RAIN DATE: THE WITNESS by Pauline Oliveros; Talking Gong; Kingston NY
The Ministry of Maåt presents
IONE's 26th Annual Dream Festival: THE BIG DREAM
February 6 - March31, 2021
World-wide dream action theater including performances, virtual music and literary launchings, art exhibitions, round table discussions, citywide and international ephemeral and long lasting dream events.
The Ministry of Maåt provides Spiritual, Educational and Holistic support for women and the full spectrum of cultural and gender identities. MoM nurtures creativity in multiple art forms as a foundation of the organization. We consistently wish to honor Black and Brown Histories and Futures.

The Ministry of Maåt (MoM) is a 501c3 Charitable Organization incorporated in the State of New York in 1997.