Sales Have Ended
Ticket sales have ended
We are working with the venue to expand the number of attendees.
Sales Have Ended
Ticket sales have ended
We are working with the venue to expand the number of attendees.
We are celebrating the longest night of the year by queering the Persian culture! (This is a Lesbian Gay Bisexual Transgender Queer event)
About this event
This year we are continuing the tradition of Yalda by breaking the tradition.
Yalda is a time when we stay up into the late hours of the night, eat, and hear the stories of our elders and days past. However, this year we want to queer the Persian culture by focusing on the Iranian LGBTQ story, so that our tale is neither lost nor forgotten.
To bring the Iranian LGBTQ theme to life, we have partnered again with visual artist Parisa Parnian.
Just as Shabe Yalda symbolizes the triumph of light over darkness, for many of us Iranian LGBTQ our own struggle of coming out and being true to ourselves represents our own victory. Whether you are at the beginning, middle or end of that path, we'd love to have you at our gathering and share in the celebration of that journey with you.
We will still have traditional Persian food, an open bar, and music and dancing. Above all, we are so lucky to have Mojgan Rahbar, who will be reading your Fale-Hafez.
COVID-19 - This is a mixed space event, with both outdoor and indoor spaces available. Per LA City Vaccination Verification Ordinance, you must present your ID and proof of vaccination to enter the event.
For updates on upcoming events, connect with us at:
www.rahaintl.org; @rahaintl or OurRaha@gmail.com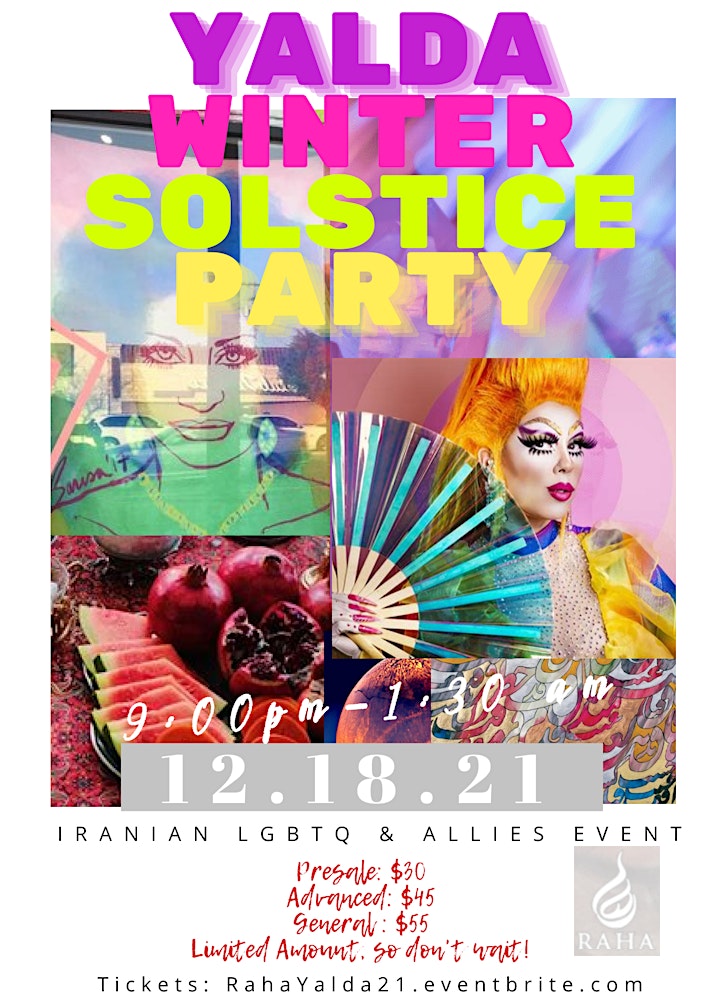 Organizer of Raha's 2021 Shabe Yalda Gathering