Ragin' Cajun Forensic Exploration, 2019

Monday, June 17, 2019 at 8:30 AM

-

Friday, June 21, 2019 at 4:30 PM (CDT)
Event Details
Happening:
June 17-21th, 2019
Class Schedule & Descriptions:
Monday:

Morning: Forensic Pathology - A trip to the Louisiana Forensic Center in Broussard, LA

Afternoon: Missing Persons, an overview

Tuesday:




Morning: Special Guests, Mr. Johnny Dixon and the Scent Bloodhounds of Louisiana State Penitentiary at Angola. This recent article in the NY Times, "Prison Dogs of Angola," provides more details on the dogs

Afternoon: Class - Scene Investigations, Search, & Seizure. Learn how to execute a search within constitutional limits. Practice chain of custody and meticulously collecting and preserving evidence from crime scenes.

Wednesday:

Morning: Missing Persons Investigations - Guest Speaker from the National Center for Missing and Exploited Children

Afternoon: Forensic Evidence, Blood Spatter. Evaluate different blood 'cast offs' to determine injury types, direction of injury, and build a narrative detailing what occurred at a crime scene given visual (and latent) evidence.

Thursday:

Morning: Forensic Evidence, Fingerprints

Afternoon: Forensic Evidence, Toolmarks & Impressions. Examine the unique markings left behind by tools we use everyday. Discuss and investigate shoe prints, tire marks, and more.

Friday:

Crime Scene Investigation (with a mock crime scene event on Friday); Analyze a local crime that has been recreated on campus with the Lafayette Parish Sheriff's Office law enforcement officers and crime scene techs.
Drop-off/Pick-up Location:
(8:30 am sharp, daily!)
Our event will be happening in our offices at Rougeou Hall on campus. Campers will report to our conference room, Rougeou Hall 322. To facilitate our meetups, we have an easy to use parking lot behind Rougeou Hall on the corner of E. Lewis Street and Rex Street for drop-off and pick-up. See this link for more help on the exact location / directions. 
https://goo.gl/maps/DCd9d6SxfiuEBP8y5
One of faculty members will be posted up at the entrance of the parking lot beginning at 8.10am to facilitate drop-off.
If you plan only to join us for an afternoon session, be sure to notify Dave Khey (dkhey@louisiana.edu) to expect you. The instructions are the same - we just want to make sure you find our space in Rougeou Hall!
Daily Parking:
Or, if you are going to park with us, we can use Zone 15 in the EK Long Parking lot: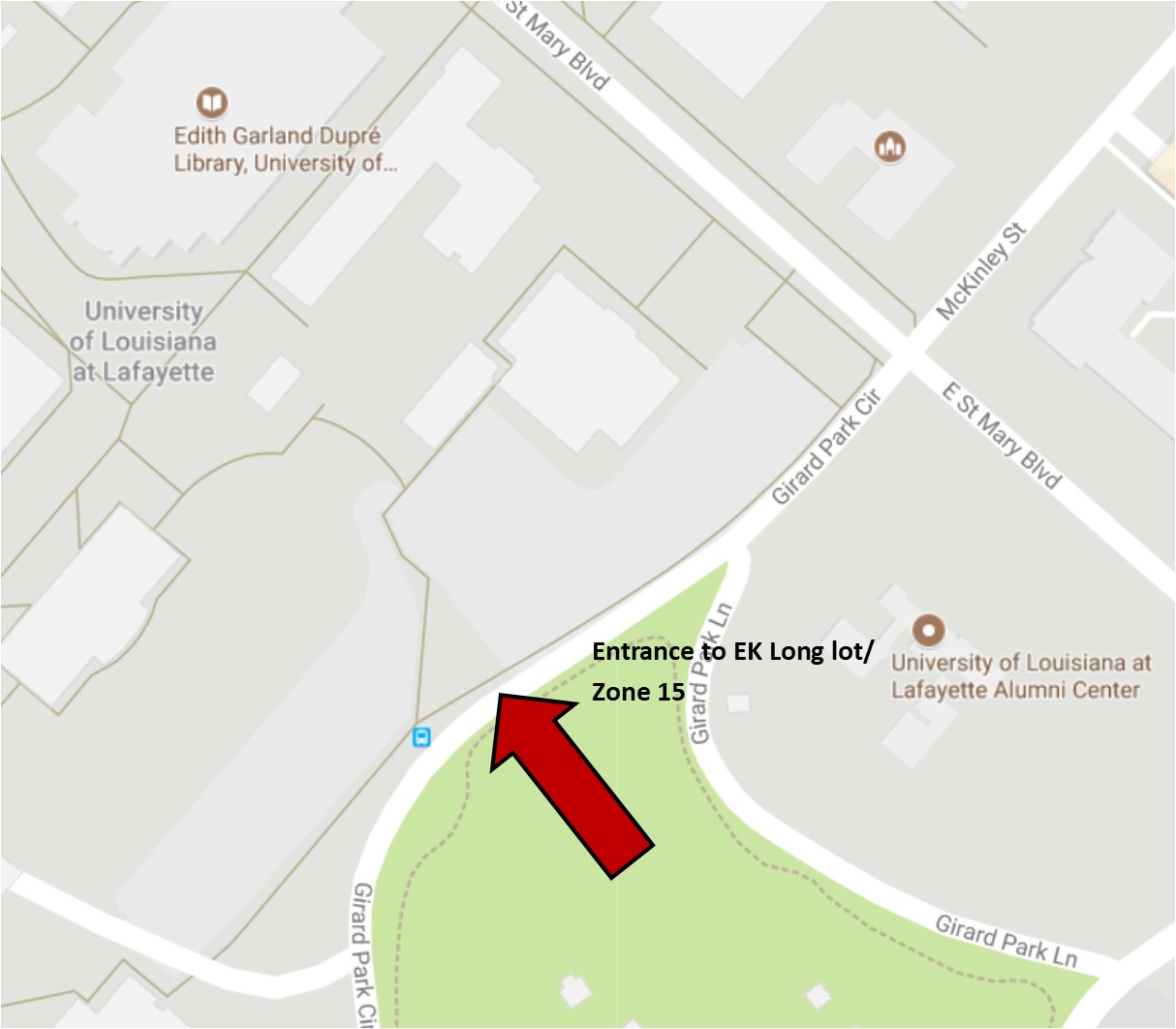 What's Happening?:
It's back! The faculty in the Department of Criminal Justice will be hosting a series of half day and full day forensic camps for high school students - 9th-12th graders (including those who are starting high school in the fall). We invite these students to join us for our Third Annual Forensic Exploration Camp - with an extra focus on missing and at-risk children and adults. Pick and choose the sessions, or attend all of them for a discount! Attend for an entire day and eat lunch on us each time you do!

What to expect: Learn how to fingerprint, identify and analyze blood splatter and work crime scenes. In addition, we will have a specific focus on missing children and adults - what happens when someone goes missing; how can we increase our chances in reunifying family members; what about human trafficking and vulnerable youth? Love crime shows? Missing in plain sight? Why not take a shot at getting some hands on experience alongside experts. Also - learn more about how you can be a forensic scientist through the proper educational and training path.
How it works?
Campers will be able to select these options:
Free admission to one event (to encourage open access for all!)

One class pass (Pick 1 of 8 events to attend) - $90.00

Two class pass - $160 ($80/class)

Four class pass - $300 ($75/class)

Six class pass - $360 ($60/class)

All classes + Exclusive FRIDAY class/event + Free merch - $450 ($50/class, with 8 classes and the exclusive Friday class/event)
Note, if you stay with us for a full day, lunch will be provided at no additional cost. This cost excludes Eventbrite's ticketing service fee.
Forms & Information
What about camp for adults?
Well, sure - why not?! On Friday, we are going to be offering a track for adults. Check out this page to sign up! https://www.eventbrite.com/e/ragin-cajun-forensic-exploration-for-adults-2019-tickets-62947184724
When & Where

University of Louisiana at Lafayette
104 E University Ave
Lafayette, LA 70503


Monday, June 17, 2019 at 8:30 AM

-

Friday, June 21, 2019 at 4:30 PM (CDT)
Add to my calendar