Description
The Mother Lovers Ride
27-mile mostly paved route of delicious local food. If you've been waiting for a lower mile RadTour ride, this one is for you. The route traverses a section of the Sax and Fox Trail which is crushed limestone-about 5mi. There will be a 10-mile gravel option and 5-mile single-track option for those who want to go off-road. Check out the 27mi Route HERE. There will be a free 1-hour yoga session at the Main Stop alongside lunch and music.
Funky & Fresh
This Mother's Day join us urban farm tour by bicycle. Rockstar Chefs will be at each stop serving up farm fresh local food. We're excited to partner with rad urban farmer Kelle Kolkmeier and showcase The Farm.
You can check RadTourBikeRide.com for ride updates and the farmers you'll have the opportunity to meet.
RadTour Cedar Rapids Line-up:
10-11am Check-in:
11:30-12:30am Refule Stop @ mile 6:
12-1pm Squaw Creek Trail Head @ mile 11:
Featuring Linn Area Mountain Bike Association Squaw Creek Single-track option
Cotton candy pit-stop
12:30-3pm Main Event at The Farm @ mile 16:
Lunch by Chef Run Farms w/ Chef Andrew Hoffman
Meet Superhero Farmers Kelle, Dan, Lois and more!
YOGA session w/ Ally Thompson (bring your own mat/mats provided)
Tour this urban farm in the middle of town!
2-4pm New Pioneer Coop Refuel Stop @ mile 22:
Taco bar & ice cream-oh my!
3-7pm Post Ride Fiesta at Caucho:
Drink specials created by Emily Qual
Local food tasting and food special by Chef Tibbs
Dance party
A few things:
- Bring a cotton garment for on-site screenprinting at check-in
- The route is 27 miles with 5 miles of crushed limestone and an alternate paved route option to to Otis Rd. may or may not be available. Most road bikes can handle the crushed limestone but if you are worried about it, then maybe this isn't the best ride option.
- 5-mile single-track option, and 10-mile gravel options, of course!
- Various refuel and water stops en-route
- 1-hour Yoga Session at The Farm by instructor Ally Thompson. Exact start time TBD!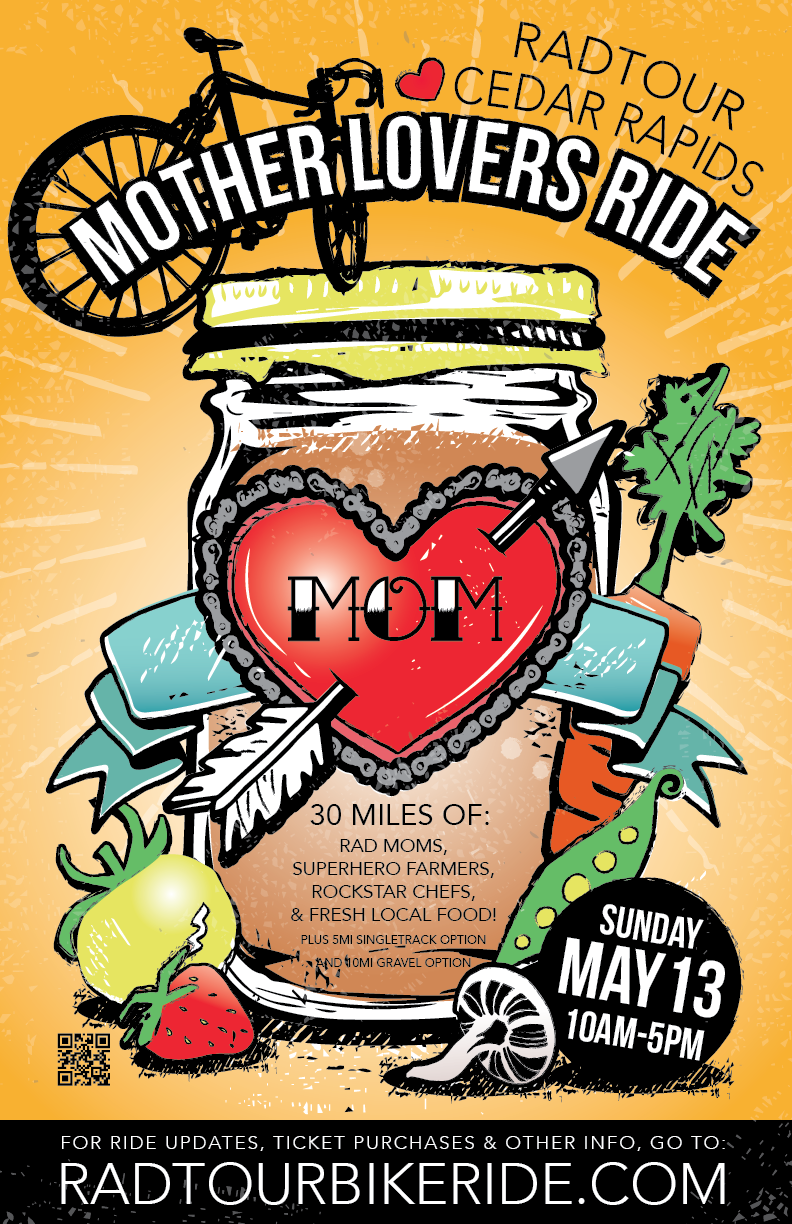 It's all about celebrating Rad Moms, Superhero Farmers using farming techniques that protect Mother Earth, & fermented foods like kombucha which is made with...you guessed it-a Mother!
If you love what we do follow us and check for updates on Facebook, Twitter and Instagram.
Ride on!