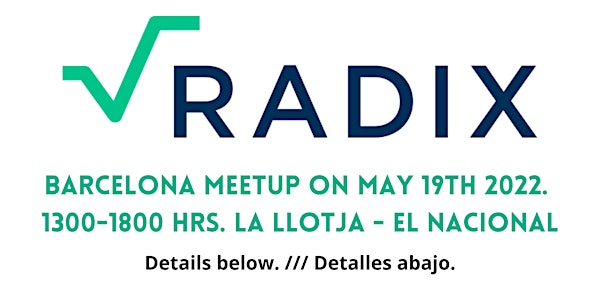 Radix Barcelona Meetup
Radix Barcelona Meetup. Details below. /// Detalles abajo.
By Jimmy: https://twitter.com/jimmyhumania
Date and time
Thursday, May 19, 2022 · 1 - 6pm CEST
Location
El Nacional 24 Bis Passeig de Gràcia 08007 Barcelona Spain
About this event
What's the purpose of the meetup? /// ¿Cuál es el propósito de la reunión?
Meetup with RDX Works CMO Jeremy Epstein /// Reunión con el CMO de RDX Works, Jeremy Epstein
Who should join? /// ¿Quién debería unirse?
Open to Radixians primarily i.e The RadixDLT Community members. /// Abierto a Radixians principalmente, es decir, los miembros de la comunidad RadixDLT.
What will you do at your events? /// ¿Qué harás en tus eventos?
Lunch and all about Crypto, DeFi, Web3, Marketing and more, mainly about RadixDLT /// Almuerzo y Todo sobre Crypto, DeFi, Web3, Marketing y más, principalmente sobre RadixDLT https://www.radixdlt.com/
When (Date & Time)? /// Cuando (Fecha y Hora)?
May 19th 2022 at 13:00 to 18:00 hrs /// 19 de Mayo de 2022 de 13:00 a 18:00 hrs.
Where? /// Donde?
El Nacional Llotja
Pg. de Gràcia, 24 Bis, 08007 Barcelona
https://www.elnacionalbcn.com/en/
What's on the menu? / ¿Que hay en el menu?
Seafood /// Mariscos
Restaurant & Menu: https://www.elnacionalbcn.com/en/restaurantes/la-llotja/
Lunch reservation confirmed? / ¿Para almuerzo reserva confirmada? (attached screenshot)
Yes! for lunch (i.e 2 hours), we've reserved for 9 people as of now. However, we could accommodate more. Thank you! /// ¡Sí! para el almuerzo (es decir, 2 horas), hemos reservado para 9 personas a partir de ahora. Sin embargo, podríamos acomodar más. ¡Gracias!
After 2 hours of lunch, what's the plan? / Después de 2 horas de almuerzo, ¿cuál es el plan?
Within El Nacional there are walk-in bars and taperias that needs no reservations, we could hang there. /// Dentro de El Nacional hay bares y taperías que no necesitan reservaciones, podríamos pasar el rato allí.
Please register or confirm to me by May 15th. Thanks. / Por favor, regístrese o confírmelo antes del 15 de mayo. Gracias.