Radiological Operations Support Specialist Course (MGT-455) POSTPONED

Monday, October 28, 2019 at 8:00 AM

-

Thursday, October 31, 2019 at 4:30 PM (HST)
Event Details
THIS COURSE HAS BEEN POSTPONED
Date:
October 28-31, 2019 (8 hours / day)
Location:
HI Dept of Health, Food Handler Education Classroom
99-945 Halawa Valley Street
Aiea, Hawaii  96701
Course Overview:
During radiological and nuclear emergencies, routine decisions and operations for Federal, State, local and tribal response agencies become increasingly complex. These actions require radiation experts to safeguard the public and responders. Through the creation of a new position called the Radiological Operations Support Specialist (ROSS), the Departments of Homeland Security (DHS) and Department of Energy (DOE) want to train, equip, and certify radiation experts to integrate withinin the Incident Command System (ICS) during responses to radiological and nuclear incidents. The ROSS position will directly support the Incident Commander (IC), agency decision makers, and elected officials.
Prerequisites
It is expected that candidates should already be a radiological subject matter expert with experience and training that goes beyond standard HAZMAT training. Practical experience working with, and making measurements of, radioactive material or radiation generating devices is required. A typical candidate would be a radiation safety officer with emergency response experience who has worked with Federal or State radiological response assets.
Several prerequisites are required before taking the class:
• FEMA ICS-100 Introduction to Incident Command System,
• FEMA ICS-200 ICS for Single Resources and Initial Action Incidents
• FEMA IS-700.A: National Incident Management System (NIMS) An Introduction
• FEMA IS-800.C: An Introduction to the National Response Framework
• FEMA IS-836: Nuclear/Radiological Incident Annex
• CTOS PER 307 Introduction to IND Efforts and Response Strategies (Web based or Instructor Led)
• PER-325-W: RadResponder Mobile App
• Participants shall also have access to the following accounts:Password access to CMWeb: https://cmweb.llnl.gov/web/signIn.html;jsessionid=91A50F026640154CD34D6A5E0E7B1A9C
• RadResponder Account
Target Audience
This program trains radiological specialists to become candidates for the position of Radiological Operations Support Specialist (ROSS) Type 3.
A ROSS is a State and local Subject Matter Expert (SME) tasked with identifying and providing critical information to responders, key leaders, and decision-makers in an ICS environment. The ROSS may assist the Incident Commander and Key Leaders by making the technical aspects of a coordinated response to a radiological incident clear and understandable to all state and local stakeholders [e.g., Incident Commander, Section Chiefs, Emergency Support Function (ESF) leads, etc.] involved in response and recovery to incidents that involve the potential or actual release of radiological/nuclear materials.
Training Point of Contact:
 Jeffrey M. Eckerd, Program Manager
Hawaii Dept. of Health - Indoor and Radiological Health Branch
 99-945 Halawa Valley Street
 Aiea, HI  96701
 Office: (808) 586-4701
 FAX: (808) 586-5838
 Email: jeffrey.eckerd@doh.hawaii.gov
If you should have any questions, please contact gmo@hawaii.gov
Thank you
Hawaii Department of Defense
Office of Homeland Security
Save This Event
When & Where

HI Dept of Health, Food Handler Education Classroom
99-945 Halawa Valley Street
Aiea, HI 96701


Monday, October 28, 2019 at 8:00 AM

-

Thursday, October 31, 2019 at 4:30 PM (HST)
Add to my calendar
Organizer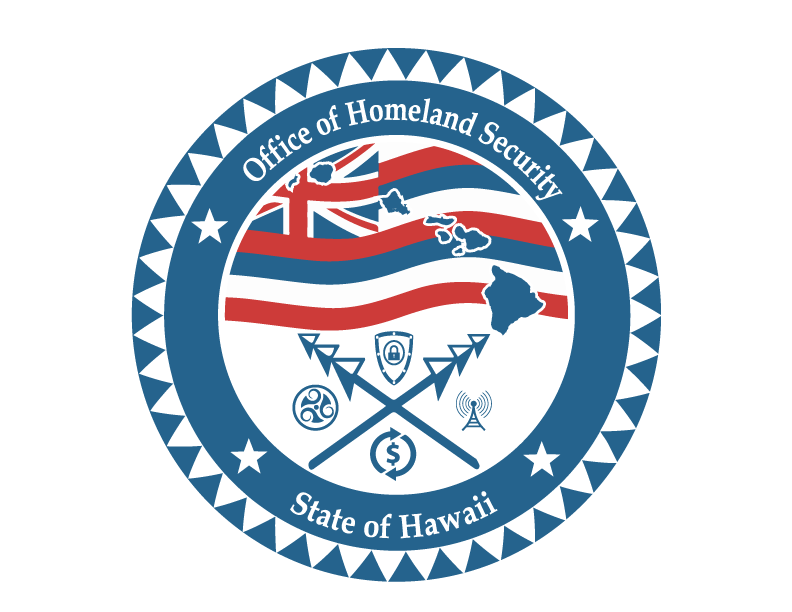 Contact
3949 Diamond Head Road
Phone: (808) 369-3570
Email: gmo@hawaii.gov

Websites
Resources