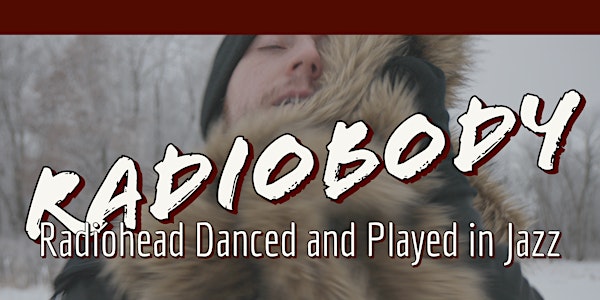 RadioBody: Radiohead Danced & Played in Jazz: Friday
Rhythmically Speaking presents...Radiobody
Date and time
Starts on Friday, February 10 · 7:30pm CST.
Location
Amsterdam Bar & Hall 6 W 6th Street Saint Paul, MN 55102
About this event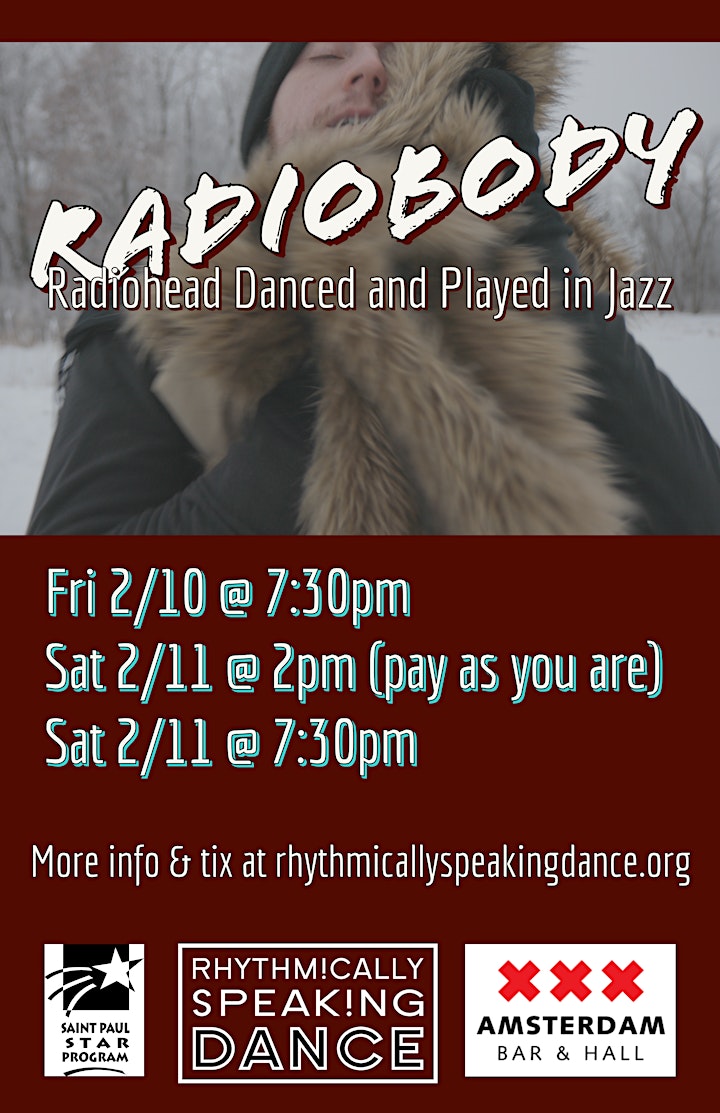 Rhythmically Speaking (RS) dance company is excited to be back at Amsterdam Bar & Hall with RadioBody, a live production running 2/10/23 - 2/11/23 sure to excite dance, jazz and Radiohead fans alike. Driven by and reflecting the toil and triumph embedded in the music of pioneering alt-electronic band Radiohead, this show will feature live and screen dance to original jazz renditions of Radiohead tunes played live by a quartet of excellent local jazz musicians, and pre-generated and live projection art. Produced, directed and choreographed by jazz music + Radiohead + dance freak Erinn Liebhard - Rhythmically Speaking's Artistic and Executive Director - RadioBody is a culmination of over seven years-worth of surreal daydreams brought to life.
What: RadioBody: Radiohead Danced and Played in Jazz
When: Fri 2/10 @ 7:30pm and Sat 2/11 @ 2pm ("Pay As You Are") and 7:30pm
More Info: www.rhythmicallyspeakingdance.org
RadioBody is a collaboration with local composer and fellow Radiohead lover Mike Lauer exploring the jazz sensibilities found in the band's work: thanks to their rich, multilayered rhythms, unique harmonies and long-form jams, their songs are often covered by jazz composers and are conducive to jazz styling. Together, Lauer and Liebhard selected one song from each major Radiohead album for the show, for which Lauer has created original compositions that will be played live during the show by a jazz quartet he'll lead. Dance, jazz and Radiohead fans alike, we hope you'll join us!
More about RS: Using the rhythm that is at our shared human core to groove together, Rhythmically Speaking cultivates vibrant, embodied human connection. Since our founding in 2008, we've gotten 360+ artists and thousands of audience members grooving together through presentation of 100+ original and remounted artistic works and many community outreach events.